Introduction
In the vibrant city of Cumming, Georgia, homeowners understand the importance of maintaining their homes not just for aesthetics, but also for functionality and longevity. When it comes to home maintenance, one aspect that often gets overlooked is waterproofing. Yet, this process is crucial for protecting your home from water damage, mold growth, and structural issues.
Brief Overview of the Importance of Waterproofing
Waterproofing is not just about keeping your basement dry. It's about safeguarding your property from potential water damage that can lead to costly repairs. When water seeps into your home, it can lead to a host of problems, from mold and mildew growth to structural issues like wood rot. If left unchecked, these issues can significantly decrease your property's value and pose health risks for your family. Hence, professional waterproofing is an investment that not only protects your home but also enhances its value.
Introduction to Earthly Matters and Their Services
When it comes to top-notch waterproofing services in Cumming, look no further than Earthly Matters Contracting, Inc. Besides their expertise in exterior painting and deck restoration, Earthly Matters also shines in preventative maintenance services, including professional waterproofing. Their team of skilled professionals understands the importance of proper surface preparation, including thorough cleaning and drying, before applying waterproofing treatments. They don't just cover up the problem—they address it at its roots, ensuring a long-lasting solution to keep your home safe and dry.
From identifying and repairing areas with permanent water damage, like wood rot, to applying a base paint to decrease excess mildew and water buildup after pressure washing, Earthly Matters offers comprehensive services. The emphasis on quality is evident in their work, with a 5-year guarantee against cracking, peeling, or blistering due to defective products or workmanship.
But Earthly Matters is more than just a waterproofing contractor. They treat every job with the care and attention it deserves, setting them apart as Cumming's top waterproofing contractor. In the following sections, we'll dive deeper into the importance of waterproofing, the process, and why Earthly Matters is the best choice for your waterproofing needs.
Understanding Waterproofing and Its Importance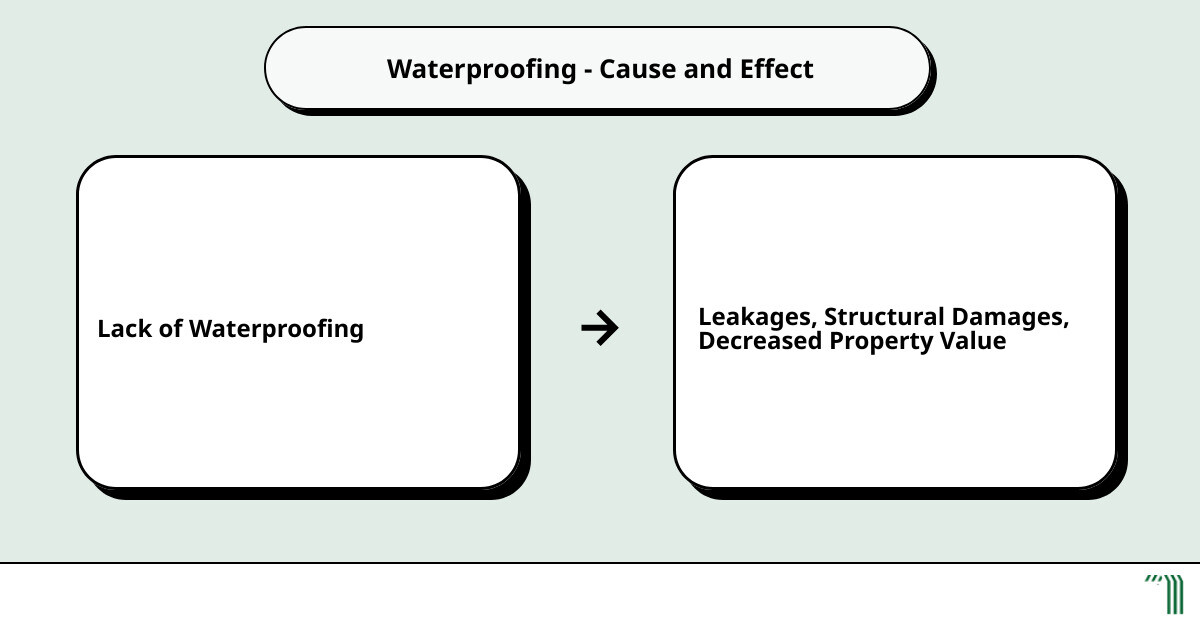 What is Waterproofing?
Unmasking the secrets of waterproofing begins with understanding what it actually is. At its core, waterproofing is a process that makes your home or business impervious to water, preventing moisture from seeping into your structure. This not only includes preventing water from entering your property but also removing any water that has already infiltrated. Various techniques, such as caulking, installing moisture or vapor barriers, and utilizing sump pumps are often used to achieve this goal.
Why is Waterproofing Essential for Your Home or Business?
Imagine your dream house or thriving business being slowly eaten away by an unseen enemy—moisture. This insidious enemy can cause extensive damage, from weakening your building's foundation to promoting mold growth, which can lead to health problems for those within the building.
Even if you don't see any visible signs of moisture, it doesn't mean it's not there. Waterproofing acts as a shield to protect your property, making it an essential preventive measure. It safeguards your property from potential water damage, saves you from costly repairs, and most importantly, keeps you and your loved ones safe.
The Impact of Waterproofing on Property Value
Apart from the apparent benefits of waterproofing, it also plays a significant role in enhancing your property's value. How so? For starters, a waterproofed home or business is a safe and secure investment. It screams care and attention to detail, qualities that are highly sought after in the real estate market.
Moreover, waterproofing extends the lifespan of your property, reducing future repair costs, and increasing its desirability. It's like an insurance policy that pays off if you ever decide to sell your property.
In summary, waterproofing is not just a process—it's an investment. It's an investment in the longevity of your property, the health and safety of its occupants, and ultimately, the value of your property. And as with any investment, choosing the right partner to guide you through the process is crucial. As we delve further into this topic, we'll explore why Earthly Matters is the go-to waterproofing contractor in Cumming.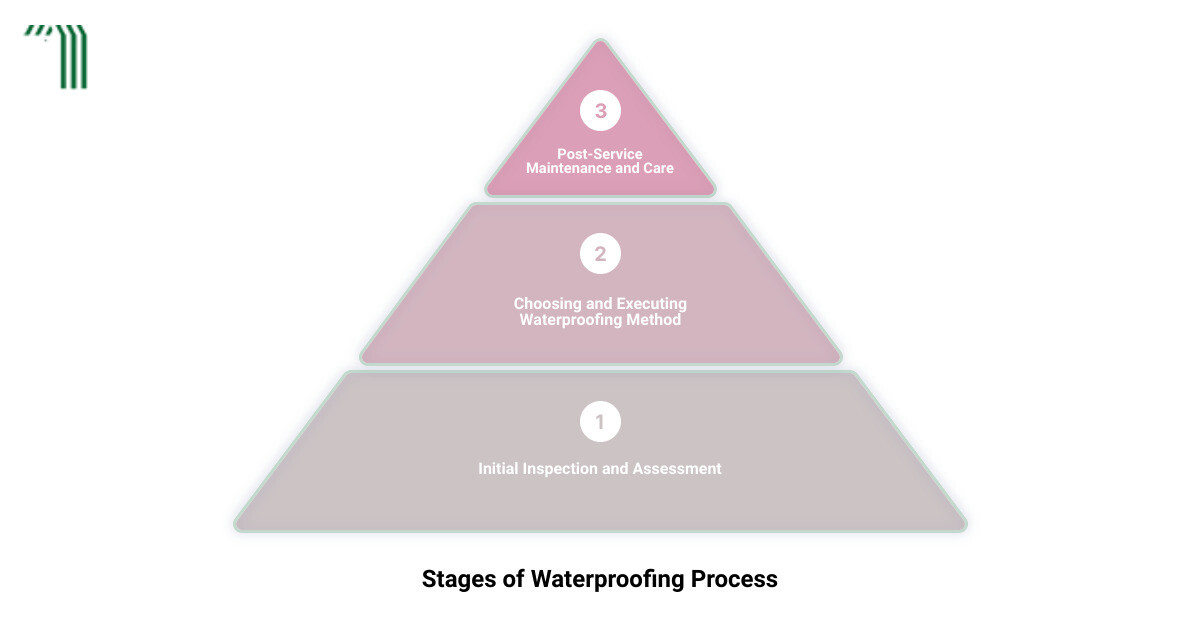 The Process of Waterproofing
Imagine walking into your basement or crawlspace and finding it dry and clean, free from the threat of mold and mildew. This is the reality for customers who choose Earthly Matters for their waterproofing needs. But how do we achieve this? Let's take a closer look at our comprehensive and proven waterproofing process.
Initial Inspection and Assessment
Every great waterproofing job starts with a thorough inspection and assessment. At Earthly Matters, we don't believe in a one-size-fits-all approach. Instead, our technicians arrive at your home and make a detailed assessment, using advanced equipment like hygrometers and moisture detectors to assess the cause of the leak and the extent of the damage. This crucial first step helps us understand your home's unique needs and challenges, allowing us to create a tailored waterproofing plan that will provide the most effective and lasting results.
Choosing the Right Waterproofing Method
Once we've assessed your home, we work with you to choose the right waterproofing method. We offer a range of services, from basement and crawlspace waterproofing to drainage solutions, crack injections, and even seal coating. Our emphasis is on keeping the water out, treating your home as if it were our own. Rest assured, we will not upsell you products and services you do not need. Instead, we'll provide the right solution at a reasonable price, making us your best choice to resolve foundation leaks, high radon levels, and yard drainage issues.
Execution of the Waterproofing Process
With the right plan in place, our team gets to work. We remove and extract water from your property using high-powered pumps and vacuums. After water extraction, we begin the dehumidification and drying process using industrial-quality air movers and dehumidifiers. We then use foam, abrasive, and other immersion cleaning techniques to make your home spick and span. In the final step, we begin the restoration process, fixing or replacing damaged products, such as drywall.
Post-Service Maintenance and Care
But our job doesn't end once the execution phase is complete. At Earthly Matters, we believe in post-service maintenance and care. We understand that waterproofing is not a one-time job, but an ongoing commitment to preserve and protect your home. Hence, we offer guidance and support even after the job is done, ensuring that your home remains safe and dry for years to come.
In the end, it's not just about making homes waterproof; it's about giving homeowners peace of mind. With Earthly Matters, you know that your home is in safe hands, protected from the damaging effects of water and moisture. So why wait? Take the first step towards a dry and healthy home today.
Earthly Matters: Cumming's Top Waterproofing Contractor
As we delve into the heart of the matter, let's shed light on what makes Earthly Matters, a leading waterproofing contractor in Cumming, GA, stand tall amidst its competition. Known for their unwavering commitment to quality and unmatched customer service, Earthly Matters is more than just a waterproofing contractor; they are your trusted home improvement partner.
Overview of Earthly Matters' Waterproofing Services
Earthly Matters' waterproofing services are as comprehensive as they are top-quality. Just like their well-regarded painting services, their waterproofing solutions are intricately designed to protect your home from inside out. They go the extra mile in identifying and repairing or replacing any exterior surfaces with permanent water damage, such as wood rot, before painting. This is a testament to their commitment to providing an all-encompassing home improvement service that doesn't just cover up issues but address them at their roots.
Earthly Matters' Unique Approach to Waterproofing
Earthly Matters' unique selling proposition lies in their meticulous and thorough approach to waterproofing. They understand that every home is unique, and so are its waterproofing needs. This is why they conduct an extensive initial assessment to identify any potential sources of water damage and devise a tailored waterproofing solution that best suits your home. Their detailed preparation process, which includes pressure washing, scraping, sanding, priming, and filling surface cracks and nail holes, ensures a robust and long-lasting waterproofing solution. Earthly Matters' commitment to excellence is evident in every step of their process, from the initial inspection to the final detailing.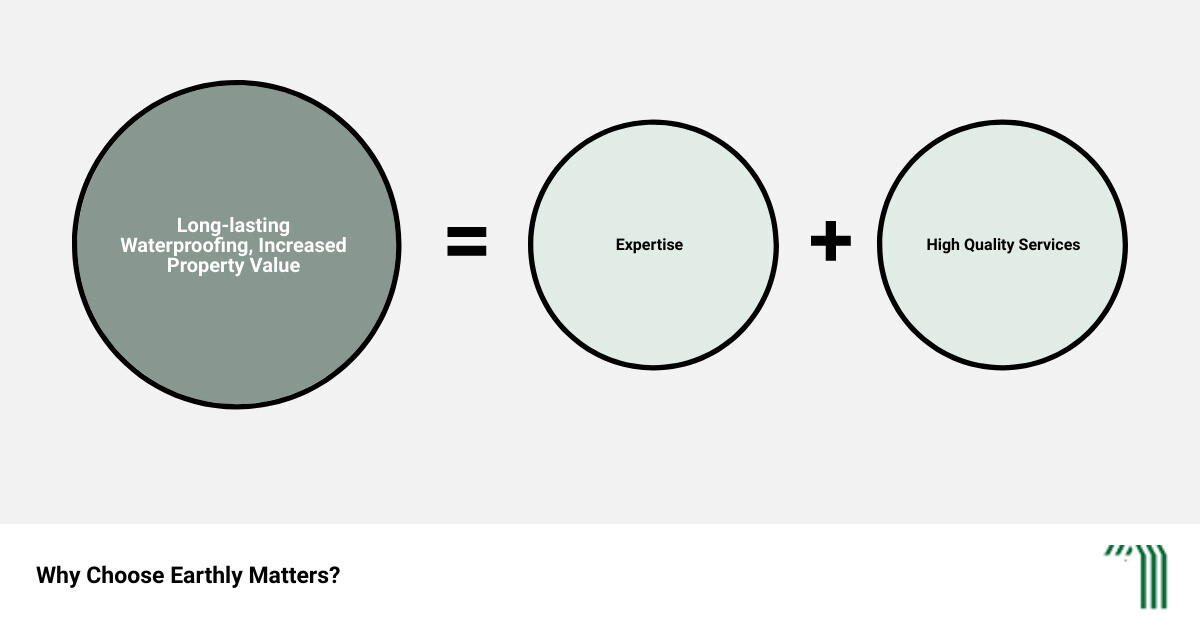 Why Choose Earthly Matters as Your Waterproofing Contractor
Choosing Earthly Matters as your waterproofing contractor means investing in a waterproofing solution that is not just effective but also durable. Their commitment to quality service extends beyond the completion of the project, ensuring your peace of mind long after their work is done. Their dedication to customer satisfaction has won them numerous awards and positive customer reviews, earning them the reputation as one of the top waterproofing contractors in Cumming, GA.
Moreover, Earthly Matters is a fully licensed, bonded, and insured company, providing a further layer of security and trust for their clients. Their convenient payment options and fair pricing make them a preferred choice for homeowners looking for high-quality waterproofing solutions without breaking the bank.
In conclusion, Earthly Matters is not just about providing waterproofing solutions; they are about building relationships based on trust, quality, and customer satisfaction. So, if you're looking for a waterproofing contractor who can provide a comprehensive, top-quality, and reliable service, look no further than Earthly Matters.
Customer Experiences and Reviews
Waterproofing is a critical home improvement process that requires a skilled hand and a keen eye for detail. Hence, when homeowners are looking for a reliable waterproofing contractor, they often turn to customer reviews and testimonials to gain a better understanding of a company's service quality. When it comes to Earthly Matters Contracting, Inc., the feedback from customers is overwhelmingly positive, illustrating the company's commitment to delivering superior service.
Positive Customer Testimonials for Earthly Matters
Earthly Matters Contracting, Inc. prides itself on its stellar reputation in the industry, a fact that is reflected in its glowing customer reviews. The company's commitment to professionalism, punctuality, and quality of work has earned it an A rating across multiple platforms, including Better Business Bureau (A+), Google, Facebook, and Angi.
Customers frequently praise Earthly Matters for its attention to detail, respect for their property, and the seamless transformation of their homes and commercial properties. One homeowner, for instance, was astounded by the transformation of their home, while a business owner appreciated Earthly Matters' team's professionalism and meticulous attention to detail.
Addressing Common Concerns and Questions from Customers
While positive reviews paint a good picture of a company's services, it's also crucial to address common concerns and questions that potential customers may have. Earthly Matters understands this and is always ready to provide clear and comprehensive answers to any queries.
One such concern that often arises is about the longevity of the waterproofing solutions provided. Earthly Matters assures its customers that they use only the best materials and techniques in the industry, ensuring that the waterproofing solutions they provide stand the test of time.
Another common question is about the cost of waterproofing services. Earthly Matters strives to provide its top-quality services at competitive prices, ensuring that customers get the best value for their money.
In conclusion, the positive customer testimonials and the company's proactive approach towards addressing customer concerns further solidify Earthly Matters Contracting, Inc. as a top choice for waterproofing services in Cumming and the surrounding areas. So, if you're in need of reliable, high-quality waterproofing services, look no further than Earthly Matters.
Conclusion
Recap of the Importance of Choosing a Reliable Waterproofing Contractor
Selecting a reliable waterproofing contractor is a critical decision that can have a profound impact on the longevity and value of your home. As we've discussed, a solid waterproofing service is not just about keeping water out. It's about safeguarding your home against the elements, preserving its structural integrity, and enhancing its overall value.
An experienced, professional, and trustworthy contractor like Earthly Matters Contracting, Inc. ensures that the job is done right the first time, saving you both time and money in the long run. They'll provide a service that not only transforms the look of your home but also offers lasting peace of mind.
Final Thoughts on Earthly Matters' Waterproofing Services
Earthly Matters' waterproofing services stand out for their commitment to quality service, attention to detail, and customer satisfaction. Their unwavering dedication to exceeding customer expectations combined with their expertise in both interior and exterior painting and waterproofing has earned them the title of one of Cumming's top waterproofing contractors. Whether it's a small water intrusion in your basement or a complete overhaul of your home's waterproofing system, Earthly Matters has the skills, experience, and dedication to get the job done.
Encouragement for Potential Customers to Reach Out for a Consultation
If you're a homeowner in Cumming or the surrounding areas and you're looking for a waterproofing contractor who values quality service and customer satisfaction above all else, don't hesitate to reach out to Earthly Matters Contracting, Inc. for a consultation. They'll work with you to develop a waterproofing plan that meets your needs and fits your budget.
Waterproofing your home is too important a task to leave to chance. Choose a contractor who will treat your home as if it were their own. Choose Earthly Matters Contracting, Inc. for all your waterproofing needs. Your home deserves nothing but the best.