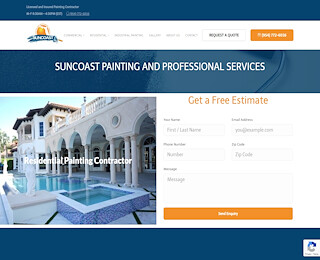 Suncoast Painting is a reliable and affordable Miami painting contractor. We service residential and commercial environments, provide top-notch painting from the planning phase to the final brush stroke and provide second-to-none support all in-between. There are a lot of things that make us stand out from other Miami painting contractors, chief among them is our people.
We Only Hire Great People
When we hire someone as a professional painter, we give great consideration not only to whether the person we're interviewing has the necessary skills but also to whether they have the kind of character that is harmonious with our company's values. We perform extensive criminal and character background checks to ensure that nobody we send to a client's home or establishment will be a liability or pose a danger to our clients, our other employees, or to themselves.
We Promote a Culture of Success
As a growing Miami painting contractor, our reputation is everything to us, especially as it pertains to our longevity. Most of the people who work for Suncoast are second and third generation painters, and in some cases, fourth and fifth generation painters. In other words, everyone who works for us has been painting for a long time. They grew up painting with their dads, and they've learned this industry from hands-on experience over many, many years, unlike many Miami painting contractors who just started a painting a year or two ago and think they're now qualified to operate a painting business.
We Offer Top-Notch Residential Painting in Miami
Although we are professional commercial painting contractors, most of our workload comes from residential painting projects. We specialize in both fields of painting. For residential painting jobs, we can paint everything, including:
Interior/Exterior Walls
Siding
Fences
Decks
Barns
Sheds
Garages
Put simply, we can paint just about any kind of surface you need painted. We work with every budget, and no residential painting job is too big or too small for us. To learn more, give us a call during normal business hours. We'd be glad to come to your home for a free, no-pressure, on-site quote.
We Offer Expert Commercial Painting Services in Miami
Whereas many painting contractors in Miami either specialize in residential or commercial painting, Suncoast Painting specializes in both. Because we were raised around painting and have been doing both residential and commercial painting most of our lives, we're able to offer both services to our clients. Indeed, many of our commercial clients also employ us to paint their homes when they need it.
Commercial painting is an entirely different ball of wax than residential painting. Commercial painting requires a particular set of expertise, awareness, training, and experience that the ordinary residential painter just doesn't have. Suncoast Painting has all of the tools, materials, and equipment to paint any commercial job, and we can work safely and efficiently around your employees, property, customers, equipment, or any other potential obstacles.
Feel Free to Reach Out
If you need a reliable and affordable Miami painting contractor who can get your job done quickly and correctly the first time, don't hesitate to reach out to Suncoast Painting. In the meantime, feel free to contact us for a free on-site quote and ask us for our references.