Introduction
Have you ever walked into a room and felt instantly drawn in by the color of the walls? Or maybe you've entered a space and immediately felt like it could use a little freshening up. If so, you've experienced first-hand the impact that interior painting can have on a home. But beyond aesthetics, a fresh coat of paint can also serve a protective function, preserving your walls and other surfaces from wear and tear. If you're a homeowner in Alpharetta or the surrounding areas and you're considering giving your home a new look, you're in luck. This article will delve into the world of 'interior painting Cumming GA', and why Earthly Matters Contracting, Inc. should be your go-to choice for all your interior painting needs.
The Importance of Interior Painting
At first glance, interior painting might seem like a purely cosmetic enhancement. However, it serves several crucial functions. First and foremost, a well-executed paint job can dramatically transform the look and feel of any room, breathing new life into your living space. But aside from enhancing your home's aesthetic appeal, interior painting also plays a significant role in protecting your walls and other painted surfaces from damage. Regularly updating your interior with a fresh coat of paint can help maintain your home's health, boost its value, and make it look its best.
Why Choose Earthly Matters for Your Interior Painting Needs
When it comes to interior painting, not all services are created equal. To achieve the best results, you need a team that values quality, attention to detail, and customer satisfaction. This is where Earthly Matters Contracting, Inc. comes in.
With a team of experienced professionals, top-of-the-line equipment, and a commitment to achieving exceptional results, Earthly Matters is well-equipped to transform the inside of your home into the space of your dreams. From initial consultation to project completion, they work closely with clients to ensure that their vision is brought to life in the best way possible.
But it's not just their high-quality work that sets them apart. Earthly Matters prides itself on being a company that cares more about the quality of their work and their reputation than making a quick buck. So, if you're looking to revamp your space with professional interior painting in Cumming, GA, look no further than Earthly Matters. Stay tuned as we delve deeper into the benefits of interior painting, how to choose the right paint, and what sets Earthly Matters apart from other painters in Cumming, GA.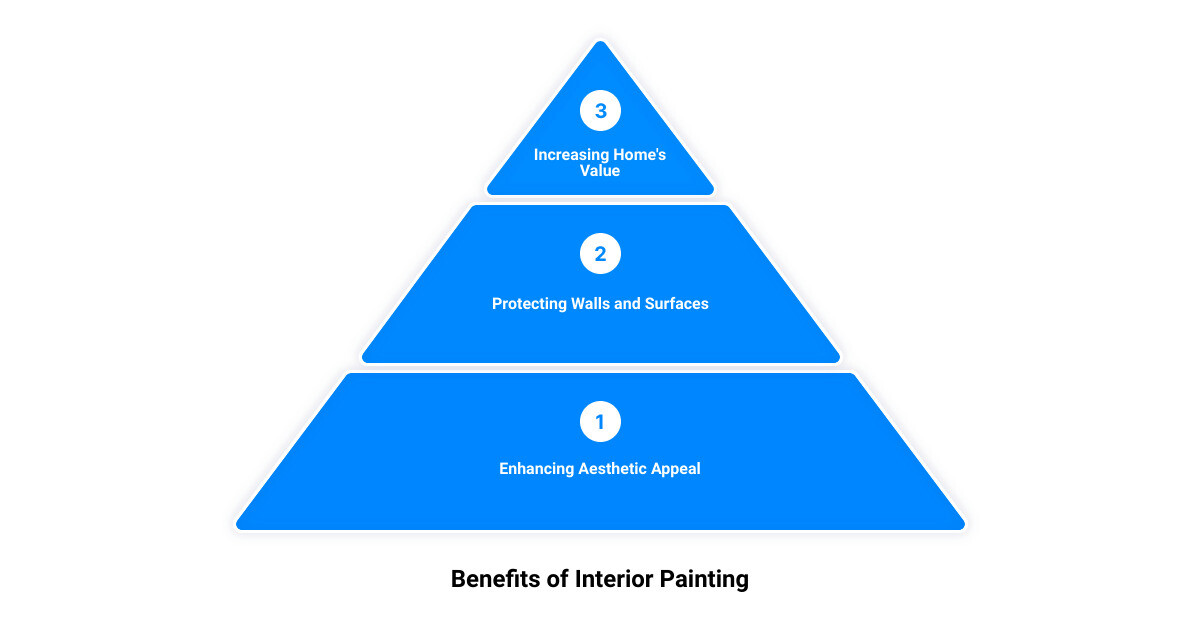 The Benefits of Interior Painting
Interior painting is more than just a cosmetic touch-up; it's an investment in your home. Let's explore the manifold benefits of interior painting.
Enhancing Your Home's Aesthetic Appeal
The first thing you notice when you walk into a room is the color. A fresh coat of interior paint can completely transform a space, breathing new life into it. Whether you opt for a bold and vibrant shade or a subtle and soothing hue, the right color can make a powerful statement about your personal style. Moreover, employing varying painting techniques such as color washing, sponging, and crackle can bring a unique charm to your rooms. At Earthly Matters, we can help you select the perfect color and finish to enhance your home's aesthetic appeal.
Protecting Your Walls and Surfaces
Interior painting is also about maintenance and protection. Over time, walls can become stained and damaged, especially in high-traffic areas or places exposed to smoke, steam, or grease. A fresh coat of paint acts as a shield, protecting your walls and surfaces from wear and tear, as well as potentially harmful elements. It also makes your walls easier to clean, an important factor for areas like kitchens or bathrooms. At Earthly Matters, we understand the importance of preparation work like repairing damages, cleaning, and priming the walls before painting to ensure the longevity of our paint jobs.
Increasing Your Home's Value
Finally, one of the most compelling benefits of interior painting is the potential to increase your home's value. A well-executed interior paint job can significantly enhance your home's visual appeal, making it more attractive to potential buyers if you ever decide to sell. Even if you're not planning on moving anytime soon, maintaining a fresh, modern interior aesthetic can help keep your property value high. At Earthly Matters, we apply our expertise to ensure every paint job we undertake is of the highest quality, contributing to the overall value of your home.
In summary, interior painting is a vital home improvement project that can enhance your home's aesthetic appeal, protect your walls and surfaces, and increase your property's value. With the professional services of Earthly Matters, you can confidently revamp your space with a fresh coat of paint.
How to Choose the Right Interior Paint
Making the right choice of interior paint is a crucial part of any painting project. With the right paint, you can transform your living space, making it more appealing and increasing your home's overall value. But how do you make the right paint selection? Let's dive deeper.
Understanding Different Types of Paint
The first step to choosing the right interior paint is understanding the difference between the main types of paint: water-based and oil-based paints.
Water-based paints are easy to use, dry quickly, and have low VOCs (volatile organic compounds). They are also easily cleaned up with soap and water, making them suitable for most surfaces. On the other hand, oil-based paints offer a smooth, durable finish that's great for high-moisture areas and surfaces where durability is crucial. However, they tend to have higher VOCs and take a longer time to dry.
Selecting the Right Color for Your Space
The color of paint you select can significantly impact the perceived space and mood of a room. Light colors tend to make a room seem larger and brighter, while dark colors can create a cozy, intimate ambiance. It's crucial to take into account existing furniture and decor when choosing your wall color. To ensure you'll love the color in all lighting conditions, paint swatches on your walls and observe how they look at different times of the day and under different lighting conditions.
When planning to sell your home, it's advisable to stick with neutral colors as potential buyers want to visualize their items in your home.
Importance of Quality Paint for Longevity and Finish
The quality of the paint you choose is as important as the color. High-quality paint provides a smoother finish, lasts longer, and stands up better to washing and cleaning.
Paint also comes in different finishes, ranging from flat (no shine) to high gloss (very shiny). If your walls have many imperfections, consider a flat paint. However, keep in mind that flat paint is harder to clean. An eggshell finish has slight shine/gloss and is also good for walls but holds up better with cleaning. Remember, the higher the sheen, the better the paint will stand up to washing and cleaning.
Choosing the right interior paint can seem daunting, but with these tips and the professional guidance of Earthly Matters, a leading painter in Cumming, GA, you can create a beautiful and durable look for your home's interior.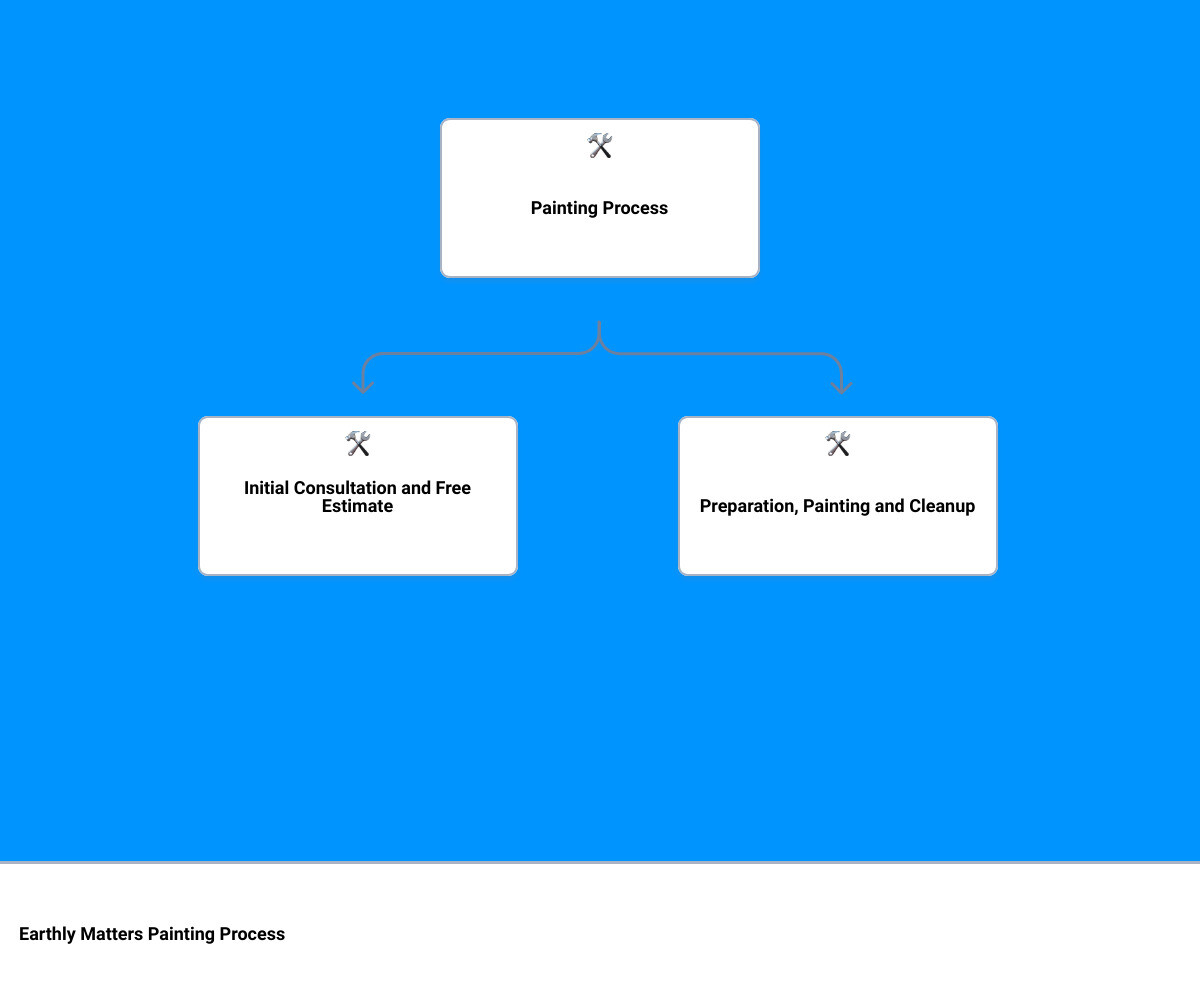 The Earthly Matters Painting Process
Painting your home is more than just picking a color and applying it to the walls. It's a meticulous process that requires careful planning, preparation, and execution. At Earthly Matters, we have honed our painting process to ensure we deliver the best results for our clients. Let's delve into our step-by-step approach.
Initial Consultation and Free Estimate
When you reach out to us for your interior painting project, we start off with a free consultation. We listen to your vision for your space, understand your unique requirements, and offer expert advice on color selection and types of paint. We also conduct a thorough assessment of the area to be painted. This allows us to provide an accurate, no-obligation estimate that outlines the cost of materials and labor, ensuring there are no hidden surprises down the line.
Preparation and Surface Repair
Next, we move on to the all-important step of preparation and surface repair. As per our source, proper surface preparation is crucial for a long-lasting paint job. We take care of scraping, sanding, and priming all loose, flaking, and weathered areas before applying the paint. This step also includes addressing any water damage or wood rot, and replacing affected areas with non-rot material where possible. A clean, well-prepared surface gives the finish coat of paint the longest life, ensuring your walls look fresh and vibrant for years to come.
Professional Painting and Cleanup
Finally, the main event: the painting process. Our skilled and experienced team gets to work, applying the chosen paint with precision and care. All our exterior paint contains a mildew inhibitor to protect your walls and ensure longevity. We also believe in maintaining a clean workspace. That's why we ensure a thorough cleanup after the painting job, leaving your home spotless and more beautiful than ever.
Our painting process is designed to be smooth and hassle-free for our clients. We strive to complete the work without interruption, barring inclement weather or unforeseen circumstances. And if that wasn't enough, we offer a 5-year guarantee on cracking, peeling, or blistering as a result of defective products or workmanship.
In the next section, we'll delve into why Earthly Matters stands out among Cumming, GA painters. Stay tuned!
Why Earthly Matters Stands Out Among Cumming, GA Painters
When it comes to interior painting Cumming GA services, not all painting contractors are created equal. Earthly Matters Contracting, Inc. distinguishes itself from the competition through its unwavering commitment to quality service, its experienced and professional team, and its firm customer satisfaction guarantee.
Our Commitment to Quality Service
At Earthly Matters, we believe that quality service doesn't end when the last brush stroke is applied. Our commitment to quality extends beyond the painting project itself. We offer a "no fault" touch-up service and provide paint at cost, ensuring you receive the highest level of service without any hidden charges. We accept most major credit cards without added processing fees, further easing the process for you.
We understand the importance of timeliness in our industry. That's why we guarantee on-time delivery of our service and take the necessary steps to ensure your project is completed to your satisfaction, on schedule.
Our Experienced and Professional Team
Our team of experienced and professional painters in Cumming, GA, has been helping homeowners transform their spaces since 1999. In addition to our painting services, we also specialize in deck and fence painting/staining, and exterior painting, providing a comprehensive range of services to meet all your painting needs. Our team's vast experience and expertise ensure the highest level of craftsmanship and attention to detail in every project we undertake.
Our Customer Satisfaction Guarantee
At Earthly Matters, your satisfaction is our priority. We understand that your home is your sanctuary, and we treat it with the utmost respect. Our customer satisfaction guarantee assures that you will receive prompt, courteous service, and you will pay only when satisfied. Our business hours are dedicated to you – if you call us during this time, we guarantee that we will answer our phones or return your call within 10 minutes.
Choosing the right painting contractor for your home is crucial. At Earthly Matters, we assure you of a service that goes beyond the job requirements to exceed your expectations. With our commitment to quality service, our experienced and professional team, and our customer satisfaction guarantee, we stand out as the preferred choice for interior painting Cumming, GA.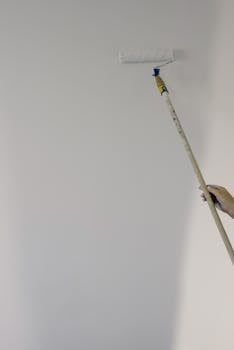 Tips for Maintaining Your Interior Paint Job
In the journey of maintaining your freshly painted home, there are a few keys to longevity. Keeping your paint job pristine doesn't have to be an arduous task. With regular maintenance and prompt attention to any issues, your walls can remain vibrant and fresh for years to come. Here are three essential tips for maintaining your interior paint job.
Regular Cleaning and Dusting
The first line of defense in maintaining your paint job is regular cleaning and dusting. Over time, dust and dirt can build up on your walls, dulling the paint's color and potentially damaging the finish. Using a non-abrasive cleaner, perform routine cleaning of your painted surfaces. Avoid ammoniated products if you're cleaning a waterborne paint. A simple solution of mild, soapy water will generally do the trick. Always test the cleaning solution in an inconspicuous area first to ensure it doesn't damage the paint film.
Addressing Stains and Marks Immediately
Accidents happen, and sometimes, your walls may end up with stains or marks. The key to dealing with these blemishes is to address them immediately. You can touch-up the existing painted surface using paint from the same can that was originally used, but reduce it by about 10% to 15%. Feather the touch-up paint's edges to create a transition that diminishes the appearance of the touch-up. If the area had to be patched, use a primer sealer. If the repaired area is still noticeable, painting the entire wall may be the best option.
When to Consider a Fresh Coat of Paint
While regular maintenance can extend the life of your paint job, there will come a time when a fresh coat of paint is necessary. This might be due to regular wear and tear, a desire to change up your home's color scheme, or if you're preparing your home for sale. When maintaining the same color scheme, one coat is usually sufficient. However, when changing colors, two or more coats are typically necessary.
Maintaining your interior paint job is an essential part of preserving your home's aesthetic appeal and protecting your investment. At Earthly Matters, we're here to help guide you through this process and offer our professional services when it's time for a fresh coat of paint. Remember, the secret to a vibrant and long-lasting paint job lies in regular maintenance and prompt attention to any issues.
Conclusion
Revamp Your Space with Earthly Matters
Refreshing your home's interior paint is more than just a cosmetic upgrade – it's a game-changer that transforms the ambiance of your living spaces while guarding your walls against the wear and tear of daily life. And when it comes to interior painting in Cumming, GA, there's no better partner than Earthly Matters Contracting, Inc.
Our team at Earthly Matters doesn't just bring a can of paint and a set of brushes. We bring years of experience, a keen eye for detail, and a commitment to delivering a top-notch service that exceeds your expectations. We understand that your home is your sanctuary, and we treat it with respect, ensuring every stroke of paint enhances its beauty and value.
We answer our phones, we do what we say we will, and when we say we will do it – that's our unique fashion of delivering exceptional work at acceptable prices. And above all, we guarantee your satisfaction. We've earned an A rating in Price, Professionalism, Punctuality, Quality, and Responsiveness, and we're ready to put those qualities to work for you.
Contact Us Today for Your Free Estimate
Ready to revamp your space and experience the difference a professional paint job makes? We're just a call away. Dial 770-346-0203 for a free estimate or use our Free Estimate form. Whether you're planning an entire home repaint or looking to freshen up a few rooms, our team at Earthly Matters Contracting is ready to transform your space with our expert interior painting services in Cumming, GA.
Embark on a journey to a fresher, brighter home with Earthly Matters. Let's paint a beautiful future together.