Introduction
Brief Overview of Interior Painting in Atlanta
Imagine stepping into your home and being immediately enveloped in a world of color that perfectly reflects your unique style and personality. Welcome to the transformative world of interior painting, a realm dominated by blends, hues, textures, and finishes, capable of breathing new life into any space. In Atlanta, where the charm of sophisticated southern living is lovingly preserved in our homes and establishments, the art and science of interior painting stand as visible strokes of elegance and warmth. As professionals in interior painting in Atlanta, we at Earthly Matters Contracting, Inc. look beyond mere color application. Our craft is deeply rooted in understanding and translating your vision into tangible reality.
Importance of Quality Interior Painting
Deciding to paint the interior of your home isn't a decision made lightly – it's both a financial and aesthetic investment. What makes it an investment? The answer lies in the layers of benefits a quality interior paint job provides. While it acts as a beautifying agent creating the perfect backdrop for your life's canvases, it also serves as armored protection for your walls against dust, dirt, and other potential damages. Furthermore, the impact of a professionally executed paint job extends into the realm of property valuation, enhancing the appeal of your home, and increasing its market worth.
The key elements that profoundly affect the outcome of your interior painting project are:
Choosing the right color: The right color can make a space look larger, brighter, or cozier depending on your preference.
Quality of materials: High-grade paints provide better coverage, resist fading and chipping, and are safer to use due to low VOCs.
Preparation: A well-prepared surface ensures the longevity and beauty of your paint job.
Professional execution: Skilled painting ensures precision, attention to detail, and the ability to handle a variety of surfaces and spaces.
All these elements are intertwined in deciding the true value of your interior painting project. So, while you invest your trust and expectations in us, we ensure your vision is translated into every brush stroke that touches your walls.
Keys to Successful Interior Painting
Selection of right color.
Use of quality materials.
Proper preparation of surfaces.
Professional execution by skilled painters.
Get the process right, and the results will speak volumes about your home's charm and sophistication. Whether you live in a historic property in Roswell or a contemporary house in Alpharetta, well-applied interior paint speaks aloud the character of your home while silently bolstering its value. So, come along as we unveil Atlanta's best-kept interior painting secrets.
The Cost of Interior Painting in Atlanta
Stepping into the realm of interior painting, it becomes clear that costs can vary widely based on various factors. However, understanding these factors and the average cost can provide a solid foundation for homeowners seeking to breathe life into their homes with a fresh coat of paint.
Average Cost of Interior Painting
While the cost of interior painting can fluctuate based on factors like the size of your home and the quality of paint used, an average estimate can provide a general idea of what to expect. On average, the cost to paint the interior of a house falls somewhere between $1 to $3 per square foot, with labor and materials included. This, of course, can increase if you opt for high-end paints or require extensive wall repairs.
Factors Influencing the Cost
When it comes to interior painting, several elements come into play that can significantly affect the final bill.
Size of the House and Rooms: The first, and perhaps most apparent factor, is the size of your home. Larger homes require more paint and labor, translating into a higher cost. Furthermore, if you need more than one level of your home painted, additional fees may be included to account for transporting materials from one floor to another.
Type of Paint and Materials Used: The quality of paint you choose also plays a pivotal role. Basic paints made with synthetic coloring typically cost between $20 and $30 per gallon while high-end paints made with natural coloring can reach up to $100 per gallon. The materials required for the job, such as brushes, drop cloths, paint pans, rollers, and tape, also contribute to the cost.
Current Condition of Surfaces and Expected Finish: The current state of your walls is another key factor. If your walls have dents, scratches, or water stains, they might require repairs to ensure a smooth application, leading to an increase in your cost. Furthermore, the desired finish can also affect the cost. Techniques like color washing, sponging, and crackling that add character to your rooms require more labor, hence cost more.
Using a professional painting service like us at Earthly Matters ensures that homeowners are presented with a comprehensive cost breakdown, ensuring no hidden surprises. It's always best to discuss your budget and expectations with your painter before embarking on the project. This way, you can make the most informed decision that aligns with your budget and desired outcome.
In the next section, we will delve deeper into the value that a fresh coat of paint can bring to your home. So stay tuned as we continue to unravel the mysteries of interior painting in Atlanta.
The Value of Interior Painting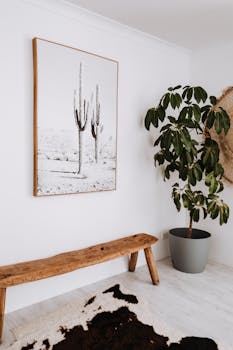 In the bustling city of Atlanta, where aesthetics matter, interior painting stands as a vital facet of home improvement. But beyond the surface, the value of a well-executed interior paint job transcends mere aesthetics. It's an investment that yields tangible returns, contributing to the overall appeal and value of your home.
How Interior Painting Increases Home Value
A fresh coat of paint can significantly boost the attractiveness of your property, making it more appealing to potential buyers. It provides an instant makeover, transforming your home into a vibrant and inviting space. As experts in interior painting Atlanta, we at Earthly Matters Contracting, Inc. understand the transformative power of color and how it can drastically alter the feel of a room.
Different colors and finishes can evoke different moods and ambiances. Whether you opt for warm, inviting hues or cool, calming tones, interior painting allows you to customize your home to reflect your personal style and taste. This personalized touch can establish an emotional connection with potential buyers, making them more likely to purchase your property.
Beyond the psychological appeal, a fresh coat of paint also signals to potential buyers that the home has been well maintained. It helps to conceal minor flaws such as scratches and stains, giving your walls a clean, fresh look.
Return on Investment from Interior Painting
Interior painting is more than just a home improvement task—it's a prudent investment. It's cost-effective and offers an impressive return on investment (ROI).
According to the National Association of Realtors, interior painting can provide a 107% ROI, making it one of the most profitable renovation projects you can undertake. This means that for every dollar spent on painting the interior of your house, you can expect your home's value to increase by more than a dollar.
However, it's crucial to remember that not all paint jobs are created equal. The quality of the paint used and the expertise of the painter can significantly influence the outcome. That's why at Earthly Matters Contracting, Inc., we use high-quality paints that last longer and resist fading, chipping, and peeling. Our professional painters have the skills and experience to deliver a flawless finish that not only looks great but also stands the test of time.
So, if you're considering selling your home or merely want to increase its value, a fresh coat of paint can provide a significant boost. In the next section, we'll walk you through the process of interior painting, giving you a clearer picture of what to expect.
The Process of Interior Painting
Interior painting is more than just picking a color and applying it to the walls. It's an intricate process that requires careful planning, preparation, and execution. Understanding each step of this process provides a clear picture of what to expect and helps ensure a successful outcome.
Difficulty Level of Interior Painting
Interior painting may seem simple, but it's actually a complex task that requires a certain level of skill and expertise. It's not just about applying paint to walls. It involves selecting the right type of paint, preparing the surfaces, applying the paint evenly, and doing cleanup afterwards.
At Earthly Matters Contracting, we consider every aspect of the project, from the initial consultation to the final walkthrough. Our team of professional painters are skilled at working with various interior surfaces and adept at creating a clean, efficient workspace within your home.
Time Required for Interior Painting
The time required for an interior painting project can vary significantly depending on the size and condition of the room, as well as the type of paint used. As a rule of thumb, for an average-sized bedroom of about 432 square feet, the whole job, including preparation and cleanup, should take around 4-6 hours for a skilled painter.
However, it's essential to remember that time estimates are just that – estimates. Every home and every project is unique, and various factors can influence the timeline. For example, if the walls need significant repairs or if multiple coats of paint are needed, the project may take longer.
Essential Tools and Preparations for Interior Painting
Preparation is key to a successful painting project. Before any paint is applied, the surface must be properly prepared. This involves making necessary repairs, cleaning the walls thoroughly, and protecting furniture and flooring. If your home was built before 1978, it's also crucial to check for lead paint, as some older homes still have lead paint in the original layers.
Tools needed for an interior painting job typically include paint brushes, rollers, a paint tray, painter's tape, drop cloths, and of course, the paint itself. The type and quality of these tools can have a significant impact on the final result.
For example, using a high-quality brush can help ensure a smooth, even coat of paint, while painter's tape helps create clean lines and protect areas that shouldn't be painted. And of course, the quality of the paint itself is crucial. At Earthly Matters Contracting, we only use top-quality, durable paints that resist fading and staining.
Now that you have a better understanding of the process of interior painting, it's time to explore some of the top interior painting services in Atlanta. In the next section, we'll delve into what makes Earthly Matters Contracting stand out among the competition.
Top Interior Painting Services in Atlanta
Atlanta's vibrant cityscape is home to numerous professional painting services. Among them, Earthly Matters Contracting stands out for its unwavering commitment to delivering high-quality services and exceeding customer expectations.
Overview of Earthly Matters Painting
At Earthly Matters, we understand that painting is more than just applying color to a wall – it's an art form that requires expertise, precision, and an eye for detail. For over 20 years, we've been serving Alpharetta and the greater Metro Atlanta area, transforming homes into the spaces of our clients' dreams. Our team of experienced professionals takes pride in delivering the highest standard of workmanship and customer service. We use top-of-the-line equipment and materials to achieve exceptional results, working closely with our clients to turn their vision into reality.
Services Offered by Earthly Matters Painting
We offer a wide range of interior painting services designed to enhance the beauty and value of your home. From wall and ceiling painting to trim painting and kitchen cabinet reinvigoration, we have the expertise to handle a diverse range of projects. Moreover, we offer additional services such as wallpaper removal and drywall repair, ensuring all surfaces are properly prepared before painting for a smooth, even result.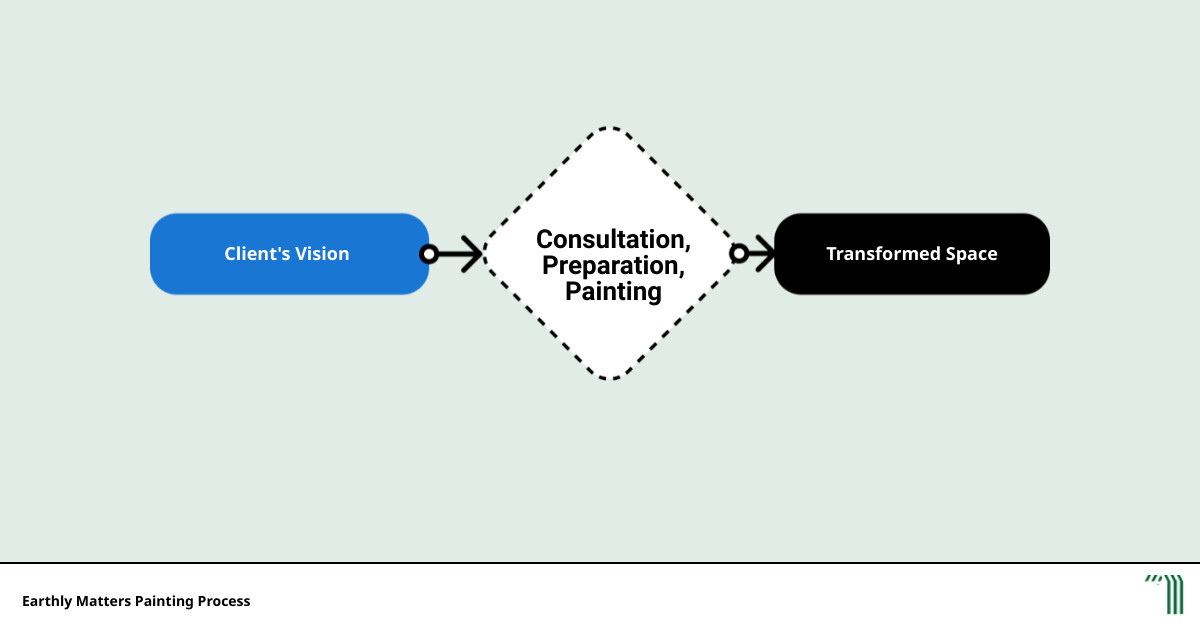 Testimonials and Reviews for Earthly Matters Painting
Our commitment to quality is reflected in our glowing customer reviews. Homeowners in Atlanta and the surrounding areas have frequently praised our professionalism, punctuality, and quality of work. One customer recalls their astonishment at the transformation of their home, while a business owner appreciated our meticulous attention to detail and respect for their property. Our positive customer experiences serve as evidence of our unwavering commitment to delivering exceptional service and exceeding your expectations.
Comparing Earthly Matters with Other Atlanta Painting Services
When comparing Earthly Matters to other painting services in Atlanta, it's clear that our dedication to excellence sets us apart. Unlike some other companies, we believe in the value of quality over quantity. We take the time to properly prepare all surfaces, ensuring a durable, long-lasting finish. Our goal is not just to meet your expectations, but to exceed them. We strive to deliver services at a reasonable price, with the aim of turning customers into lifelong clients who would not hesitate to refer us to their family and friends.
In the next section, we'll provide some tips for choosing the right interior painting service in Atlanta. The key takeaway is that it's not just about finding the lowest cost service; it's about finding a service that offers the best value – a combination of quality, reliability, and affordability.
Tips for Choosing the Right Interior Painting Service in Atlanta
Importance of Licensing and Insurance
One of the first things you should consider when hiring a professional interior painting service is ensuring they are fully licensed and insured. A licensed company, like Earthly Matters Contracting, Inc., guarantees that we are legally authorized to operate in Atlanta and surrounding areas. This also implies that we adhere to the necessary regulations and standards set by the state, ensuring professional service.
Insurance is equally vital. It represents a safety net that protects both parties. For instance, if an accident occurs during the painting process causing damage to your property, the cost will be covered by our insurance. This gives you peace of mind knowing you won't incur additional expenses due to unforeseen incidents.
Evaluating the Quality of Work and Customer Service
Quality workmanship and excellent customer service are two significant factors that distinguish a great painting service from an average one. At Earthly Matters Contracting, Inc., our experienced team guarantees quality workmanship, timely execution, and excellent customer service.
To evaluate the quality of work, consider browsing through the company's portfolio or gallery, like our Gallery page, which showcases our previous projects and the level of detail we incorporate into our service.
Customer service is another crucial aspect to consider. You want to hire a company that values its clients, communicates effectively, and responds promptly to your inquiries. Consider checking out customer reviews and testimonials, such as those found on our Reviews page, to get a sense of the kind of service you can expect.
Considering the Range of Services Offered
Lastly, consider the range of services that the painting company offers. At Earthly Matters Contracting, Inc., we provide a variety of services, including exterior painting, deck restoration, and of course, interior painting.
Having a wide array of services means that we can cater to different client needs under one roof, saving you the trouble of hiring multiple contractors. Whether you want to spruce up your interior walls or restore your deck, our team of experts is well-equipped to handle all your painting needs.
In conclusion, choosing the right interior painting service in Atlanta requires careful consideration of several factors. By emphasizing licensing and insurance, evaluating the quality of work and customer service, and considering the range of services offered, you can ensure that you make an informed decision that delivers the best value for your investment.
Conclusion
Recap of Atlanta's Interior Painting Scene
Atlanta's interior painting scene is vibrant and diverse, with many skilled contractors offering a wide array of services. From meticulous color selection to detailed preparation and precise painting techniques, Atlanta's interior painters are well-equipped to transform your home.
As we've seen, the cost of interior painting in Atlanta can vary significantly based on several variables, such as the size of the project, the complexity of the work, and the materials used. Despite these variances, investing in professional interior painting can provide a high return on investment by enhancing your home's aesthetic appeal and increasing its market value.
At Earthly Matters Contracting, we pride ourselves on delivering top-tier interior painting services that reflect our commitment to quality, attention to detail, and customer satisfaction. Our comprehensive services cover every aspect of interior painting, from the initial consultation and color selection to the final touch-ups and clean-up.
Final Thoughts on Choosing the Right Service
Choosing the right interior painting service in Atlanta is an important decision that can significantly impact your home's appearance and value. It is essential to prioritize licensing and insurance, evaluate the quality of work and customer service, and consider the range of services offered.
At Earthly Matters Contracting, we understand the importance of these considerations and strive to exceed our clients' expectations in every area. Our team of experienced professionals uses high-quality materials and advanced painting techniques to deliver exceptional results. Above all, we place a high premium on customer satisfaction and go the extra mile to ensure our clients are happy with our work.
If you're planning an interior painting project in Atlanta, we invite you to contact us for a free, no-obligation quote. We're confident that once you experience our commitment to quality and customer service, Earthly Matters Contracting will be your go-to source for all your interior painting needs.