Unleash the magic of a fresh coat of paint and transform your home with the help of professional interior painters in Woodstock. The change may seem simple, but the impact is profound. A quality interior paint job doesn't just brighten up a room; it enhances your home's aesthetic appeal, shields your walls from damage, and can even increase your property's value. At Earthly Matters Contracting, Inc., we understand the transformative power of paint. That's why we are committed to delivering top-notch painting services that not only meet but exceed your expectations. Whether it's a single room or an entire house, our team of experienced interior painters in Woodstock has you covered. Stick around to discover the ins and outs of interior painting and how our services can elevate your living space.
Understanding Interior Painting: What It Is and Why It Matters
The Basics of Interior Painting
Welcome to the magical world of interior painting, where a simple color change can transform a mundane room into a vibrant, inviting space. At its most basic level, interior painting involves applying a fresh coat of paint to the interior surfaces of a home. This could be the walls, ceilings, trim, or even cabinets. Not only does it give your spaces a fresh, updated look, but it can also enhance the mood and ambience of your home.
However, interior painting is more than just slapping a coat of paint on the walls. It requires careful preparation, including surface cleaning, damage repair, and priming to ensure an even and smooth finish. The choice of paint type, color, and finish are crucial decisions that can greatly influence the overall aesthetic and durability of the paint job.
The Importance of Interior Painting for Your Home
Interior painting is often seen as a simple cosmetic touch-up, but it offers numerous benefits that go beyond aesthetics. Firstly, it significantly contributes to maintaining your home. Walls can become stained and damaged over time, especially in high-traffic areas or places exposed to smoke, steam, or grease. A fresh coat of paint acts as a shield, protecting your walls and surfaces from further wear and tear. Moreover, with the right type of paint, cleaning your walls can become a whole lot easier.
Another key advantage of interior painting is its potential to increase your home's value. If you ever decide to sell your home, a well-executed interior paint job can significantly enhance your home's visual appeal, making it more attractive to potential buyers. A fresh, updated interior can help keep your property value high, even if you're not planning on moving anytime soon.
Finally, and perhaps most importantly, interior painting lets you express your personal style. Whether you prefer bold, vibrant shades or subtle, soothing hues, the color and finish of your paint can make a powerful statement about your taste and personality.
So next time you consider a home improvement project, remember that our interior painters in Woodstock are here to help you unleash the magic of interior painting. It's not just a simple facelift for your home; it's an investment that offers aesthetic, protective, and financial benefits.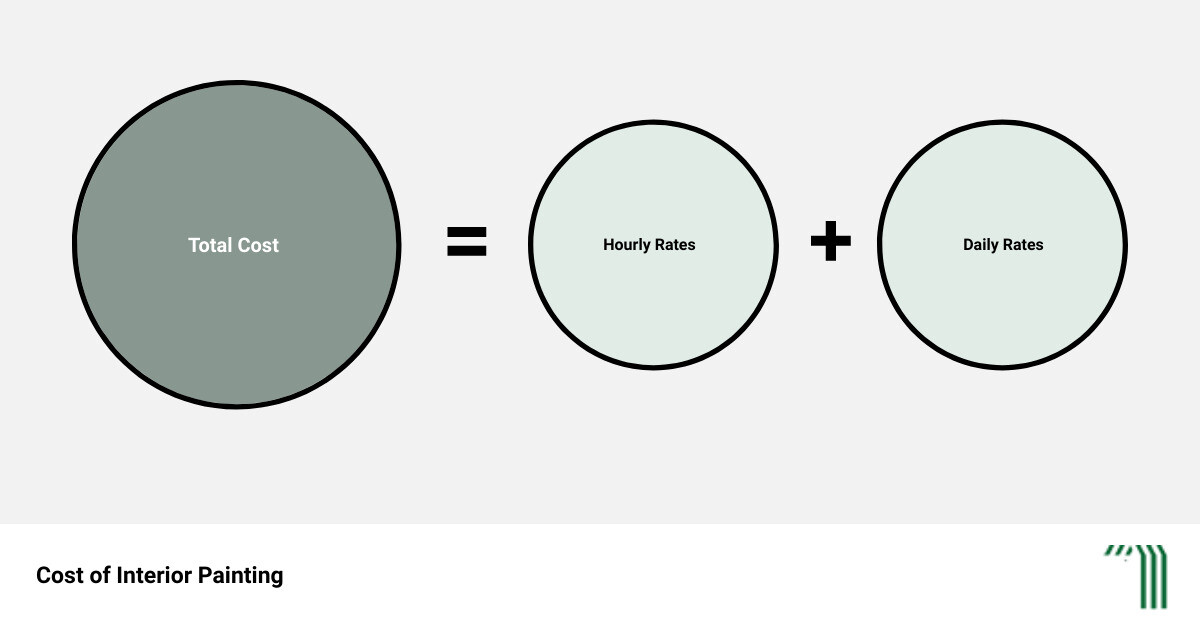 The Cost of Interior Painting: An Overview
When it comes to home improvement projects, understanding the cost is crucial. Especially for interior painting, it's not just about refreshing the look of your home, it's also about ensuring you get value for your money.
Average Hourly Rates for Painters
Let's demystify the numbers, starting with the hourly rates. In the United States, the average cost of labor for professional painters ranges from $22 to $43 per hour. This cost doesn't include taxes or overhead. It's worth noting that this is the labor cost for painting services to pay a professional painter hourly. These rates vary depending on factors like the complexity of the project, the location, and the painter's experience and reputation.
Average Daily Rates for Painters
On a daily basis, the rates differ. For instance, in the UK, the average day rate for a painter and decorator is around £170. However, these rates can vary depending on where you live. Rates in places like London and the South East are generally higher compared to areas like Manchester, Liverpool, and Devon.
It's important to realize that the cost of painting your home can be influenced by several factors. The size and complexity of the job, the type and quality of the paint used, and even the painter's experience and reputation can all play a part in determining the final cost.
In the next section, we'll delve deeper into Earthly Matters, your trusted interior painters in Woodstock, and why we stand out in terms of quality service and customer satisfaction. We'll also provide a step-by-step guide on the interior painting process to give you a better understanding of what to expect. Remember, it's not just about giving your home a new look, it's about making an investment that offers aesthetic, protective, and financial benefits.
Earthly Matters: Your Trusted Interior Painters in Woodstock
Are you looking for a professional painting company that can make your home stand out with a fresh coat of paint? Look no further. Earthly Matters Contracting, Inc. is your trusted partner for all your interior painting needs. We're a locally-owned company committed to providing top-quality painting services in Woodstock and the surrounding areas.
Who We Are: Earthly Matters Painting
Earthly Matters Contracting, Inc. is not just a painting company; we're a team of experienced professionals dedicated to transforming spaces and exceeding expectations. Since 1999, we've been helping homeowners revamp their homes, adding value and character with every stroke. Our team's vast experience and expertise ensure the highest level of craftsmanship and attention to detail for every project we undertake.
Our Unique Selling Proposition: Quality Service and Customer Satisfaction
What sets Earthly Matters apart? It's our commitment to quality service and customer satisfaction. We don't just paint your interiors; we create a space that reflects your personality and enhances your living experience. We understand that your home is your sanctuary, and we treat it with the utmost respect.
We understand that time is of essence, which is why we guarantee on-time service delivery and take the necessary measures to ensure the timely completion of your project. We also provide a customer satisfaction guarantee which means that you pay only when you're satisfied with our work.
From the initial consultation to the final touch-ups, we manage all aspects of the job, ensuring a smooth, hassle-free experience for you. We're not just about getting the job done, but about creating a lasting relationship with our customers.
With Earthly Matters Contracting, Inc. as your trusted interior painters in Woodstock, you can rest assured of a professional, customer-focused approach that will exceed your expectations. We're big enough to serve all your painting needs, yet small enough to care! Choose us for a transformational interior painting experience that you'll love and appreciate for years to come.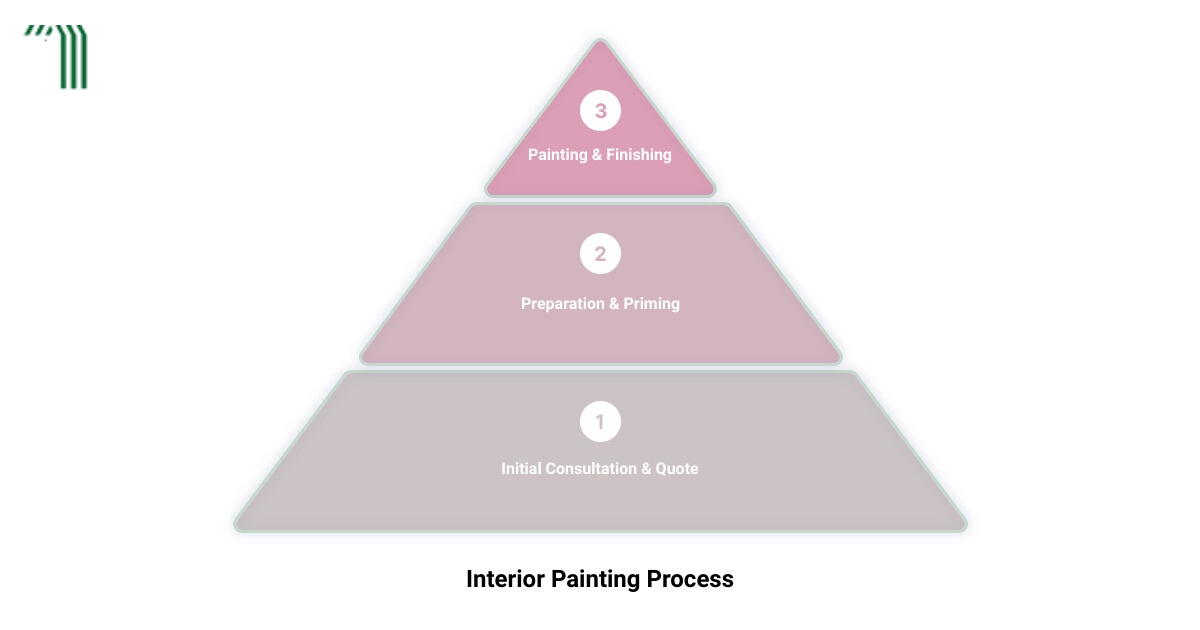 The Process of Interior Painting: A Step-by-Step Guide
Unlocking the magic of a transformed home begins with understanding the step-by-step process of interior painting. As professional interior painters in Woodstock, we at Earthly Matters have honed an effective painting process that ensures impeccable results, every time.
Initial Consultation and Quote
Every successful painting project begins with a thorough consultation. In this initial stage, we listen to your vision, assess the scope of the project, and provide an accurate and transparent quote. During this phase, we offer professional advice on color selection, keeping in mind the perceived space of your room. Light colors tend to open up the space, while dark colors make a room look smaller. If you're planning to sell your home, we recommend sticking with neutral colors, as potential buyers find it easier to visualize their belongings in your home.
Preparation and Priming
Once we've agreed on the project specifics, our team moves on to the preparation stage. This includes checking for lead paint for homes built before 1978, and undertaking any necessary repairs before painting. Dirty walls, particularly near the stove and sink, are thoroughly cleaned as greasy deposits and soap scum can interfere with paint's adhesion.
In addition to this, we also perform intricate tasks such as filling any holes and cracks with putty to ensure a smooth surface for paint. Moreover, we take care of any necessary surface preparation, including priming, to ensure the paint will perform to its fullest potential.
Painting and Finishing
Finally, our talented team of painters brings your vision to life. With a precise and coordinated approach, we apply the chosen paint, ensuring perfect coverage and a beautiful finish. We're skilled in various painting techniques, including color washing, sponging, crackle and more, that can bring your rooms to life.
Once the painting is done, we take care of any necessary touch-ups and conduct a final walk-through with you to ensure everything is up to your satisfaction. The type and number of coats of paint, as well as the brand of paint used, are all included in our comprehensive service.
Our team is prepared for any sudden problems and we handle any potential weather or personal issues professionally and in a timely manner. With Earthly Matters, your home's transformation is just a paintbrush away!
In the next section, we'll outline what to look for when choosing the right interior painter for your project.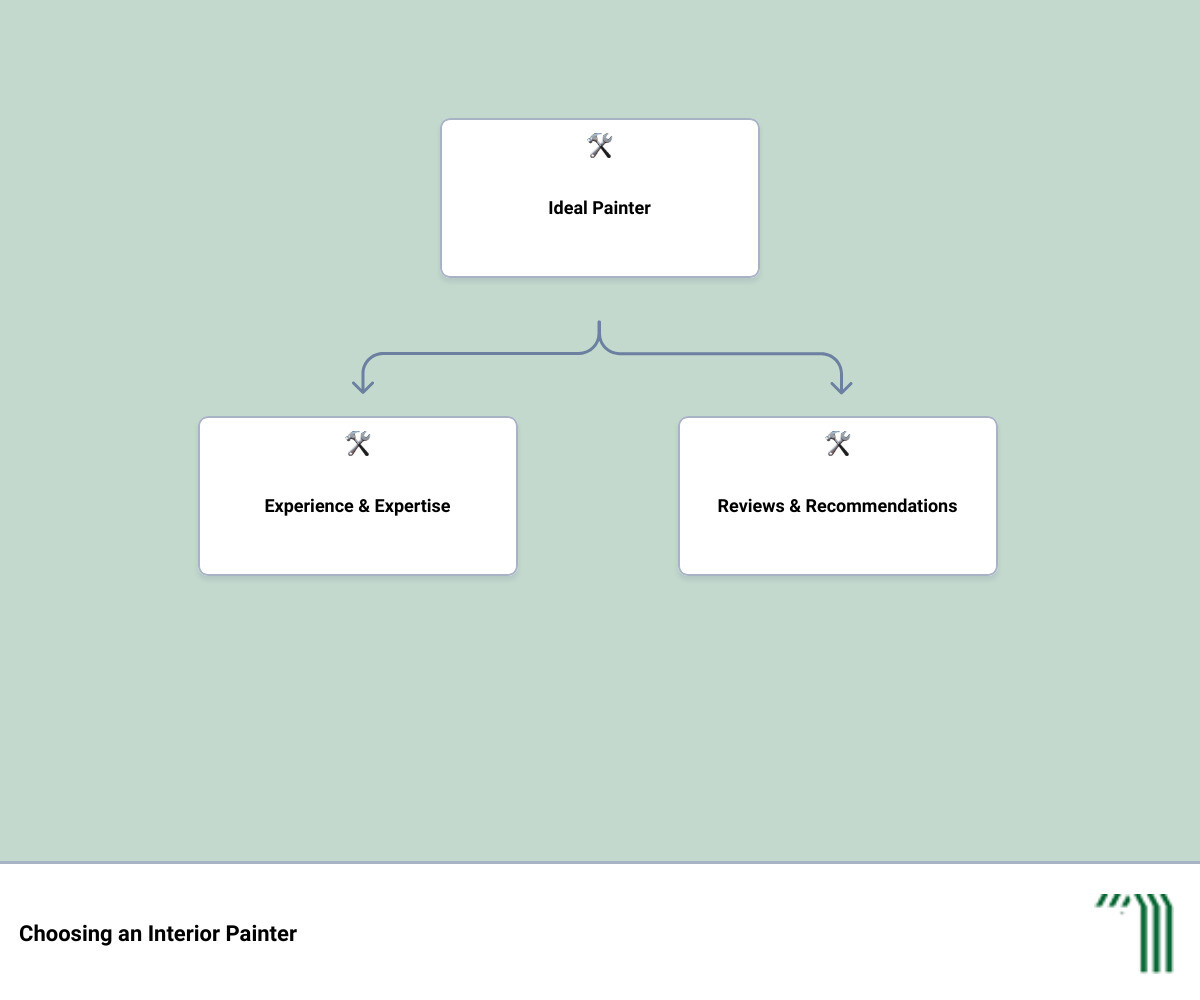 Choosing the Right Interior Painter: What to Look For
Choosing the right interior painter isn't as simple as picking a name out of a hat. It's a decision that requires careful consideration and research. After all, you're entrusting your home to this professional, hoping they can transform your space into the vision you have in mind. Here are some vital factors to consider when deciding on the perfect interior painter for your project.
Experience and Expertise
A painter's experience and expertise are crucial indicators of their ability to deliver a high-quality job. It's essential to ask about their experience with similar projects. A professional interior painter, like the ones at Earthly Matters, would have handled a variety of painting projects, giving them a wealth of experience to draw from. Moreover, their expertise in different painting techniques, preparation methods, and finishes can ensure that your home achieves the perfect look.
Reviews and Recommendations
In the digital age, reviews and recommendations have never been more accessible. Checking the reviews of potential painters can provide a glimpse into their work ethic, professionalism, and quality of work. Furthermore, recommendations from trusted friends, neighbors, or family members can also be an invaluable resource. For instance, Earthly Matters has received glowing reviews from customers who have praised their precision, timeliness, and the quality of their work.
Pricing and Value for Money
While it can be tempting to go for the cheapest option, it's important to consider the value for money. Does the painter's estimate include prep work, clean-up, and high-quality materials? Are there hidden costs for moving furniture or painting over high ceilings? Remember, a low price upfront can sometimes lead to subpar results or additional costs down the line.
As mentioned earlier, the average painter's labor cost in the United States ranges from $22 to $43 per hour, and the per day rate can vary significantly. The team at Earthly Matters provides transparent pricing, ensuring that you understand exactly what you're paying for.
Choosing the right interior painter can seem daunting, but with careful consideration of these factors, you can make an informed decision. In the next section, we'll dive into the detailed process of interior painting, ensuring you know exactly what to expect from your chosen painting professionals.
Conclusion: Transform Your Home with Interior Painters in Woodstock
The magic of a fresh coat of paint can breathe life into your home. With a skilled team of professional interior painters in Woodstock, like Earthly Matters Contracting, you can transform your space into a haven of beauty and comfort. It's not simply about changing the color of your walls – it's about enhancing your lifestyle, uplifting your mood, and adding value to your property.
With over two decades of experience in the painting industry, Earthly Matters Contracting has earned a reputation for delivering high-quality results with meticulous attention to detail. We understand the intricacies of interior painting – from selecting the right color palette to ensuring proper surface preparation, from utilizing the highest quality paints to finishing the job with a flawless touch.
We are committed to providing exceptional service and ultimate customer satisfaction. Our A+ rating on the Better Business Bureau and numerous positive reviews on Google, Facebook, Nextdoor, and Angi are testament to our dedication. We stand behind our work with a 5-year quality painting warranty, and offer a free paint upgrade to ensure your home gets the best protection.
Choosing us as your interior painters in Woodstock means you're entrusting your home to a team that cares and respects your space. We offer a "no fault" touch-up service, ensuring any missed spots or damage caused during the process is rectified promptly, giving you peace of mind and a beautifully painted home.
In conclusion, transforming your home doesn't have to be a daunting task. With the right team of interior painters in Woodstock, you can unleash the magic in your home. So, whether it's a minor touch up or a major overhaul, trust Earthly Matters Contracting to provide you with a seamless, stress-free painting experience. Your dream home is just a paint job away!