Introduction: The Importance of House Painting
Painting your home is far more than a simple aesthetic upgrade. A fresh coat of paint is a transformative home improvement project that goes beyond just splashing a new color on your walls. With the right hue, you can not only dramatically enhance the visual appeal of your home but also increase its overall value. If you are residing in Woodstock or its adjacent areas and are considering giving your home a fresh, new look, our guide on house painting Woodstock secrets will provide vital information.
House painting, both interior and exterior, is a crucial element in preserving the longevity of your home. It acts as a protective shield against the elements, safeguarding your home's surfaces from wear and tear. Moreover, it's a cost-effective way to give your home a refreshing makeover, accentuating its architectural features and boosting its curb appeal.
Choosing the right paint color can significantly influence the mood and tone of a room. It can make a small room feel more spacious, a dark room brighter, or an old house look fresh and modern. However, the process of choosing the right paint color can be intimidating. And this is where professional house painting services, like Earthly Matters Contracting, can make a difference.
This guide will provide insights into the importance of house painting, the unique selling proposition of Earthly Matters, and the range of services we offer. It will also provide tips on how to negotiate with a house painter and testimonials from our satisfied customers. So, sit back and learn how to revitalize your home with the art and science of house painting.
Earthly Matters: Your Trusted House Painting Company in Woodstock
Ready to elevate the aesthetic appeal of your home with a fresh coat of paint? Look no further than Earthly Matters Contracting, the house painting Woodstock residents trust for exceptional service and quality.
Our Commitment to Quality Service
At Earthly Matters, our commitment to quality service is unwavering. We understand the important role that house painting plays in enhancing your home's curb appeal and protecting it from the elements. This is why we always go the extra mile to ensure our work meets, if not exceeds, your expectations. From the initial consultation to the final touch-up and clean-up, we provide a seamless, hassle-free experience that sets us apart from other house painting companies in Woodstock.
Our Unique Selling Proposition: Exceeding Customer Expectations
We don't just aim to meet customer expectations—we strive to exceed them. Our unique selling proposition lies in our dedication to customer satisfaction. We take the time to understand your vision for your home and work diligently to bring it to life. Plus, with our Four Star Service Guarantee, we ensure that you're completely satisfied with our work.
Our Services: Interior and Exterior Painting
Whether you're looking to revamp the interior of your home or boost its exterior appeal, Earthly Matters has got you covered. We offer both interior and exterior house painting services, using high-quality materials suited to Woodstock's unique climate and your home's specific needs. Our experienced craftsmen meticulously prepare surfaces, ensuring optimal paint adhesion and a durable, high-quality finish.
Our Experience and Expertise
With over 20 years of experience in the painting industry and a plethora of positive reviews on platforms like the Better Business Bureau, Google, Facebook, and Angi, our expertise is unquestionable. Our team of skilled painters has a deep understanding of painting techniques, materials, and the unique requirements of different surfaces. This wealth of experience and expertise, coupled with our commitment to quality service, ensures that when you choose Earthly Matters for your house painting Woodstock project, you're in capable hands.
The Art of House Painting: What Sets Us Apart
Transforming your home is not just about slapping on a new coat of paint. It's an art form, a meticulous process that requires expertise, precision, and a keen eye for detail. At Earthly Matters, we have mastered this art, offering a service that goes beyond simple house painting. Here's what sets us apart:
Our Detailed Painting Preparation Process
The secret to a stunning, long-lasting paint job lies in the preparation. We start by thoroughly pressure washing the exterior of your home, removing dirt, mold, and mildew that can affect the paint adhesion. We then treat any mildew present, repair damaged wood or stucco, and scrape off all loose and peeling paint.
Our team goes the extra mile, caulking cracks and seams, patching uneven areas, and priming new and exposed wood. Interior painting involves similar meticulous preparation, including sanding walls and trim, caulishing and repairing damaged drywall seams, and priming new areas. We also take care of details like masking off baseboards, removing light switch and electrical outlet plates, and covering floors and furniture to protect them from paint splatters.
Our Skilled Craftsmen: Over 10 Years of Experience
Our team of painting craftsmen come with more than a decade of experience under their belts. They possess a deep understanding of painting techniques, materials, and the unique requirements of different surfaces. This expertise, coupled with a steadfast commitment to quality, ensures that every stroke of the brush is done with precision, resulting in a stunning finish that enhances the beauty of your home.
Our Quality Control Processes
At Earthly Matters, we don't just paint and leave. We have implemented an extensive step-by-step quality control process that ensures the highest standards of excellence. From the initial consultation to the final walk-through, every stage of our painting process is overseen by an experienced jobsite foreman. This rigorous oversight guarantees a flawless finish and the satisfaction of our clients.
Moreover, we stand by the quality of our work with a 5-year warranty on our interior and exterior painting. This commitment to quality control and customer satisfaction is why we have been a trusted BBB A+ rated painting company for over 17 years.
So, when it comes to house painting Woodstock services, Earthly Matters is more than just a painting company. We're your partners in transforming your home, one brush stroke at a time.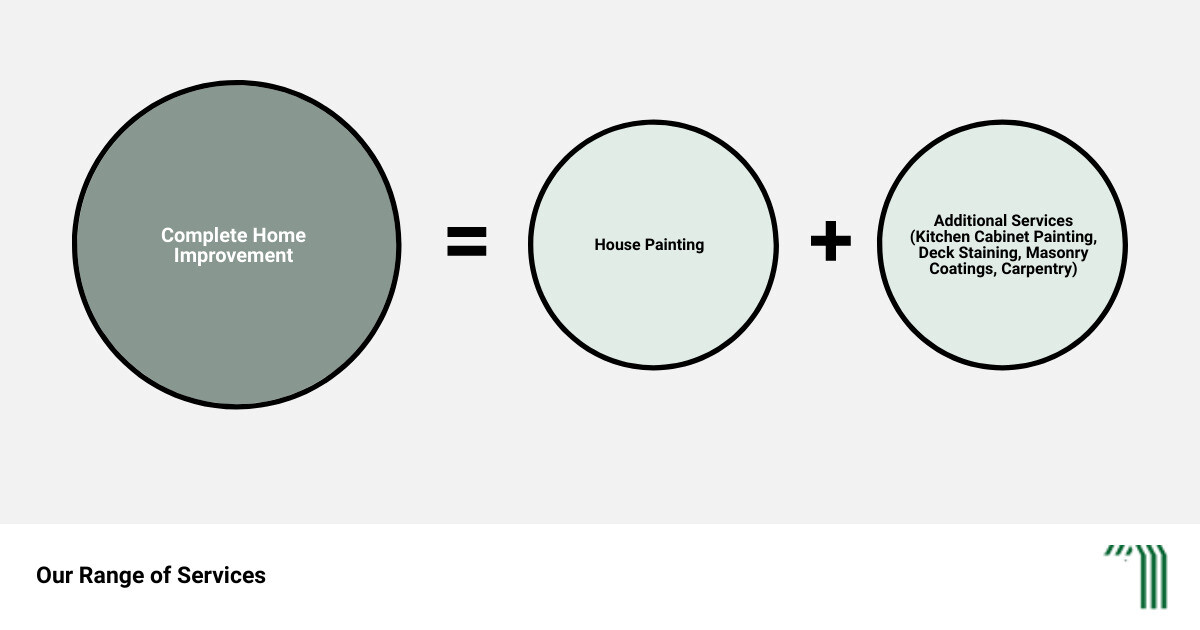 Our Range of Services: More Than Just House Painting
At Earthly Matters, we understand that a fresh coat of paint can entirely transform the look and feel of your home. Yet, we also acknowledge that revitalizing your house often extends beyond just painting the walls. That's why we offer a comprehensive suite of services tailored to enhance every inch of your living spaces.
Kitchen Cabinet Painting
Tired of your dull, outdated kitchen cabinets? Our expert team can breathe new life into your kitchen with our specialized kitchen cabinet painting service. We work meticulously to ensure that the final output is not just aesthetically pleasing but also durable and long-lasting. Our professional painters sand and prepare the surface of your cabinets for the paint, ensuring a smooth, flawless finish that can withstand the regular wear and tear of a busy kitchen.
Deck Staining and Refinishing
A well-maintained deck can serve as a fantastic extension of your living space, providing an ideal spot for barbecues, family gatherings, or simply soaking up the sun. Our deck staining and refinishing services are designed to protect your deck from the elements while enhancing its natural beauty. Our experienced painters can help you choose just the right stain or finish to complement your house's exterior, ensuring a seamless blend with the rest of your property.
Limewash/Masonry Coatings
For homeowners seeking a classic, textured look for their brick or stonework, our limewash/masonry coatings service is a perfect choice. This centuries-old technique can give your masonry a charming, rustic appeal while also providing a protective layer against moisture and mold. Our professionals are skilled in applying the limewash to achieve a beautiful, uniform finish that enhances the character of your home.
Interior/Exterior Carpentry
In addition to our painting services, we also offer interior and exterior carpentry services. Whether it's repairing damaged wood, replacing siding, or installing new trim, our skilled carpenters can handle it all. We understand that carpentry is an integral part of a home makeover, and we are committed to providing top-notch carpentry services that meet your specific needs and preferences.
In conclusion, at Earthly Matters, we are committed to offering a holistic range of services to revitalize your home. So, when it comes to house painting Woodstock services and beyond, look no further than Earthly Matters. Your dream home is just a call away!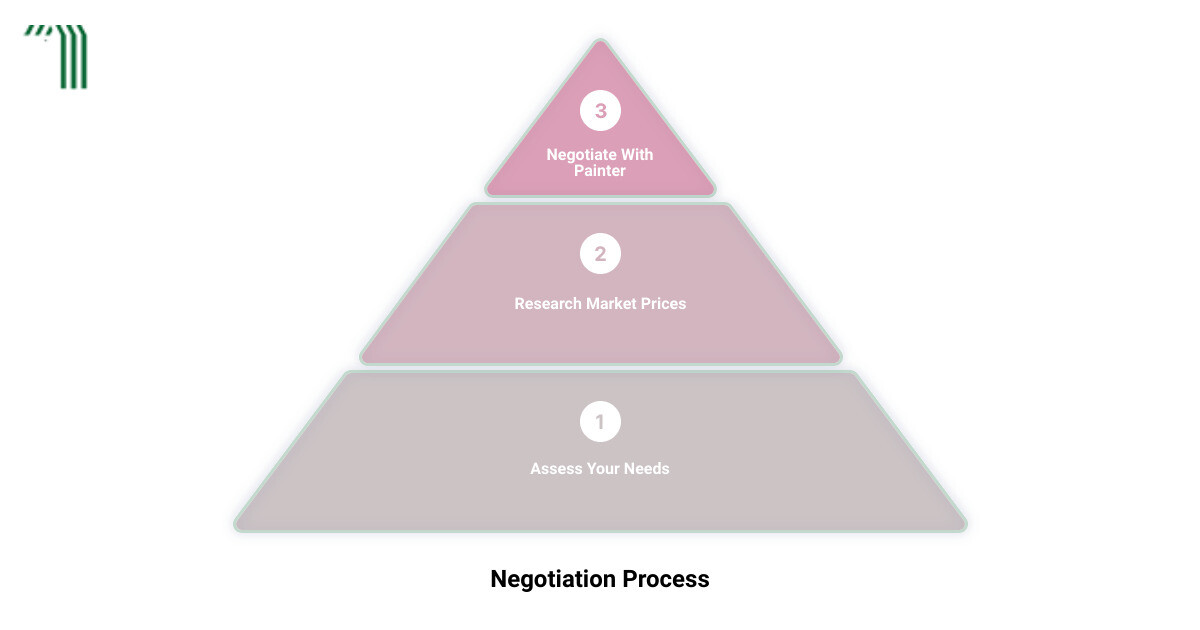 Can You Negotiate with a House Painter? Tips and Tricks
Revitalizing your home with a fresh coat of paint doesn't have to drain your bank account. Yes, you heard it right, you can negotiate with your house painter. But how? Let's delve into some tips and tricks that can help you get the best value for your money.
The Importance of Time Flexibility
One of the best ways to secure a better deal with your house painter is by offering time flexibility. Painters, like many other professionals, have busier seasons and slower seasons. If you can provide some flexibility about when the work can be done, they might be more willing to negotiate.
Choosing to have your house painted in the off-peak season could lead to substantial savings. Plus, you may be able to get the job done faster as well, as painters are less likely to be juggling multiple projects at the same time. So when planning your house painting Woodstock project, remember that timing is key.
How to Ask for a Discount
Negotiating a discount with your house painter is not just about asking for a lower price. It's also about understanding their work and valuing their expertise. Here are a few tips on how to approach this:
Be respectful: Remember, painting is a skilled labor and your painter is a professional. Value their time and expertise and approach any negotiation with respect.

Get multiple quotes: This can provide a benchmark for comparison. It also gives you an idea of the going rate for the service, so you can negotiate from an informed position.

Communicate effectively: Be upfront about your budget and ask if there are ways to work within it. This could include adjusting the scope of the work or using a different type of paint. With clear communication, your painter might be able to suggest alternatives that can help you stay within budget without compromising on quality.

Ask about discounts: Some companies, like Earthly Matters, offer discounts to seniors and military personnel. It never hurts to ask!
In conclusion, finding the right balance between quality service and affordability is key. At Earthly Matters, we pride ourselves on offering top-notch house painting Woodstock services at competitive prices. We believe that everyone should have access to high-quality, affordable house painting services to help them create the home of their dreams. So, why wait? Get in touch with us today and let's discuss how we can bring your vision to life!
Why Choose Earthly Matters: Testimonials from Satisfied Customers
When it comes to house painting Woodstock, the proof is in the pudding – or in our case, the paint job. Earthly Matters Contracting, Inc. prides itself on delivering exceptional service and the testimonials from our satisfied customers speak volumes about our commitment to quality and customer satisfaction.
Our BBB A+ Rating and 5-Star Reviews
We have a solid track record that has earned us an A+ rating from the Better Business Bureau (BBB), a testament to our dedication to ethical business practices and customer service. But that's not all – we also have glowing reviews from numerous customers on platforms like Google, Facebook, and Angi.
Our clients consistently praise us for our professionalism, punctuality, attention to detail, and the quality of our work. One homeowner was astounded by the transformation of their home while a business owner appreciated our team's meticulous attention to detail. These positive reviews paint a vivid picture of the high standard of service that we offer.
Our Commitment to Customer Satisfaction
We understand that painting a home is not just about slapping on a coat of paint. It's about bringing your vision to life, enhancing the aesthetic appeal of your home, and improving its value. That's why we go the extra mile to ensure that every job is done to perfection, with every detail taken care of.
Our commitment to customer satisfaction extends beyond the completion of the project. We are always ready to answer any queries our clients may have, and we assure them that we use only the best materials and techniques in the industry. This ensures that our painting solutions not only look great but also stand the test of time.
Choosing Earthly Matters as your house painting Woodstock contractor means investing in a solution that is not just effective but also durable. We don't just paint homes; we build a relationship with our clients based on trust, quality, and satisfaction. So, if you're looking for a house painting company that can provide a comprehensive, top-quality, and reliable service, look no further than Earthly Matters.
Conclusion: Revitalize Your Home with Earthly Matters
Revitalizing your home is no small task. It requires careful planning, a keen eye for detail, and professional expertise. Earthly Matters Contracting, Inc., your trusted house painting Woodstock specialist, brings all these aspects to the table and more. Our commitment extends beyond delivering high-quality painting services. We strive to enhance your living experience and the value of your home.
Our nearly 20 years of experience in the industry stand as a testament to our dedication and proficiency in residential painting. Whether it's painting your kitchen cabinets, staining and refinishing your deck, or applying limewash coatings for that rustic appeal, we have the skills and knowledge to handle diverse tasks.
Our detailed painting preparation process, skilled craftsmen with over a decade of experience, and stringent quality control measures ensure that we deliver a finish that not only looks good but also stands up to the test of time. We understand that every home is unique and requires a tailored approach, which is why we offer customized solutions to meet your specific needs.
But our services don't stop at painting. We also offer a range of additional services like drywall repair, wood repair, and even siding replacement that can enhance the overall aesthetics and durability of your property. We collaborate with homeowners' insurance companies to restore your home's beauty after severe weather events, navigating the complex insurance claims process for you and ensuring a seamless and stress-free experience.
Our A+ BBB rating and numerous five-star reviews reflect our unwavering commitment to customer satisfaction. We don't just aim to meet your expectations; we strive to exceed them. With Earthly Matters, you're not just getting a painting service; you're partnering with a team of professionals dedicated to revitalizing your home and improving your quality of life.
So if you're ready to transform your home, give us a call or fill out our form for a 100% complimentary quote. Let Earthly Matters be your trusted partner in bringing a fresh, vibrant look to your home. Your revitalized home is just a call away!