Introduction
Brief Introduction to Earthly Matters Painting Company
Re-imagine your living space with a fresh coat of paint expertly applied by the skilled professionals at Earthly Matters Painting Company. As one of the leading 'house painters Atlanta', we are committed to transforming the look of your home while ensuring an exceptional customer experience. Established in 2006, we've been serving the residents of Metro Atlanta, including Johns Creek, Roswell, Peachtree City, and Alpharetta, with unmatched diligence and a keen eye for detail.
At Earthly Matters, we don't just paint homes; we breathe life into them. Our team of experienced painters, office staff, sales consultants, and project managers are dedicated to delivering stunning, durable results that not only meet but exceed your expectations.
Importance of Professional Painting Services
A fresh layer of paint is not just a cosmetic upgrade; it's an investment. It's about protecting your home from the elements, enhancing its curb appeal, and expressing your style. However, the task of painting, especially exterior painting, is not as simple as it may seem—it's an art that requires precision, patience, and experience.
While a DIY painting project might initially seem like a cost-saving endeavor, the risks and pitfalls associated with it can quickly turn it into a stressful and costly affair. From safety concerns to improper surface preparation and uneven paint application, the potential for errors is high. On the other hand, hiring professional painters like Earthly Matters ensures your project is handled with expertise and care, delivering a high-quality, long-lasting finish.
Professional painting services go beyond just applying a fresh coat of paint. They involve meticulous preparation, including pressure washing, scraping, sanding, priming, and identifying and repairing areas of wood rot and water damage. This level of detail and expertise is unmatched by DIY efforts.
Moreover, professional painting companies offer warranties on their work, giving you peace of mind that if anything goes wrong with the paint job, you're covered. They also prioritize safety, with the necessary training and insurance coverage to ensure a safely completed project.
So, if you're considering giving your home a new look, entrust your painting project to the professionals. With Earthly Matters, your house is not just another project; it's a canvas that we treat with the utmost care and respect. We don't just paint homes—we transform them.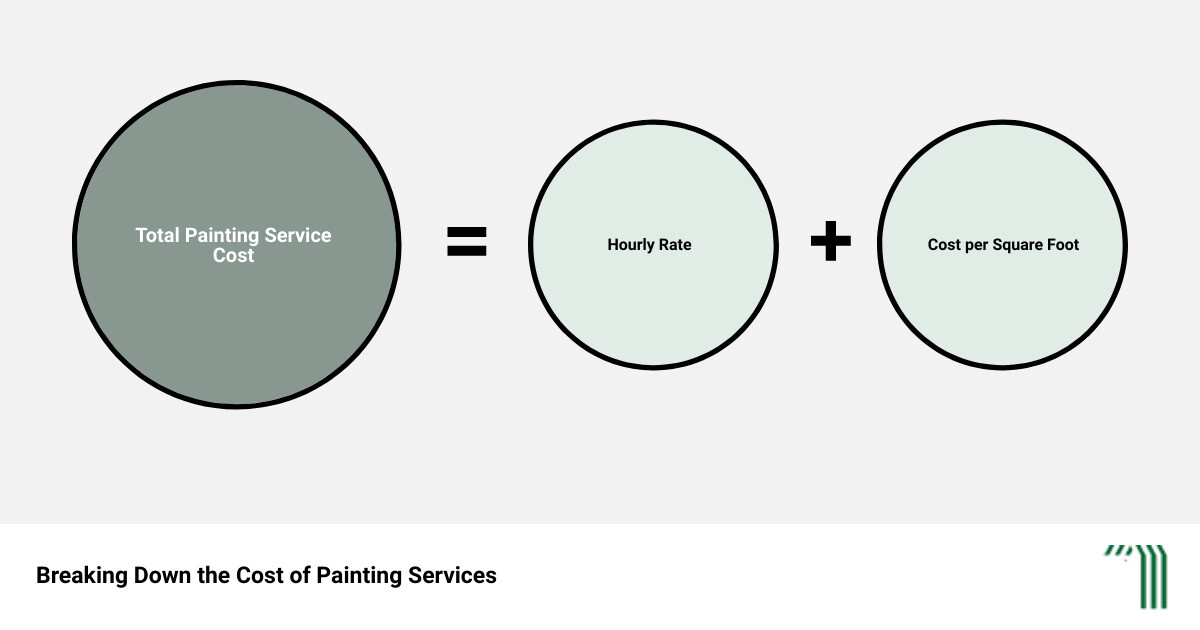 Understanding the Cost of Painting Services
Knowing what to expect in terms of cost can help you budget effectively for your painting project. Let's break it down.
Average Hourly Rate for Painters
In the United States, the average cost of labor for a professional painter ranges from $22 to $43 per hour. This cost does not include taxes or overhead. Keep in mind that this is the labor cost to pay a professional painter hourly, and the actual rates can vary based on factors such as the complexity of the job, the area you live in, and the experience of the painter.
Average Daily Rate for Painters
When it comes to daily rates, the average cost for a painter in the United States can vary significantly. For instance, in the UK, the average day rate is £170 (approximately $230), with rates ranging from £120 to £400 (approximately $160 to $540) depending on the location. It's likely that prices will follow a similar pattern in the US, with rates being higher in major cities and lower in less populated areas.
Cost per Square Foot for Painting
The cost per square foot is another important factor to consider when budgeting for a painting project. On average, painting the interior of a home costs $2.75 per square foot. If you decide to include the walls, trim, and ceilings in the project, the cost may rise to $4.69 per square foot. However, if any repairs are needed before the painting can begin, you can expect to pay more.
In Atlanta, homeowners spend between $1.20 and $2.90 per square foot for exterior painting. The total cost for painting the exterior of your home will depend on factors such as the size and condition of your home, as well as the quality of the paint used.
By understanding these costs, you can make an informed decision on how to proceed with your painting project. Remember, investing in professional painting services like those offered by Earthly Matters can help ensure a high-quality outcome that enhances the value and appeal of your home.
The Art of Negotiation with House Painters
The world of professional painting is a realm of artistry, precision, and craftsmanship. However, it doesn't have to be a world where finances become a barrier to achieving your dream home transformation. By effectively communicating and negotiating with your house painters, you can ensure a win-win situation for both parties. Earthly Matters Painting Company, known for its quality services and fair pricing, is always open to a respectful negotiation process.
Tips for Negotiating with a House Painter
A key component of successful negotiation is respect. Approach your discussion with understanding that painting is a skilled labor and your expert house painters in Atlanta deserve a fair payment for their high-quality services.
When you request an estimate, get quotes from several painting companies. Having a range of estimates gives you leverage for negotiation and an understanding of the average cost for the service.
Effective communication is crucial. Be upfront about your budget and ask if there are ways to work within it. This might involve adjusting the scope of work or using a different type of paint. You can also discuss the quote line by line to understand what exactly you're paying for, which can reveal areas where you could potentially save money.
How Flexibility Can Lead to Discounts
Your flexibility might be your most powerful bargaining chip. If your schedule allows it, consider offering to have the job done during the painter's off-peak season. Painters, like Earthly Matters, might be more willing to negotiate during their slower periods.
An upfront payment can also be a good bargaining chip, but remember to avoid providing full payment before the job is complete. This ensures that the job will be done to your satisfaction while providing the painter with a sense of security.
Increasing the size of the job by adding more work to the project can also reduce the overall cost per square foot. For instance, if you plan on painting both the interior and exterior of your house, doing it all at once could be more cost-effective.
Lastly, you can consider doing some of the preparatory work yourself. This could include moving furniture, removing artwork from walls, or even doing a bit of sanding. This reduces the workload for the painters and could potentially lower the overall cost.
By being respectful, understanding, and flexible, you can effectively negotiate with your house painters, ensuring a fair price for their excellent services while staying within your budget.
The Services Offered by Earthly Matters
When it comes to transforming the look of your home, a professional touch can make all the difference. Earthly Matters, one of the leading house painters in Atlanta, offers a comprehensive range of services that go beyond just painting. They provide top-notch interior and exterior painting services, along with an array of additional services that can significantly enhance the overall look and feel of your property.
Interior Painting Services
The interior of your home is a manifestation of your unique style and personality. Earthly Matters understands this and is committed to helping you create an atmosphere that truly reflects your vision. Their team of experienced professionals takes pride in delivering the highest quality painting services. From filling nail holes and fixing minor sheetrock imperfections to expertly handling wallpaper removal or painting over it, they ensure a seamless, efficient, and meticulous interior painting job. They prioritize protecting your furniture and flooring throughout the process to deliver a stunning transformation without any hassles.
Exterior Painting Services
Your home's exterior is the first impression it gives to the world. Earthly Matters ensures that this impression is nothing short of perfect. They offer both residential and commercial exterior painting services. Whether it's pressure washing and prepping all exterior areas to be painted or applying a finish coat of paint that contains a mildew inhibitor, they guarantee a job well done. Their painting services not only enhance the visual appeal of your property but also protect it from the elements, adding to its longevity.
Additional Services: Pressure Washing, Drywall Repair, etc.
Earthly Matters is more than just a painting company. They offer a range of additional services that can elevate the overall aesthetics of your property. These include pressure washing, drywall repair, wood repair, and cabinet painting. They are also skilled in identifying and repairing permanent water damage, replacing any exterior surfaces with non-rot material to ensure the durability of your property. Moreover, if you're looking to add decorative elements to your home interior, their team can expertly install borders around your home, including fireplace mantels, baseboards, door casings, and wainscoting.
In summary, Earthly Matters provides a holistic service that takes care of your property from the inside out. Their commitment to quality and attention to detail has made them one of the top choices for house painters in Atlanta.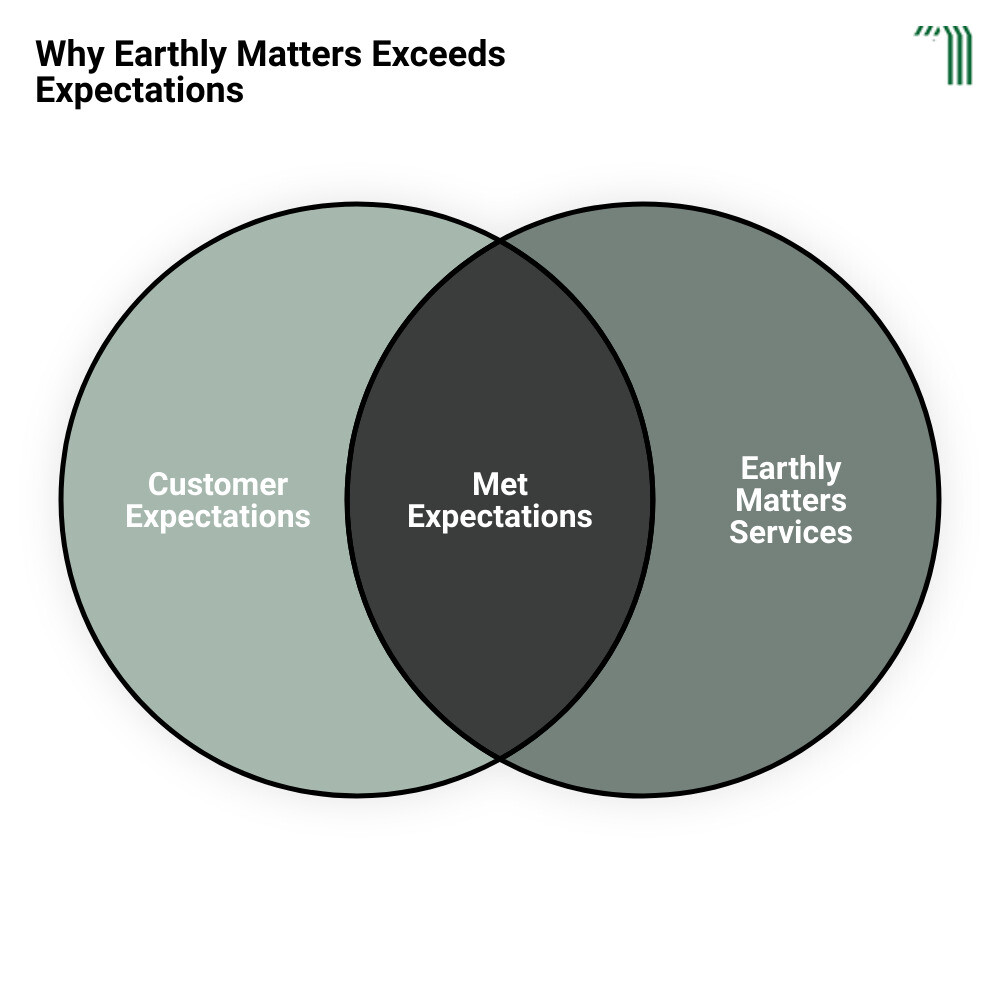 Why Choose Earthly Matters: A Look at Customer Reviews
Positive Customer Experiences
Many say that the best testament to a company's service quality is the feedback from its customers. If that's the case, Earthly Matters Contracting, Inc. paints an impressive picture indeed. Their reputation for superior service is reflected in the glowing reviews they've received from satisfied customers in Atlanta and the surrounding areas. Homeowners have frequently praised the company's professionalism, punctuality, and quality of work, highlighting how Earthly Matters has consistently outperformed their competitors.
One customer recalls their astonishment at the transformation of their home, while a business owner appreciated the team's meticulous attention to detail and respect for their property. These positive experiences serve as evidence of Earthly Matters' commitment to delivering exceptional service and exceeding customer expectations.
How Earthly Matters Exceeds Customer Expectations
Earthly Matters does not only aim to meet customer expectations, but they strive to exceed them. This is evident in the company's high ratings across multiple platforms, including an A+ rating from the Better Business Bureau, high Google reviews, and numerous positive testimonials on Facebook and Angi.
But it's not just about high ratings. The value of Earthly Matters lies in the stories behind those ratings. It's about the homeowner who was thrilled with the fresh, new look of their home after a paint job, or the business owner who appreciated the team's respect for their workspace and attention to detail. It's also about the customers who felt that Earthly Matters went the extra mile to ensure their satisfaction, whether it was through their flexibility in scheduling, their thorough clean-up after the job, or their willingness to address any concerns promptly and professionally.
In essence, Earthly Matters' customer reviews reveal an unwavering commitment to customer satisfaction. They highlight a team that pays attention to every detail, communicates effectively with clients, and delivers high-quality work within the promised time frame. This dedication to excellence, combined with their ability to exceed expectations, has made Earthly Matters a top choice for house painters in Atlanta.
Conclusion
The Value of Professional Painting Services
Revitalizing your home with a fresh coat of paint is not a task to be taken lightly. It requires expert knowledge, meticulous preparation, and an unwavering commitment to quality. Whether it's enhancing your home's curb appeal with a vibrant exterior paint job or transforming your living spaces with a new color palette, professional painting services ensure a flawless finish that stands the test of time.
Unlike DIY painting projects, professional painters bring a wealth of expertise to the table, ensuring that the job is done right the first time. They offer meticulous surface preparation, skilled paint application, and thorough cleanup, providing you with a stress-free painting experience. Plus, with safety measures and quality guarantees in place, you can rest easy knowing that your home is in good hands.
Why Earthly Matters is the Top Choice for House Painters in Atlanta
When it comes to professional painting services in Atlanta, Earthly Matters Contracting, Inc. stands head and shoulders above the rest. Their commitment to quality, attention to detail, and top-notch customer service have earned them rave reviews from satisfied customers across the region.
Earthly Matters' team of skilled professionals treats every home as if it were their own, ensuring that each project receives the care and attention it deserves. They offer a comprehensive range of services, from interior and exterior painting to pressure washing and drywall repair, making them a one-stop-shop for all your painting needs.
Moreover, Earthly Matters goes beyond just applying a coat of paint. With their meticulous surface preparation and ability to identify and repair areas of wood rot and water damage, they ensure that your new paint job not only looks great but also lasts for years to come.
Their dedication to customer satisfaction is evident in their 5-year guarantee on cracking, peeling, or blistering, giving homeowners peace of mind that their investment is protected.
In conclusion, for homeowners in Atlanta seeking a seamless blend of quality, professionalism, and customer satisfaction, Earthly Matters Contracting, Inc. is the top choice. When you entrust your home to Earthly Matters, you're not just getting a fresh coat of paint – you're investing in a transformative experience that enhances the beauty and value of your home.