The exterior of your home is the first impression you make on anyone who passes by. A fresh, eye-catching paint job can significantly elevate your home's curb appeal, leave a lasting impression and even increase its market value. It's like putting on a sharp suit or a stylish dress – people instantly sit up and take notice. However, painting the exterior of your house is more than just an appearance makeover. It's a strategic investment for your home's long-term health and durability. That's where we, at Earthly Matters Contracting, Inc., come in.
As with any important task, there are a few secrets to ensuring a successful exterior house painting project. From choosing the right paint type and color to preparing the surface, correct application, and maintenance, each step plays a fundamental role in the final result. Sounds complicated, right? But worry not. With our guidance and professional assistance, revamping your house's exterior will be smooth sailing.
Now, wouldn't it be great if painting your house's exterior was as easy as picking a color and brushing it on? In reality, it's a process that requires careful consideration and a specific set of skills, especially if you want to avoid some common painting issues like peeling, cracking, and blistering.
Our goal at Earthly Matters Contracting, Inc. is to help homeowners in Alpharetta and surrounding areas effectively transform the look of their homes while addressing their concerns about finding a reliable and trustworthy painting contractor. We make it a priority to exceed your expectations, both in terms of end results and customer service.
But before we delve into the secrets behind a successful exterior house painting project, let's take a quick glance at what painting your house's exterior entails.
Choosing the right paint: It's crucial to select a good quality exterior paint that not only looks great but also offers durability and weather resistance.
Preparing the surface: A smooth, clean surface is necessary for ensuring a professional-looking finish. This might involve removing old paint, cleaning the surface, and filling any cracks or holes.
Color selection: The color of your house's exterior can greatly affect its curb appeal and value. Remember, what works on a swatch might not look as good on an entire house – so choose carefully!
Application: Applying paint evenly and adeptly requires skill and experience. It's not about slapping on the paint, but making sure it is done neatly and efficiently.
Maintenance: Post-painting maintenance includes regular cleaning and touch-ups to keep the paint looking fresh and new.
As you proceed to the upcoming sections, we'll delve into each of these points in depth, unveiling the secrets to an effective and visually appealing exterior paint job.
The Importance of Choosing the Right Exterior Paint Color
A fresh coat of paint on your house's front can do more than just refresh its look. It can completely transform your home's atmosphere and make an impactful first impression. At Earthly Matters Contracting, Inc., we understand the significance of color selection in house painting and how it can dramatically influence the aesthetic and market value of your home.
How Exterior Paint Colors Affect Your Home's Curb Appeal
Your home's exterior color is the first thing that catches the eye of passersby, guests, and potential buyers. It plays a vital role in setting the tone and character of your property. A sophisticated gray or a cheerful yellow can significantly enhance your home's curb appeal, while a poorly chosen color may do the opposite.
Choosing the right color for your home isn't just about personal preference. It involves considering multiple factors such as the architectural style of your home, the color of your roof, and the landscape surrounding your property. Furthermore, the color should complement the existing features of your home, such as flooring and furniture, to create a harmonious aesthetic.
The Role of Exterior Paint Colors in Enhancing Your Home's Value
Did you know that the color of your front door alone can increase your home's market value? Studies show that a well-executed exterior paint job can add to your property's resale value. A well-chosen exterior color can breathe new life into your home, making it look fresh, modern, and more appealing to potential buyers.
The exterior color of your home can also influence its perceived size. Light colors can make your home appear larger, while dark shades can make it seem smaller but more substantial.
Selecting the right exterior paint color can be a daunting task given its long-term implications. That's why we at Earthly Matters Contracting, Inc. offer color consultations to help you make the perfect choice for your home. By considering the room's purpose and mood, lighting conditions, and existing features, we ensure that your home's new color will stand out in the neighborhood and stand the test of time.
To sum up, the right exterior paint color is a game-changer. It not only enhances your home's curb appeal but also adds to its market value. So, before you dive into the world of colors, remember to consider all these factors and seek professional advice if needed. After all, your home is more than just a building; it's a reflection of your personality and style.
Popular Exterior Paint Colors and Combinations
There's something transformative about a fresh coat of paint, especially on your home's exterior. It's the first thing people notice when they drive by or visit, and the right color can turn your house into a neighborhood showstopper. So, let's delve into some popular exterior paint colors and combinations that can give your home a stunning makeover.
Classic White and Its Variations
White has long been the go-to color for a clean, classic look. It's a color synonymous with elegance and sophistication. According to Sherwin-Williams, white paint is sold more worldwide than any other color. Their color of the year in 2016 was Alabaster, a beautiful variant of white that adds a touch of warmth to the exterior of any home.
A Wall Street Journal report also highlighted that white walls give the illusion of space, perfect for smaller homes. Moreover, it's a color associated with hygiene and serenity, contributing to an overall welcoming atmosphere. When choosing white, consider the different shades available, such as Benjamin Moore's White Dove, which offers a lighter, creamier version of the shade.
The Versatility of Gray and Greige
The popularity of gray and greige (a blend of gray and beige) is on the rise, thanks to their versatility. They are neutral enough to complement the architectural style and surroundings of most homes, yet distinctive enough to make a statement.
In fact, Pinterest users have pinned countless home exteriors painted in various shades of gray and greige, showcasing the wide appeal of these hues. Moreover, Sherwin-Williams' ColorSnap tool offers a plethora of gray and greige options, allowing homeowners to find the perfect shade that matches their home and personal taste.
Bold and Beautiful: Exploring Vibrant Exterior Paint Colors
For homeowners who are a bit more adventurous, vibrant exterior paint colors can add a unique flair to your home's curb appeal. According to a 2023 James Hardie survey, dark blue is the most popular bold color choice for homeowners, with Benjamin Moore's Newburyport Blue being a top pick.
This doesn't mean you're limited to blue, though. Deep reds, sunny yellows, and even earthy greens can make a stunning statement when used correctly. The key is to balance these bold choices with more neutral accents to avoid overwhelming the eye.
At Earthly Matters Contracting, we understand how daunting the process of selecting the right paint color can be. That's why we offer professional color consultations, helping you navigate through the sea of color options to find the perfect hue for your home's exterior. Whether you prefer the timeless elegance of white, the understated sophistication of gray, or the boldness of vibrant colors, we're here to ensure your home exterior meets your vision.
The Process of Painting Your House's Exterior
Painting the exterior of your house can be a daunting task, especially if you are doing it for the first time. But with the right tools, materials, and a bit of patience, you can give your home's exterior a fresh and appealing look. In this section, we will guide you through the process of exterior house painting, from gathering the necessary materials to the actual painting process.
Necessary Materials for Exterior House Painting
Before you can start painting, it's important to gather all the necessary materials. These include:
Exterior flat or eggshell paint: This is the main paint you'll use on the majority of your home's exterior.
Exterior semigloss paint: Ideal for trim and doors for an attractive contrast and easy cleaning.
Pressure washer: Useful for removing dirt, dust, and old paint from your home's exterior.
Paint sprayer and paintbrush: These tools will help you apply paint evenly and efficiently.
Painter's tape, drop cloths, and plastic sheeting: These materials will protect areas that you don't want to paint.
Ladder: A sturdy ladder is essential for reaching high areas.
Paint scraper: Handy for removing loose or chipped paint.
Stain-blocking primer: This helps cover stains or wood knots and makes your paint job look more professional.
Epoxy filler, medium-grit sanding block, spackle knife: Tools for repairing any damaged surfaces.
Exterior caulk and caulk gun: Useful for sealing gaps and cracks.
Step-by-Step Guide to Painting Your House's Exterior
Follow these steps for a thorough and professional-looking paint job:
Pressure-Wash Walls: Start by removing dirt and dust from your house using a pressure washer. Work from top to bottom in a smooth, controlled manner, overlapping each stroke by 8 inches.

Repair Damaged Surfaces: Inspect your home for any damaged surfaces such as wood, masonry, metal, siding, or stucco. Apply epoxy filler to cracks or holes using a spackle knife. Once it's dry, lightly sand using a medium-grit sanding block.

Remove Loose Paint: After the exterior is dry, remove any loose or chipped paint using a paint scraper or sanding block.

Caulk Trim: Fill gaps between the house and trim around doors and windows using exterior caulk.

Prime Stains: Apply a coat of stain-blocking primer to any stained areas or visible wood knots.

Protect Doors, Windows, and Lights: Use plastic sheeting and painter's tape to cover areas you don't want to paint.

Paint Exterior: Load your paint sprayer with your chosen exterior paint and apply one or two coats to the entire house, overlapping each stroke by 8 inches.

Paint Trim and Doors: Remove the plastic sheeting and apply two coats of semigloss paint to the woodwork and doors.
Tips for Achieving a Professional Finish When Painting Your House's Exterior
Here are a few tips from our experts at Earthly Matters to ensure a professional finish:
When changing the exterior color from light to dark or vice versa, start with a coat of primer to ensure proper coverage.
If your house features mixed materials such as siding and brick, add caulk along the surface where different materials meet.
Always work from top to bottom to avoid drips and streaks.
Use a paint sprayer for large areas and a brush for detailed work around trim and doors.
Remember, painting your home's exterior is a significant project that requires preparation and patience. But the result—a beautifully refreshed home—is well worth the effort. However, if you're looking for professional help, the team at Earthly Matters is always ready to assist. We offer top-notch exterior painting services to ensure your home looks its best.
The Benefits of Professional House Painting Services
There's no denying the transformative power of a fresh coat of paint on your home's exterior. However, the process can be time-consuming, labor-intensive, and, without the right experience, the results may not be as you envisioned. This is where professional house painting services come into play.
Why You Should Consider Hiring a Professional for Your Exterior House Painting Project
Hiring a professional for your exterior house painting project brings a slew of benefits. The first and foremost is expertise. As professionals, we have years of experience under our belts, knowing the best techniques to apply the paint evenly and to ensure it lasts. This is particularly important when dealing with exterior surfaces, which are exposed to weather elements and require special attention.
Secondly, a professional painting service can save you time. Painting your home's exterior can be a lengthy process, especially if you're going solo. By hiring professionals, you can focus on other important aspects of your life while we take care of the hard work.
Lastly, safety is a significant concern in exterior painting, particularly when dealing with multi-story houses or buildings. As professionals, we are trained to handle these risks, providing you with peace of mind.
How Earthly Matters Can Help Revamp Your Home's Exterior
At Earthly Matters, we're all about delivering top-quality service. We understand that your home is more than just a building—it's a place where memories are made, and it should reflect your style and taste. That's why we go above and beyond to ensure our painting services exceed your expectations.
We offer a comprehensive approach to exterior house painting. From helping you choose the right exterior paint color to preparing the surfaces and applying the paint, we handle every step of the process with utmost care and professionalism.
Before we start painting, we take time to prep your home's exterior, repairing any damages, cleaning off any dirt or mildew, and priming the walls. This ensures a smooth, durable finish and a paint job that'll stand the test of time.
We also understand the importance of color in enhancing your home's curb appeal. We can provide expert advice on paint products and color choices that best suit your home's style and surroundings, from the boldness of Newburyport Blue HC-155, Benjamin Moore to the soothing tones of Shaded White No. 201, Farrow & Ball.
In the end, hiring Earthly Matters for your exterior house painting project is an investment in your home. Not only will we improve its appearance, but we'll also increase its value and longevity. So, for a professional finish that will transform your home and revamp your curb appeal, trust us with your house front painting project. We're ready to bring your vision to life.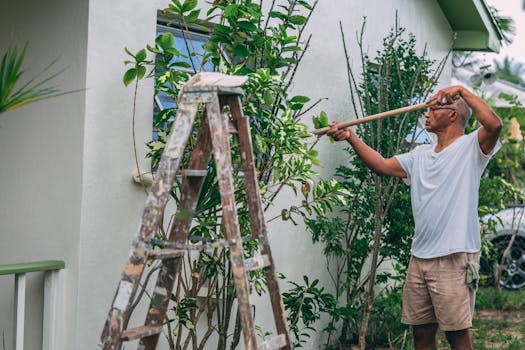 Remember, a beautiful home exterior isn't just about aesthetics—it's about creating a home that you'll love to come back to every day. With Earthly Matters, you're one step closer to achieving that dream.
Conclusion: Transform Your Home with the Right Exterior Paint
Choosing the right exterior paint color for your house is more than just a design choice—it's about enhancing your home's value, increasing its curb appeal, and even protecting it from the elements. In the end, the perfect color scheme for your home is the one that reflects your personal taste, complements the architectural style of your house, and fits in harmoniously with the surrounding environment.
Whether you choose classic white, versatile greige, or a bold, vibrant color, remember that the quality of the paint and the preparation of the surface are just as important as the color itself. High-quality exterior paint, applied correctly, can withstand harsh weather conditions, resist peeling, chipping, or blistering, and can last anywhere from 10 to 15 years.
But painting your house's exterior can be a daunting task. It requires the right tools, careful preparation, and a lot of hard work. That's where professional house painting services come in. Here at Earthly Matters, we have the expertise, the experience, and the commitment to quality that ensures a flawless finish and a paint job that lasts for years.
We understand that every home is unique, and we take pride in helping homeowners in Alpharetta and surrounding areas transform the look of their homes. Our team of expert painters is dedicated to exceeding your expectations and delivering a superior service that enhances the beauty and value of your home.
In conclusion, revamping your home's curb appeal with a fresh coat of paint is a worthwhile investment. It not only transforms the look of your home but also protects it from the elements, potentially saving you costly repairs in the future. So why wait? Let's transform your home with the right exterior paint today.
With Earthly Matters, a fresh and vibrant home exterior is just a paint job away.