Introduction
Brief Introduction to Exterior Painting
The exterior of your house is the first thing guests, neighbors, and potential buyers see. It sets the tone for the rest of your home and plays a crucial role in your property's curb appeal. A fresh coat of paint can transform a drab exterior into a stunning showcase, but not all paints are created equal. Exterior painting isn't just about color choice; it's also about choosing the right type of paint that can withstand weather changes and prevent damage like peeling, chipping, and blistering.
Importance of Choosing the Right Exterior Painting Company
Choosing the right exterior painting company can make the difference between an average job and an extraordinary transformation. As a homeowner in Cumming, GA, you want a painting contractor who offers not just painting services, but a comprehensive solution that includes consultation, preparation, painting, and after-service.
The right painting company will have the experience and expertise necessary to advise on the best paint and color for your home, taking into consideration the local climate, the material of your house, and your personal preferences. They will also have the skills to execute the job flawlessly, ensuring that the paint is evenly applied and that the job is completed on time and within budget.
Stay tuned as we unveil Cumming, GA's top exterior painting company, Earthly Matters Contracting, Inc., a trusted source for high-quality residential painting services that homeowners can depend on.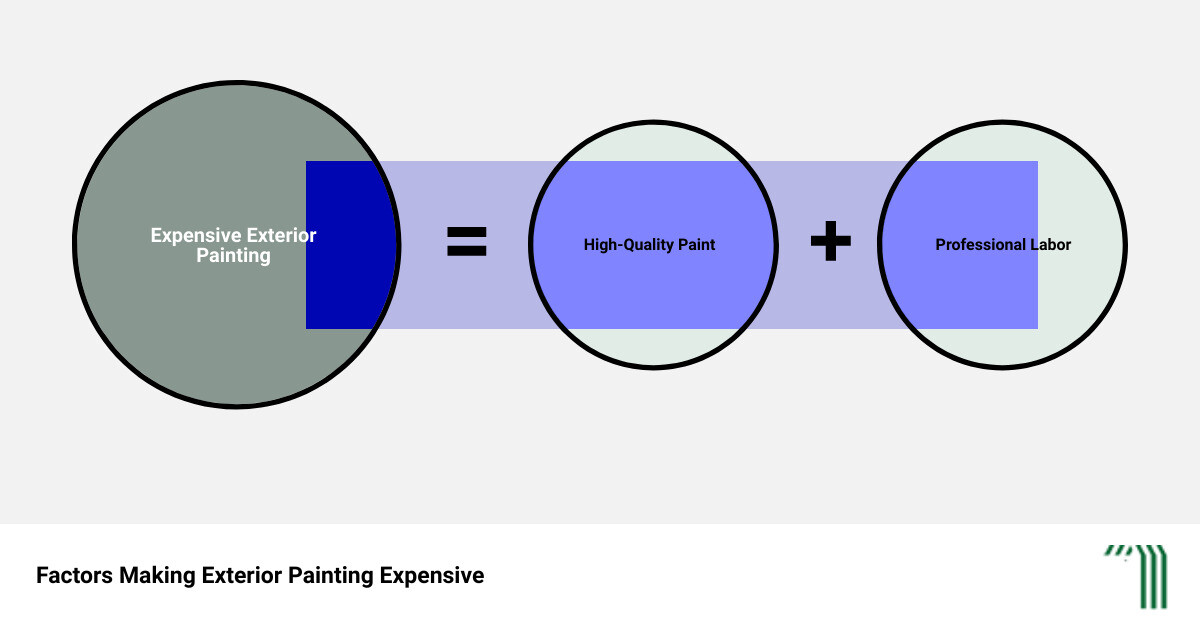 Why is Exterior Painting So Expensive?
The cost of an exterior paint job can sometimes cause a bit of sticker shock. But when you understand the factors that contribute to these costs, it's easier to see the long-term value and benefits of hiring a professional painting company like Earthly Matters.
Explanation of the High-Quality Exterior Paint
High-quality exterior paint is not an average product. It's specifically designed to withstand the elements and protect your home from the harsh effects of weather and UV radiation. This type of paint is formulated to resist peeling, chipping, cracking, or blistering, ensuring that your home continues to look its best despite the changing seasons. Quality paint like this comes at a higher cost, but it's an investment in the overall durability and longevity of your home's exterior.
The Longevity and Durability of High-Quality Paint
With an eye on longevity, high-quality paint is formulated with high-end resins and pigments, and other additives, which contribute to its durability. It's not just about the color or finish; it's also about the paint's ability to adhere properly to the surface, resist fading, and withstand the harshness of the weather. When applied correctly by professional painters, this paint can last anywhere from 10 to 15 years, saving you the hassle and cost of frequent touch-ups or repainting.
The Impact of Quality Paint on Property Value
Investing in high-quality exterior paint is not just about maintaining the aesthetic appeal of your home; it's also about protecting and increasing your property's value. A well-executed paint job can significantly enhance your home's curb appeal, making it more attractive to potential buyers. Moreover, a high-quality paint job can protect the structural integrity of your home by preventing moisture penetration, which can lead to costly repairs down the line.
In conclusion, while the upfront cost of exterior painting may seem high, the long-term benefits make it a worthwhile investment. By choosing a reputable exterior painting company like Earthly Matters in Cumming, GA, you're not only paying for top-notch paint but also for professional application, years of experience, and peace of mind knowing your home is in capable hands.
Earthly Matters: Cumming, GA's Top Exterior Painting Company
Transforming the exterior of your home can be a daunting task. But with the right team of professionals, it can become an exciting journey of rejuvenation and transformation. Meet Earthly Matters, Cumming, GA's leading exterior painting company committed to delivering superior quality and service.
Overview of Earthly Matters
Founded in 1999, Earthly Matters has been serving the Metro Atlanta area, including Cumming and Alpharetta, with unparalleled dedication and expertise. With a mission to change the way customers perceive the contracting industry, Earthly Matters has built its reputation on delivering impeccable results, on-time service, and exceptional customer service. Equipped with over 20 years of experience, their team of skilled professionals brings a wealth of knowledge and experience to every project, ensuring your expectations are not just met, but exceeded.
Services Offered by Earthly Matters
Earthly Matters offers a comprehensive range of painting services to cater to all your exterior home improvement needs. From exterior painting to give your home a fresh and updated look, to interior painting to transform your living spaces, they've got you covered. But their expertise doesn't stop there. They also provide deck and fence painting or staining, which not only improves aesthetic appeal but also protects them from moisture and harmful UV rays, ensuring longevity and durability. All of these services come with their Four Star Service Guarantee, offering you peace of mind and confidence in their work.
Unique Selling Proposition of Earthly Matters
What sets Earthly Matters apart from other painting companies in Cumming, GA? It's their commitment to providing top-notch service that goes beyond the job requirements. They believe that a great painting job is not just about applying paint to the walls but about enhancing the overall value and appeal of your home. Their complimentary quote service, outstanding customer reviews, and their A+ rating on Better Business Bureau further testify to their commitment to excellence.
Moreover, Earthly Matters is a licensed, bonded, and fully insured company, ensuring the utmost safety and reliability in every project. They accept most major credit cards without additional processing fees, making payment convenient and hassle-free.
In a nutshell, Earthly Matters has earned its reputation as Cumming, GA's top exterior painting company through their commitment to quality, expertise in their field, and their unwavering dedication to customer satisfaction. Whether you're looking to refresh the exterior of your home, transform your interiors, or protect your deck and fences, Earthly Matters has the skills, experience, and dedication to deliver impressive results.
What Sets Earthly Matters Apart?
In a sea of painting companies, Earthly Matters emerges as a beacon of quality, reliability, and customer satisfaction. Their unwavering commitment to delivering exceptional results, their extensive experience in managing both residential and commercial projects, and their glowing customer testimonials all contribute to their position as the top exterior painting company in Cumming, GA.
When it comes to exterior painting services, Earthly Matters leaves no stone unturned to ensure top-tier quality. From meticulously preparing your exterior surfaces to using only the highest-quality materials, they take every measure to ensure a long-lasting, beautiful finish. Their pressure washing service addresses the high humidity of the Atlanta Area, eliminating mildew and extending the life of the paint. Furthermore, they tackle any wood rot and water damage, replacing damaged material with non-rot material wherever possible. This commitment to quality service ensures that every paint job doesn't just look fantastic, but also stands the test of time.
Expertise in Both Residential and Commercial Projects
Earthly Matters is not just for homeowners. They are proud to serve both residential and commercial clients, ensuring that businesses in Cumming, GA can also benefit from their top-notch painting services. They understand the unique needs and challenges of commercial painting projects and bring the same level of dedication and expertise that they offer to residential clients. No matter the scale or complexity of the project, Earthly Matters is equipped to handle it with proficiency and deliver breathtaking results.
Customer Satisfaction and Testimonials
A company's reputation is built on the satisfaction of its customers, and Earthly Matters shines in this regard. Their respect for their clients' homes, their prompt and courteous service, and their commitment to guaranteeing your satisfaction underline their dedication to their clients. This is further reflected in the glowing testimonials they've received. Satisfied customers praise their attention to detail, fair pricing, and the exceptional quality of their work. This level of customer satisfaction is not just a bonus; it's at the very core of what Earthly Matters represents as a company.
In conclusion, Earthly Matters is much more than just an exterior painting company. They are a team of dedicated professionals committed to bringing your vision to life, enhancing the beauty of your homes and businesses, and exceeding your expectations every step of the way. Whether you're looking to freshen up your exteriors or protect your property from the elements, Earthly Matters is the company to trust.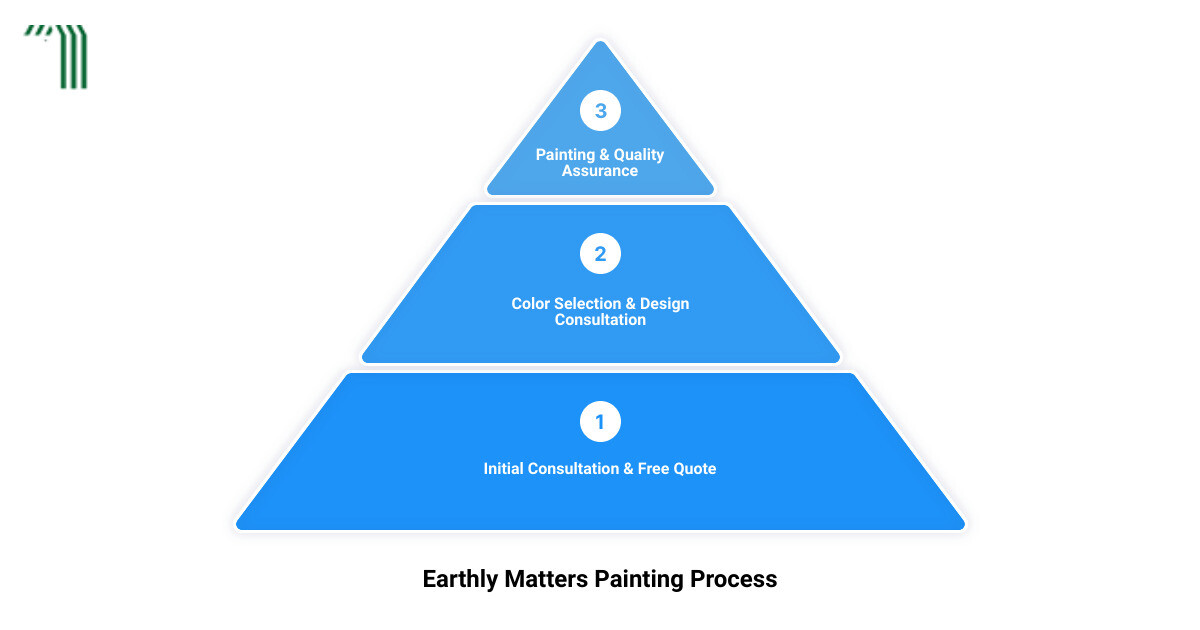 The Exterior Painting Process at Earthly Matters
Painting the exterior of your home is more than just a color change. It's an investment that increases the value and longevity of your property. At Earthly Matters, we understand the significance of this process and have developed a comprehensive approach to ensure an outstanding result for every project.
Every painting job starts with a free estimate. Our team of experts at Earthly Matters will assess your property and discuss your specific needs and preferences. This initial consultation allows us to understand your vision and provide an accurate quote for the project. We believe in transparency and avoid hidden costs, ensuring that our clients are fully aware of the investment they are making in their homes.
Color Selection and Design Consultation
Choosing the right color for your exterior can be a daunting task. With an array of shades available, it's essential to pick a color that not only compliments your architectural style but also withstands the test of time and weather conditions. Our painters are more than just contractors; they are also design consultants. They will guide you in choosing the perfect paint sheen for your home, be it satin, semi-gloss, or glossy, to ensure the best outcome.
The Painting Process and Quality Assurance
The key to a long-lasting paint job lies in the preparation. At Earthly Matters, we meticulously prepare the designated surfaces by pressure washing the area, filling all holes and cracks with putty, and removing any flaking or small pieces from previous paint jobs. This ensures that the surface is clean and dry, which is essential to fight future mildew and bacteria problems.
Once the surface is ready, our experienced painters will apply the paint without any interruption, subject to weather conditions. We're equipped to handle any sudden issues professionally and timely. Our warranty includes a 5-year guarantee on cracking, peeling, or blistering as a result of defective products or workmanship. This quality assurance is part of our service philosophy that is based on delivering exceptional results.
In sum, our exterior painting process at Earthly Matters is comprehensive and designed to provide a high-quality, durable finish that enhances your home's curb appeal and protects it from the elements. With our dedication to quality service, expert knowledge, and customer satisfaction, we are indeed Cumming, GA's top exterior painting company.
Conclusion
In the vibrant realm of exterior painting, Earthly Matters Contracting, Inc. truly stands as a beacon of excellence. Serving Cumming, GA and surrounding areas, this established painting company has continually surpassed expectations with its high-quality exterior painting services and unwavering commitment to customer satisfaction.
Their portfolio is a testament to their craftsmanship, featuring homes transformed by their experienced team. From the initial consultation to the final brush stroke, they handle every step of the painting process with utmost precision and dedication. Earthly Matters has indeed earned its reputation as the top exterior painting company in Cumming, GA, thanks to their impressive attention to detail, respect for clients' homes, and commitment to timeliness.
A key distinguishing factor of Earthly Matters lies in their unique service philosophy. They prioritize open communication, meeting their commitments, and delivering exceptional work at acceptable prices. This guarantees customer satisfaction and sets them apart from other painting contractors in the area.
Moreover, their services extend beyond mere aesthetic transformations. They offer a warranty that includes a 5-year guarantee on cracking, peeling, or blistering as a result of defective products or workmanship, underlining their confidence in the quality of their work. This assurance adds an extra layer of security for homeowners, knowing their investment is well-protected.
In essence, Earthly Matters Contracting, Inc. is not just a painting company; it's a partner in helping homeowners protect and enhance their most valuable asset—their homes.
So, if you're contemplating giving your home a fresh coat of paint, why not entrust it to the top exterior painting company in Cumming, GA? Connect with Earthly Matters today to schedule a free consultation and discover how they can breathe new life into your home. Their team of skilled professionals is ready to help you create a stunning exterior that is both durable and visually appealing. With Earthly Matters, you can look forward to an exterior painting experience that is as seamless and enjoyable as the results it delivers.