Unveiling the beauty of your home begins with a fresh coat of paint. Quality exterior painting not only enhances the aesthetic appeal of your house but also protects it from the elements. It's like a shield that safeguards your home while also making it stand out in the neighborhood. However, the key to achieving this transformation lies in choosing the right exterior painting company in Alpharetta, GA.
Exterior painting is more than just a color update. It's a crucial maintenance task that preserves the integrity of your home's exterior, prolongs its lifespan, and increases its market value. The importance of exterior painting can't be overstated. It's a significant investment that can pay off in multiple ways if done right. A top-quality paint job can withstand the harsh Georgia weather, resist fading, and provide a long-lasting finish.
But here's the catch: Not all painting companies are created equal. The quality of the painting job largely depends on the expertise of the professionals you hire. That's where Earthly Matters Contracting, Inc. comes in—a top exterior painting company based in Alpharetta, GA. Known for their commitment to excellence, attention to detail, and superior customer service, Earthly Matters is the go-to choice for homeowners in Alpharetta and surrounding areas.
Read on to discover why Earthly Matters Contracting, Inc. stands out as Alpharetta's unveiled gem in the world of exterior painting.
Understanding the Cost of Exterior Painting in Atlanta
When it comes to investing in your home's exterior, understanding the cost of exterior painting is crucial. The price can vary depending on several factors, ranging from the size of your house to the quality of the paint used. Let's delve into the main elements that influence the cost.
Factors Influencing the Cost
A key factor that influences the cost is the size of your house. Atlanta homeowners can expect to pay between $1.20 and $2.90 per square foot of exterior painting space. This means the larger your house, the higher the cost. Another significant factor is the type of paint used. High-quality exterior paint, which is designed to resist peeling, chipping, cracking, or blistering, can be more expensive than standard paint.
The condition of your home's exterior also influences the cost. If your home has wood rot or water damage, these will need to be repaired before painting, increasing the overall cost. Surface preparation, including scraping, sanding, and priming of all loose, flaking, and weathered areas, is another essential aspect that can affect the price.
In the Alpharetta area, the cost of painting the exterior of a house can vary due to the factors mentioned above. However, given that the average house has about 1,580 square feet of exterior walls, you might estimate a paint job could cost between $1,896 to $4,852.
Remember, these are just averages. The specific price will depend on your unique situation and the professional painting company you choose. Companies like Earthly Matters Contracting, Inc. provide clear and comprehensive quotes to ensure transparency and avoid any surprises, allowing homeowners to budget accurately for their exterior painting project.
In the next section, we'll delve into why investing in quality exterior painting is worth every penny, particularly when you choose a top-notch Alpharetta painting company like Earthly Matters Contracting, Inc.
Why Quality Exterior Painting is Worth the Investment
Nothing screams curb appeal quite like a fresh, professional paint job on your home's exterior. But it's not just about aesthetics. High-quality exterior paint serves as your home's first line of defense against the elements, helping to protect your most valuable asset and increase its longevity. Let's explore the value of high-quality paint and its impact on your home.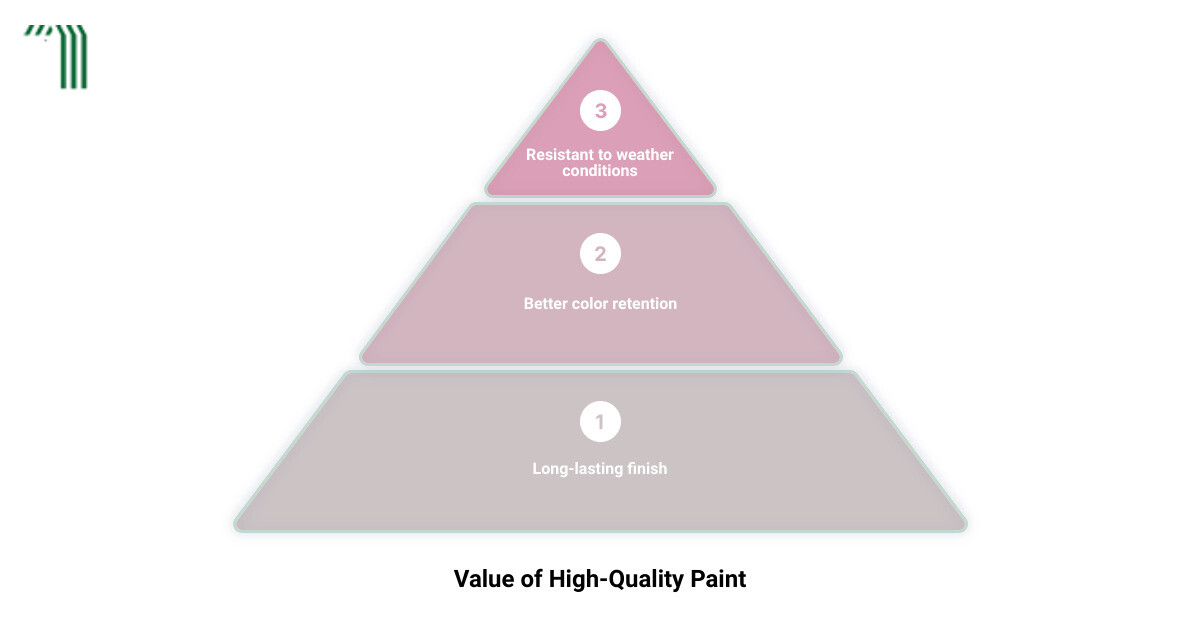 The Value of High-Quality Paint
It might be tempting to cut corners and opt for the cheapest paint on the shelf, but this could prove to be a costly mistake in the long run. High-quality exterior paint is worth its weight in gold. Why? It's designed not to peel, chip, crack, or blister, ensuring your home looks fresh and new for a long time.
Moreover, modern advances in paint technology, particularly the arrival of all-acrylic formulations, have significantly enhanced the durability and longevity of exterior paints. When you see "100 percent acrylic latex" on the label, you know you're getting a product that remains flexible, breathable, and colorfast far longer than paints made with vinyl resins or acrylic blends. Plus, it adheres tenaciously to most surfaces, meaning you can use it with confidence on wood, vinyl, metal, and masonry.
The Impact on Your Home's Longevity and Aesthetics
Investing in quality exterior painting does more than just beautify your home—it also adds to its longevity. A top-quality paint job can protect your home from down-pouring rain, constant exposure to UV radiation, freezing winters, and burning hot summers—all of which can cause fading, peeling, and cracking.
Furthermore, a professionally painted exterior can increase your home's curb appeal, thereby enhancing its resale value. When done right, exterior painting has the power to transform your home, making it stand out in your neighborhood and leaving a lasting impression on anyone who passes by.
Remember, the lifespan of your paint job largely depends on the quality of the paint and the skill of the painters. Two coats of top-quality paint over primed wood might last 10 to 15 years, and even longer on stucco.
In conclusion, a high-quality paint job is more than just an aesthetic upgrade—it's a solid investment in your home's future. And when it comes to delivering top-notch exterior painting services in Alpharetta, Earthly Matters Contracting, Inc. stands out as a trusted and reliable partner. In the next section, we'll delve into what sets Earthly Matters apart from other painting companies in Alpharetta.
Earthly Matters: Alpharetta's Top Exterior Painting Company
Transforming your home with a fresh coat of paint is not only about aesthetics—it's about choosing a company that understands the technicalities of the job, the importance of using quality materials, and the value of delivering excellent customer service. This is where Earthly Matters shines, setting the benchmark for exterior painting services in Alpharetta.
Overview of Earthly Matters
Established in 1999, Earthly Matters has earned its place as a leading painting contractor in Alpharetta and its surrounding areas. With over two decades of experience, the company has a proven track record of delivering high-quality painting solutions for both residential and commercial projects.
Under the professional stewardship of Randy Kulamer, the owner, and his dedicated team, Earthly Matters provides a comprehensive range of services. These include exterior and interior painting, cabinet refinishing and repainting, crown molding services, drywall repair, and even specialized services like popcorn ceiling removal and power washing.
Unique Selling Proposition of Earthly Matters
What sets Earthly Matters apart from other exterior painting companies in Alpharetta is their unwavering commitment to quality and customer satisfaction. They understand that a successful project is not just about the final product—it's about the entire process. From the initial consultation to the final cleanup, every step is handled with the utmost professionalism and care.
Earthly Matters' unique selling proposition lies in their dedication to providing a seamless, efficient, and meticulous painting job. Their team of reliable professionals is equipped with years of experience painting a wide variety of surfaces and materials. They not only ensure that your home looks fresh and new but also that it's protected from the elements.
Apart from their robust service portfolio, Earthly Matters also offers a five-year guarantee on cracking, peeling, or blistering due to defective products or workmanship. This warranty demonstrates their confidence in the quality of their work and their commitment to ensuring customer satisfaction.
Furthermore, they understand the importance of proper surface preparation and thoroughness in addressing wood rot and water damage. Their meticulous approach to these vital processes ensures the longevity of their paint jobs and the satisfaction of their clients.
In conclusion, Earthly Matters is not just any exterior painting company—they're a partner you can trust with your home's transformation. Their combination of experience, commitment to quality, and dedication to customer satisfaction makes them the top choice for exterior painting services in Alpharetta, GA.
What Sets Earthly Matters Apart from Other Alpharetta Painting Companies
In a sea of painting companies, what makes Earthly Matters stand out? The answer lies in their unwavering commitment to quality service and their consistent endeavor to exceed customer expectations.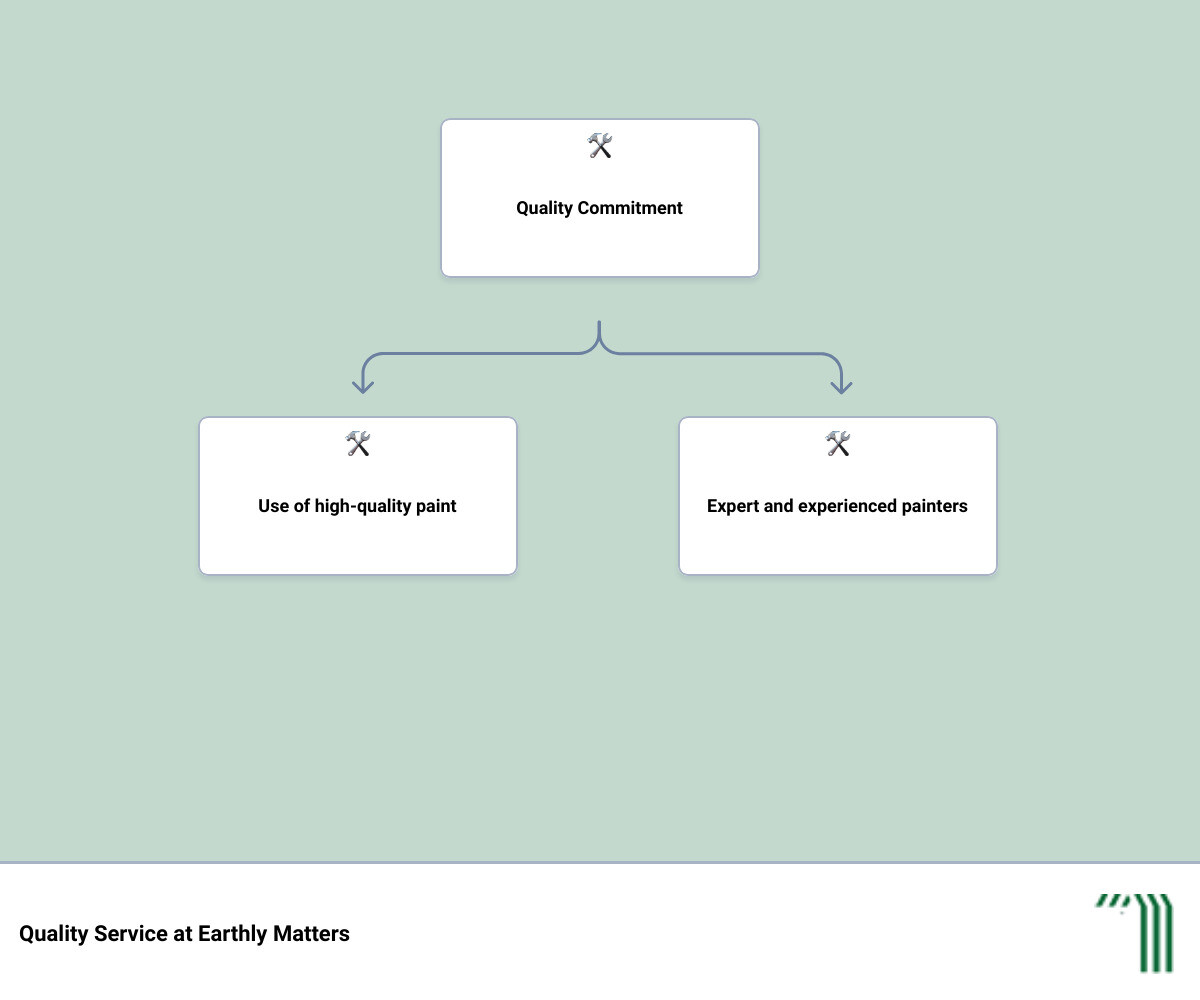 Commitment to Quality Service
At the heart of Earthly Matters' operations is a commitment to providing top-notch service. The company understands that your home is your sanctuary, a personal space that mirrors your unique style and taste. They view their work as a partnership with homeowners, working together to bring home improvement visions to life.
From full exterior painting to precision trim painting, deck and fence painting/staining, pressure washing, and color consultation, Earthly Matters offers a comprehensive suite of services. They cater to a variety of home styles and customer preferences, ensuring that each project is tailored to the homeowner's unique needs.
Earthly Matters doesn't just paint homes—they enhance their beauty while protecting them from the elements. They use only high-quality paints that are designed to withstand Alpharetta's weather, ensuring your home's exterior maintains its fresh, new look for years to come.
Exceeding Customer Expectations
Quality service alone isn't enough to set a company apart. Earthly Matters goes a step further, striving to exceed customer expectations with every project.
With a reputation built on reliability, quality, and customer satisfaction, Earthly Matters has been serving the Alpharetta community since 1999. They have earned an impressive A+ rating on the Better Business Bureau and have received positive feedback on multiple platforms including Google, Facebook, Nextdoor, and Angi.
The company's promise of timeliness, availability, and satisfaction is not just mere words. They don't consider a job done until the homeowner is delighted with their work. This customer-centric approach has earned them the trust and loyalty of homeowners in Alpharetta and beyond.
The team at Earthly Matters understands that a successful paint job starts with proper preparation. They ensure surfaces are clean, dry, and adequately prepped before painting. Their meticulous attention to detail ensures that each brushstroke instills new life into your home, transforming it into a testament to your taste that harmonizes with the charming ambiance of Alpharetta, GA.
Ultimately, what sets Earthly Matters apart is their dedicated team, their commitment to quality, and their unwavering focus on customer satisfaction. They are more than just a painting service—they are your partners in creating a home that resonates with your personality and style.
Customer Reviews and Testimonials for Earthly Matters
The proof of the pudding is in the eating, as they say. And for an exterior painting company, nothing speaks louder than the chorus of satisfied clients who have seen the transformation of their homes firsthand. Here, we delve into the feedback and testimonials from homeowners and commercial project managers who have experienced the distinctive Earthly Matters touch.
Positive Experiences from Homeowners
Homeowners in Alpharetta, GA have nothing but praise for the quality of exterior painting that Earthly Matters provides. The company boasts a stellar reputation on platforms like Angi (formerly Angie's List), where it consistently receives high ratings from customers for its professionalism, punctuality, and competitive pricing.
One homeowner, Sue C., gave the company a 5-star rating in October 2023, noting that the Earthly Matters team was "polite, professional, and on time," resulting in a job well done that elicited compliments from neighbors. Another homeowner, Rachael W., was so pleased with the exterior painting job that she fell "in love" with her house all over again.
Commercial Project Success Stories
But Earthly Matters' expertise isn't limited to residential properties. The company also excels in commercial exterior painting projects, providing businesses in Alpharetta with the same level of commitment and attention to detail.
Their portfolio of commercial projects showcases a range of painting services, from exterior painting for businesses to more extensive commercial projects. The testimonials from these clients further underscore the company's dedication to delivering top-notch service, regardless of the project's size or scope.
In conclusion, Earthly Matters isn't just an exterior painting company—it's a company that's deeply committed to customer satisfaction. The glowing reviews and testimonials from satisfied homeowners and businesses in Alpharetta, GA attest to their dedication to quality service and exceptional results. With Earthly Matters, you can be confident that your exterior painting project will be in capable, professional hands.
Conclusion: Why Earthly Matters is Your Best Choice for Exterior Painting in Alpharetta, GA
In a city brimming with talent and options, the choice of an exterior painting company in Alpharetta, GA could be overwhelming. Yet, time and again, Earthly Matters Contracting stands out as the clear choice for homeowners and businesses in the area. Their seasoned experience, commitment to quality, and unparalleled customer service make them a beacon in the industry.
Earthly Matters is not just another painting company—it's a painting company with a difference. They've been painting homes and businesses in Alpharetta since 1999. That's over two decades of solid experience, and in that time, they've honed their craft to perfection. Their depth of knowledge, coupled with their Four Star Service Guarantee, is a testament to their professionalism and dedication to quality.
But it's not just about the years—it's about the skills and service philosophy. Earthly Matters goes above and beyond the call of duty to exceed customers' expectations. The company's team of professional painters don't just slap on a coat of paint—they meticulously prepare each surface, ensuring the longest life for the finish coat of paint.
Moreover, Earthly Matters understands the critical role that exterior painting plays in preserving and enhancing the value of your home. They offer a five-year guarantee on cracking, peeling, or blistering as a result of defective products or workmanship. This warranty is not just a statement—it's their promise to you that your investment in your home's exterior will be protected.
The company's approach to wood rot and water damage—common issues in exterior painting—is meticulous and thorough. They don't just cover up the problem—they solve it. This attention to detail ensures not just a great-looking paint job, but a long-lasting one.
In conclusion, choosing Earthly Matters for your exterior painting needs in Alpharetta, GA is choosing quality, experience, and peace of mind. It's choosing a company that cares about your home as much as you do. It's choosing a company that will transform your home into a masterpiece. So, make the right choice—choose Earthly Matters for your exterior painting project today.