Painting a commercial building is far from a simple task — it involves more than just buying a bucket of paint and a couple of brushes. It requires detailed planning, impeccable execution, and a thorough understanding of materials and techniques. If done poorly, a bad paint job can tarnish your establishment's image, negatively affecting your business. Therefore, it's crucial to entrust this task to seasoned commercial paint contractors, professionals who can enhance the aesthetic appeal of your building while ensuring durability and longevity.
In our experience as the team at Earthly Matters Contracting, Inc., we've seen firsthand how an expertly executed paint job can bring a commercial building to life, creating an environment that inspires employees and impresses clients. Simultaneously, we noted how tricky it can be for commercial property owners to navigate the market of commercial paint contractors, to find a reliable group of experts committed to delivering high-quality work.
Whether you are revitalizing your current workspace or prepping a new commercial property, knowing what to expect from professional commercial paint contractors is paramount. This knowledge can strongly influence the outcome of your project, ultimately affecting how your business is perceived.
Here's a glimpse of what a professional commercial paint contractor should offer:
Comprehensive services that go beyond just paint application
In-depth knowledge about different paint products and application techniques
A strong emphasis on safety protocols
Insurance and licensing to protect against liabilities
Excellent communication and professional approach
A proven track record of quality work
In the following sections, we'll 'unmask' the ins and outs of commercial paint contractors, providing a clear understanding of what they do, why they're essential, and what sets top-notch professionals apart.
Understanding Commercial Paint Contractors
When it comes to maintaining the aesthetic appeal and value of a property, painting is a crucial aspect that cannot be underestimated. This is particularly true for commercial properties where the visual impression can significantly impact business operations. That's where commercial paint contractors come into play. But what exactly does a commercial paint contractor do? And more importantly, who is a commercial paint contractor? Let's delve into these queries to provide a clear understanding.
Who is a Commercial Painter?
A commercial painter is a professional who specializes in painting commercial properties such as offices, retail stores, restaurants, and other business establishments. They are skilled experts with a wealth of experience in handling various aspects of painting, including surface preparation, choosing the right type and amount of paint, and applying it most effectively.
These professionals are equipped with the necessary tools and safety training, making the painting process efficient, secure, and hassle-free. More than just applying a fresh coat of paint, a commercial painter transforms your property with a high-quality, long-lasting finish that enhances its aesthetic appeal and market value.
At Earthly Matters Contracting, Inc., our team of commercial painters embodies this definition. Trained and experienced, our painters are committed to delivering exceptional results that meet and exceed our clients' expectations.
What Does a Commercial Paint Contractor Do?
A commercial paint contractor offers a range of services catering to the specific needs of commercial properties. These services are not limited to applying paint on walls; they extend to ceilings, floors, doors, windows, and more, ensuring a comprehensive transformation of your space.
Key services offered by commercial paint contractors include:
Interior and Exterior Painting: This involves painting the interior and exterior walls of commercial buildings to enhance their aesthetic appeal.

Surface Preparation: This is a crucial step that involves cleaning and prepping the surfaces to be painted to ensure a smooth and long-lasting finish.

Choosing the Right Paint: Commercial paint contractors help in selecting the right type, color, and finish of paint that suits the specific needs and preferences of the client.

Application of Paint: Using the most effective techniques and tools, commercial paint contractors apply paint to achieve a high-quality finish.

Additional Services: Some contractors, like us at Earthly Matters Contracting, Inc., offer additional services such as wood replacement, drywall repair, and pressure washing to cater to the diverse needs of our clients.
In essence, a commercial paint contractor plays a vital role in maintaining the aesthetic appeal and value of your commercial property. They provide a professional, efficient, and hassle-free painting solution, giving your property a fresh, new look. At Earthly Matters Contracting, Inc., we are committed to delivering this value to our clients, providing top-notch commercial painting services that are second to none.
The Profit Margin for Painting Contractors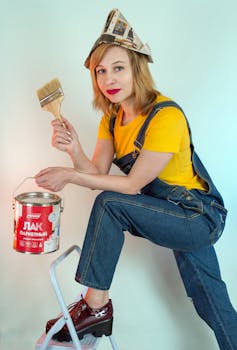 After understanding the pivotal role commercial paint contractors play in maintaining and enhancing the appeal of your commercial property, it's essential to unravel the financial aspect of their profession. Painting contractors play a significant role in the construction and maintenance industry, but what does this translate into in terms of earnings? Let's delve into the potential earnings and factors that affect the profit margins of painting contractors.
How Much Can a Painting Contractor Earn?
The earning potential for painting contractors can vary significantly based on numerous factors. On average, painting contractors can expect to earn between $3 and $7 per square foot when painting the interior of a commercial property, according to our research. However, this can fluctuate depending on the complexity of the project, the quality of paint used, and the level of preparation required before painting.
For example, if a job involves painting intricate features like crown molding, baseboards, or walls taller than the average 8 feet, this requires additional time and skill, which can increase the overall cost of the project. Additionally, the cost can be influenced by the location and size of the property, as well as the regional labor costs.
Factors Affecting the Profit Margin of Painting Contractors
While the earning potential of painting contractors is influenced mainly by the size and complexity of the project, other factors can impact their profit margin.
Quality of Paint and Materials: High-quality paint and painting materials may come at a higher upfront cost, but they can result in a more flawless finish. This can enhance the value of the service provided, allowing contractors to command higher prices.
Level of Preparation Required: The amount of preparation work needed before painting can also impact the cost. This includes tasks like repairing holes, cleaning dirty walls, or removing old paint, all of which can add to the overall cost of the project.
Business Overheads: Running a painting business involves various overhead costs, such as insurance, licensing, marketing, and equipment maintenance. These costs need to be factored into the pricing to ensure a healthy profit margin.
Market Competition: The level of competition in the local market can influence pricing. In a highly competitive market, painting contractors may need to price their services more competitively to attract clients.
At Earthly Matters Contracting, Inc., we understand the nuances of the painting industry and strive to provide top-quality services that offer value for money. We factor in all the above elements to ensure our pricing reflects the quality of our work, the expertise of our team, and the specific requirements of the project.
Starting Your Own Painting Business
Just as a masterpiece is born from a blank canvas and a vibrant palette, so too can your painting business grow from a simple idea and a strong will. Starting a painting business requires more than just a knack for wielding a paintbrush. It involves careful planning, legal considerations, insurance, equipment procurement, and networking, among other things. Let's delve deeper into these crucial steps.
Creating an Identity for Your Painting Business
The first stroke on the canvas of your business is creating a unique identity. This means choosing a name that resonates with your target clients and reflects the nature of your services. Create a logo that is eye-catching and evokes the kind of emotions that align with your brand identity. Don't forget to establish a professional online presence, including a company website and active social media profiles. As we do at Earthly Matters, consider showcasing your previous work, customer testimonials, and the range of services you offer.
Registering Your Business Legally
Next, take the necessary steps to register your business legally. This process will vary depending on your location, but generally involves registering your business name, obtaining a tax ID, and fulfilling local and state business licensing requirements. Ensure you are familiar with the specific regulations applicable to painting contractors in your area.
Ensuring Your Business is Insured
Insurance is key when operating a painting business. It not only protects you from potential financial losses but also gives your clients peace of mind. At Earthly Matters, for instance, we are fully licensed and insured, which boosts our credibility and trustworthiness in the eyes of our clients.
Getting Equipped for Your Painting Business
Getting equipped involves more than just procuring paintbrushes, paint cans, and ladders. It requires the right protective gear, power tools for surface preparation, and quality paint products that guarantee excellent results. As professionals in the industry, we at Earthly Matters can attest to the importance of using quality paint & materials to deliver a job well done.
Finding Work as a Painting Contractor
Finding work may be challenging at first, but with the right marketing strategy, you can attract the right clientele. Start by leveraging your personal network, then move on to digital marketing strategies such as SEO, social media advertising, and online directories. Remember to deliver excellent service to garner positive reviews and referrals.
Getting Connected in the Painting Industry
Building connections within the painting industry can provide valuable insights and opportunities. Joining professional associations can provide access to resources, training, and networking events. Additionally, building relationships with suppliers can lead to discounts and the first pick of new products.
Staffing Your Painting Business
Finally, consider whether you need to hire additional staff. If you do, look for individuals who share your dedication to quality and customer satisfaction. Provide them with the necessary training to ensure they meet your business' high standards.
Starting a painting business can be a fulfilling endeavor. It gives you the opportunity to transform spaces and bring joy to your clients, just as we do at Earthly Matters. Remember, the key to a successful painting business lies in proper planning, adherence to legal and safety standards, and dedication to delivering quality service.
Painting a Commercial Building: Tips from Professional Painting Contractors
Transforming a commercial building with a fresh coat of paint is no small task. It takes experience, expertise, and a keen eye for detail. At Earthly Matters, we pride ourselves on being the commercial paint contractors who can do just that. Here are some of our tried and tested tips for painting a commercial building.
Choosing the Right Color for Your Commercial Building
Choosing the right color for your commercial building is the first step to a successful paint job. It's not just about aesthetics; the color you choose can impact the perceived space of the room, the mood it elicits, and even how your brand is perceived. Light colors can open up a space, while dark colors can make it seem smaller. Neutral colors are often a safe choice, particularly if you're planning to sell your property. Consulting with a professional painter can provide valuable insights into the best color selection for your commercial building.
Preparing the Space for Painting
Preparation is key in any painting project. This involves cleaning the walls, especially near the stove and sink, as greasy deposits and soap scum can interfere with paint's adhesion. Any necessary repairs should be made before you start your painting project, as the best paint will crack, peel, or chip easily if the surface is not properly prepared.
Filling All Dents & Sanding: The Importance of Surface Preparation
Surface preparation is the foundation for the entire job. This includes filling all dents and sanding down uneven areas. A smooth, well-prepared surface ensures that the paint adheres properly and will stand up to wear and tear.
The Role of Primer in Commercial Painting
Priming is an essential step in the painting process. A primer serves as a base for the paint, allowing it to adhere better to the surface and providing a uniform color base. It can also help conceal the previous color and improve the durability of the paint job.
Considering Your Employees' Needs When Painting
When painting a commercial building, it's important to consider the needs of those who work in the space. This could include considering low VOC paints to minimize fumes, or scheduling the work during off-hours to minimize disruption.
Ensuring the Commercial Building Exterior is Clean Before Painting
Before painting the exterior of a commercial building, it's important to ensure the surface is free from dirt, mold, and mildew. A thorough cleaning, including pressure washing where necessary, can provide a clean slate for the new paint.
Taking Weather into Consideration When Painting
Weather conditions can significantly impact the success of an exterior paint job. It's best to paint in dry conditions when there is little to no chance of rain. High-quality exterior paint can help protect your building from weather damage, but the application process needs to take weather conditions into account.
Adhering To High Safety Standards in Commercial Painting
Safety is paramount in any commercial painting project. This includes using the right safety equipment, following safety procedures, and ensuring that all workers are trained in safety protocols. At Earthly Matters, we prioritize safety in all our projects, ensuring a seamless and accident-free painting experience.
As commercial paint contractors, we at Earthly Matters believe in delivering quality results that go beyond aesthetics. Our professional painting services not only enhance the appearance of your commercial building, but also protect it from weather damage, ultimately increasing its value.
The Importance of Choosing the Right Commercial Paint Contractor
Choosing the right commercial paint contractor can make all the difference in terms of quality, cost, and overall satisfaction. When your commercial property is at stake, you want to make sure you're entrusting it to a reliable, professional team. Here are some key factors to consider when choosing a commercial paint contractor.
Checking for Licensing and Insurance
Before hiring a painting contractor, it's essential to verify their credentials. A reputable contractor will be fully licensed and insured. These certifications not only indicate that the contractor is legally allowed to operate but also provide a safety net in the event of any unforeseen incidents. At Earthly Matters, we are fully licensed and insured, providing our clients with confidence and peace of mind.
Getting Estimates from Multiple Contractors
When investing in a commercial paint job, it's crucial to ensure you're getting the best value for your money. We recommend obtaining estimates from multiple contractors to compare their offerings and pricing. When reviewing these estimates, pay attention to the details. A quality estimate should be comprehensive, detailing the costs of materials, labor, and any additional services. It should also clearly outline the scope of work, including preparation, number of paint coats, and cleanup. Remember, a low quote may be enticing, but it's the value for money that truly counts.
Looking at Past Work and Client Testimonials
One of the best ways to gauge a contractor's ability is to look at their past work. A reputable painting contractor should have a portfolio or references readily available for potential clients. At Earthly Matters, we are proud of our past projects and are happy to provide references upon request.
Additionally, client testimonials can offer valuable insights into a contractor's work ethic, professionalism, and customer service. Look for reviews on various platforms, including Google, Facebook, Nextdoor, and Angi.
In conclusion, choosing the right commercial paint contractor is a crucial decision that affects the value and aesthetics of your commercial property. By considering the contractor's credentials, comparing estimates, and reviewing past work and client testimonials, you can make an informed decision and look forward to a professional, high-quality paint job. At Earthly Matters, we take pride in our work and strive to exceed our clients' expectations at every turn.
Conclusion
When it comes to commercial paint contractors, the adage "you get what you pay for" holds true. Investing in a professional painting contractor like us at Earthly Matters Contracting, Inc. isn't just about getting a fresh coat of paint, it's about enhancing the value of your property, preserving its structural integrity, and extending its lifespan.
It's about partnering with seasoned experts who understand the nuances of surface preparation, the importance of using high-quality, eco-friendly materials, and the rigorous safety protocols required for commercial painting. It's about choosing a contractor who is committed to long-term excellence, customer satisfaction, and sustainable practices.
The painting industry in Alpharetta and surrounding areas is a competitive landscape teeming with contractors. However, not all are created equal. As we've discussed throughout this article, there's a multitude of factors to consider when choosing a commercial paint contractor. From their range of services, commitment to safety, and environmental responsibility to their work ethic, customer service, and post-project support, these factors can make a significant difference in your overall experience and the quality of the finished product.
At Earthly Matters, we believe that our clients deserve nothing but the best. That's why we strive to provide unparalleled service quality while focusing on customer satisfaction and safety. We're not just painting contractors; we're your partners in preserving and enhancing the beauty of your commercial properties.
As you wrap up your research and get ready to embark on your next painting project, we invite you to consider Earthly Matters as your go-to commercial paint contractor in Alpharetta and surrounding areas. We're confident that our expertise, commitment to excellence, and customer-centric approach will exceed your expectations and deliver a paint job that stands the test of time.
To conclude, choosing the right commercial paint contractor is a crucial step in any painting project. It requires careful consideration and research, but the payoff of a beautifully painted property that's protected from the elements and adds value to your investment is well worth the effort.
Remember to take your time, ask the right questions, and make an informed decision. Your commercial property is a significant investment, and it deserves nothing but the best. After all, as we like to say at Earthly Matters: "A good paint job isn't expensive—it's priceless."