In the quaint town of Dawsonville, GA, there is a secret that homeowners have been tapping into for years – affordable exterior painters. These professionals, like our team at Earthly Matters Contracting, Inc., hold the power to transform your home, improve its lifespan, and potentially increase its market value. But finding quality service at a budget-friendly price can seem like an elusive pursuit. This article aims to demystify the search for affordable exterior painters in Dawsonville, GA and equip you with the knowledge to make an informed choice.
Your home is a reflection of your taste, lifestyle, and cherished memories. It's not just about aesthetics but also about safeguarding your home against the elements. A fresh coat of exterior paint acts as a protective barrier, defending your siding from damage caused by harsh weather conditions. But, the task of exterior painting isn't as straightforward as it may seem, requiring meticulous preparation, the right tools, and a great deal of expertise. It's a task best left to professionals.
Key Facts to Consider When Seeking Affordable Exterior Painters in Dawsonville, GA
Longevity: Look for painters with a history of good work. Long business history often indicates quality service.
Credentials: Always use painters who are licensed, insured, and belong to professional organizations, such as the Painting Contractors Association or the Finishing Contractors Association.
Work Examples: Always check a portfolio or previous work done by the painters to assess the quality and durability of their work.
Time Frame: Understand the estimated duration of the task. This helps in planning and managing expectations.
Crew Size: Knowing the size of the crew will help you understand the potential noise level and work speed.
Warranty: Always hire a painter who guarantees their work. This is an indication of their confidence in the quality of their service.
Paint Type: Understand the type of paint they use and its rated lifespan. Different exterior paints come in different grades with varying lifetimes.
Written Estimate: Never hire a painter who isn't willing to put his work in writing.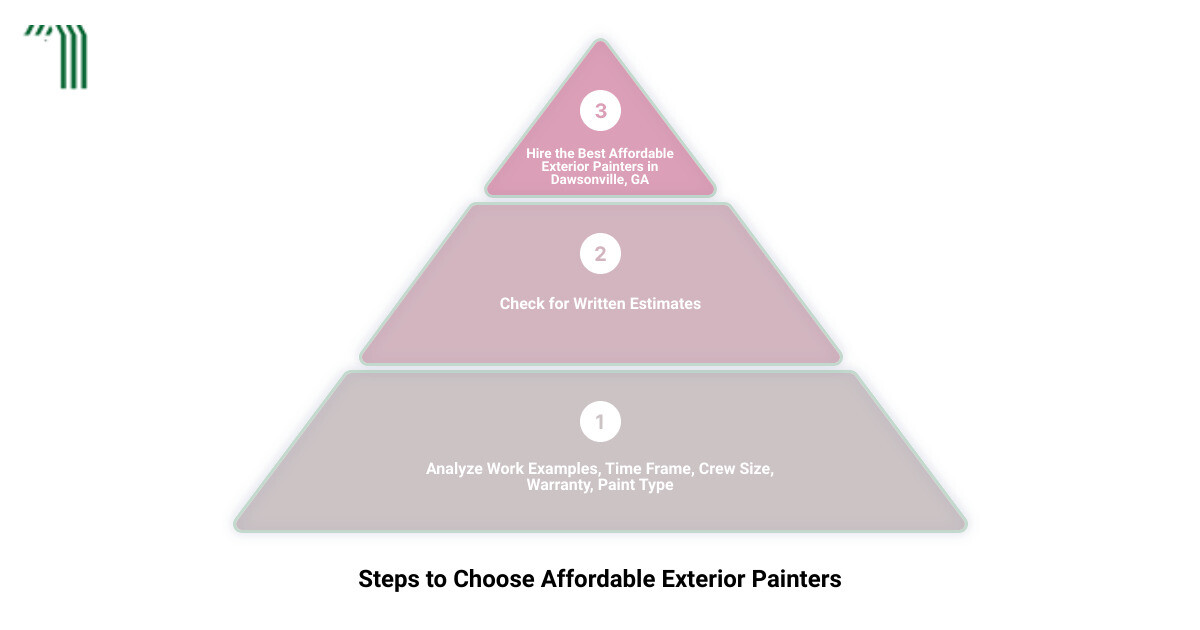 In the following sections, we'll unlock the secrets to finding affordable exterior house painters. We'll delve into understanding the cost of exterior painting, highlight some of the top affordable exterior painters in Dawsonville, GA, and provide tips for choosing the right exterior painter. So sit back, relax, and let us guide you through Dawsonville's best-kept secret.
Understanding the Cost of Exterior Painting
Factors Influencing the Cost of Exterior Painting
Before we dive into painting estimates, it's crucial to understand what goes into the cost of painting your house's exterior. The cost can vary significantly depending on several factors. The size of your home is a primary consideration, with larger, multi-level houses costing more to paint than smaller, single-story homes. The complexity of the architectural details, the type of paint used, and the number of coats required can also influence the price.
For example, if you're looking to paint a one-story, three-bedroom home, costs range from $1,500 to $3,000. But for a larger, multi-level house, you could be looking at a bill between $3,500-$5,000 [source].
You might wonder, "Why can't a can of paint just be slapped on the walls?" The answer lies in the quality of the paint and the labor involved. High-quality exterior paint is formulated to resist peeling, chipping, cracking, and blistering, providing long-lasting protection for your home's siding. This durability comes at a cost.
Moreover, professional exterior painting often involves much more than just painting. It includes pressure washing to clean exterior surfaces, meticulous surface preparation, careful application, and cleanup. All these steps require time, skill, and expertise, which contribute to the overall cost.
How to Negotiate a Painter Price
Now that you have a better understanding of what factors into the cost of exterior painting, let's discuss how to negotiate a painting estimate. It's crucial to approach this negotiation with respect for the professional work that painters do.
Professional painters base their estimates on several factors. These include the size of the area to be painted, the type of paint to be used, the complexity of the job, and the time it will take to complete the work. They carefully factor in the cost of materials, labor, and their overhead expenses to calculate a fair price [source].
To negotiate effectively, start by understanding these costs. Then, ask for a detailed breakdown of the estimate. This breakdown will help you see where there might be room for negotiation. Remember, your ultimate goal should be to achieve a fair price for high-quality work.
In the next section, we'll introduce you to some of the top affordable exterior painters in Dawsonville, GA. So, if you're thinking of giving your home a fresh coat of paint, stay tuned!
Top Affordable Exterior Painters in Dawsonville, GA
As you embark on your journey to discover Dawsonville, GA's best kept secret, you'll come across a host of affordable exterior painters, each with their unique strengths and specialties. Let's unlock this secret and explore these hidden gems!
Earthly Matters: Quality Service and Customer Satisfaction
Our team at Earthly Matters sets the benchmark in the industry with our meticulous attention to detail, high-quality materials, and exceptional customer service. With over two decades of experience, we have been providing superior painting services, leaving your home looking fresh, vibrant, and protected against the elements. We offer free estimates, helping you understand the potential costs upfront. As a licensed, bonded, and fully insured company, we ensure you're working with a reputable painting contractor. Choose us for a service that goes beyond your expectations.
Bear Mountain Custom Painting: Expertise and Experience
Bear Mountain Custom Painting, also known as 'Painters Plus', is a well-loved service provider in Dawsonville. With a high rating from their customers, they're known for their ability to repair and replace rotted wood, in addition to their excellent painting and staining services for both interior and exterior projects. The owner, Tony, is described by customers as a perfectionist, ensuring that your home is in the hands of a true professional.
Peachy Painters: Value and Exceptional Service
Known for their fresh and vibrant approach to exterior painting, Peachy Painters consistently delivers projects that not only meet but often exceed their clients' expectations. Their commitment to excellence and creativity makes them a standout choice for homeowners looking for quality service at an affordable price.
Canaima Restorations & Paint: Quality over Quantity
Specializing in both restoration and painting, Canaima Restorations & Paint offers a unique blend of services. Their expert painters are known for delivering immaculate finishes, ensuring your home stays looking its best for years to come. Choosing Canaima means you're investing in quality over quantity, a decision that will pay off in the long run.
Lopez Painting: Comprehensive Painting Services
Comprehensive services and high-quality materials are the hallmarks of Lopez Painting. This company is well-versed in the latest painting techniques and has established a strong reputation in the community. Their clients often commend them for their professionalism and the superior quality of their work.
By exploring these affordable exterior painters in Dawsonville, GA, you're one step closer to transforming your home into a work of art. Remember, it's not just about the price tag, but the value and quality that these professionals bring to the table. In the next section, we'll discuss what to expect from these affordable exterior painters. Stay tuned!
What to Expect from Affordable Exterior Painters
When it comes to hiring affordable exterior painters in Dawsonville, GA, you might be wondering what exactly to expect from the service. After all, lower cost doesn't have to mean lower quality. Here at Earthly Matters Contracting, Inc., we believe in providing top-notch service at a price that won't break the bank. Let's delve into what you can anticipate when contracting affordable exterior painters.
Detailed Quotes and Timelines
One of the first things you can expect is a detailed quote and timeline for the project. A professional painter will conduct a thorough inspection of your home to evaluate the condition of your current paint, the size of the job, and any potential obstacles for site access. This inspection aids in estimating the amount of prep work required and how long the job will take. The more comprehensive the evaluation, the more accurate the quote will be. At Earthly Matters Contracting, Inc., we believe in transparency and providing our customers with a clear picture of the costs involved.
Thorough Surface Preparation
A crucial part of any painting job lies in the preparation. Quality painters take the time to prep the surface appropriately, ensuring that the new paint adheres properly and lasts longer. This might involve cleaning, scraping, sanding, and priming the surface before the painting begins. You can expect your affordable exterior painter to lay down coverings and do a significant amount of prep work to guarantee a flawless finish.
High-Quality Paints and Materials
Just because you're opting for affordable painters, doesn't mean you have to compromise on the quality of materials used. A professional painting service will utilize high-quality paints and materials that suit the specific needs of your home. Different rooms need different paint and the exterior needs exterior paint. The type of paint used will come in different grades with different guaranteed lifetimes.
Protection of Surrounding Areas
Lastly, a professional painting service will take steps to protect your property and surrounding areas from any potential damage or mess. This might involve covering furniture, laying down drop cloths, and masking off areas that are not to be painted.
Choosing affordable exterior painters doesn't mean sacrificing quality or professionalism. With Earthly Matters Contracting, Inc., you can expect a seamless painting experience that enhances the beauty of your home while keeping your wallet happy. In the next section, we'll provide some tips on how to choose the right exterior painter for your project. Stay tuned!
Tips for Choosing the Right Exterior Painter
Choosing the right exterior painter is a critical step towards achieving a stunning and long-lasting paint job. It's not just about finding the most affordable exterior painters in Dawsonville, GA, but also about ensuring they deliver quality work. Here are some tips to help you make the right choice.
Checking Credentials and References
Always start by checking a painter's credentials. Are they licensed and insured? As we mentioned earlier, not all states require a license for painting homes, but many do. Always choose a painter that's insured to protect yourself from potential liabilities. Also, ask if they belong to any professional organizations, like the Painting Contractors Association or the Finishing Contractors Association.
Next, ask for references. A reputable painter should be able to provide you with contacts of past clients who can vouch for their work. If possible, visit these referenced projects to see the quality of the work up close.
Reviewing Past Work and Client Reviews
In addition to checking references, review the painter's past work. A portfolio can provide you with a glimpse of the painter's capabilities. For an even better assessment, look at work they did a few years ago to see how well it's held up.
Customer reviews are another excellent way to gauge a painter's reputation. Look for reviews on various platforms like the Better Business Bureau, Google, Facebook, Nextdoor, and Angi. Pay attention not just to the overall rating, but also to the details in the reviews. Are there recurring complaints or praises?
Understanding the Scope of Work and Pricing Structure
Finally, you need to have a clear understanding of the scope of work and pricing structure. A detailed estimate should break down the costs of materials, labor, and any additional services. It should also outline the preparation process, number of paint coats, and cleanup.
Be wary of estimates that seem too good to be true. If a painter is offering a significantly lower price than others, they could be cutting corners or using subpar materials. Always ensure the painter is willing to put the estimate and the scope of work in writing.
By following these tips, you can find affordable exterior painters in Dawsonville, GA, who deliver exceptional work. At Earthly Matters Contracting, Inc., we are committed to providing quality service and customer satisfaction. You can trust us to transform your home's exterior into a beautiful, lasting masterpiece.
Conclusion
Recap of the Importance of Affordable Exterior Painting Services
A home's exterior speaks volumes about the people living inside. It's the first impression visitors get, and it significantly influences the property's market value. That's why it's essential to invest in affordable exterior painting services in Dawsonville, GA.
As we've discussed, professional painters not only enhance the aesthetic appeal of your home but also provide protective layers against natural elements. They ensure the use of high-quality paints and materials, meticulous surface preparation, and safeguard surrounding areas from paint spills or overspray.
It's also worth noting that affordable doesn't necessarily mean cheap. You can find cost-effective painting services without compromising the quality of work. Factors influencing the cost of exterior painting include the size and condition of your home, the complexity of the project, and the materials used. However, by comparing quotes, checking credentials, and reviewing past work, you can find a painting contractor that suits your budget and meets your expectations.
Encouragement to Explore Dawsonville, GA's Best Kept Secret: Affordable Exterior Painters
As a resident of Dawsonville, GA or its surrounding areas, you're in luck. This vibrant city is home to some of the best painting contractors in the region. Whether you're sprucing up your home for a sale or just looking to refresh the look, you'll find no shortage of experienced and reliable painters.
At Earthly Matters Contracting, Inc., we take pride in being one of Dawsonville's best kept secrets. Our team of professional painters is committed to delivering top-notch service at a competitive price. We understand the needs and expectations of our customers, and we strive to provide excellent workmanship and complete customer satisfaction from start to finish.
So, don't wait. Unlock the magic of a fresh coat of paint and transform your home with the help of Dawsonville's best kept secret: affordable exterior painters. After all, your home deserves nothing but the best. Explore the world of professional painting services today and see the difference for yourself.