Introduction
Brief Introduction to Alpharetta, GA
Nestled in the heart of Georgia, Alpharetta is a vibrant city that combines the charm of southern hospitality with the energy of a growing metropolis. Known for its lush landscapes, historic landmarks, and beautiful homes, Alpharetta is a place where aesthetics matter.
Importance of Quality and Affordable Exterior Painting
In such a picturesque city, maintaining the aesthetic appeal of your home is as crucial as safeguarding it from the elements. And nothing does this better than a quality exterior paint job. However, finding affordable exterior painters in Alpharetta, GA, who can deliver top-notch services without compromising on quality, can be daunting.
Exterior painting is more than just a visual upgrade. It's about enhancing your home's curb appeal, protecting it from the elements, and increasing its long-term value. The right professional exterior painting services can transform your home, making it stand out in the neighborhood while safeguarding it for years to come.
This is where Earthly Matters Contracting, Inc., a premier painting service company in Alpharetta, GA, comes into play. With their commitment to delivering high-quality results and exceptional customer service, you can rest assured that your home's exterior is in good hands.
In the following sections, we will delve deep into why quality and affordable exterior painting is essential, understand the cost factors, and explore why Earthly Matters stands out as the best choice for your exterior painting needs in Alpharetta, GA. So, if you're considering giving your home a fresh look, keep reading. This article is your ultimate guide to finding quality and affordable exterior painters in Alpharetta, GA.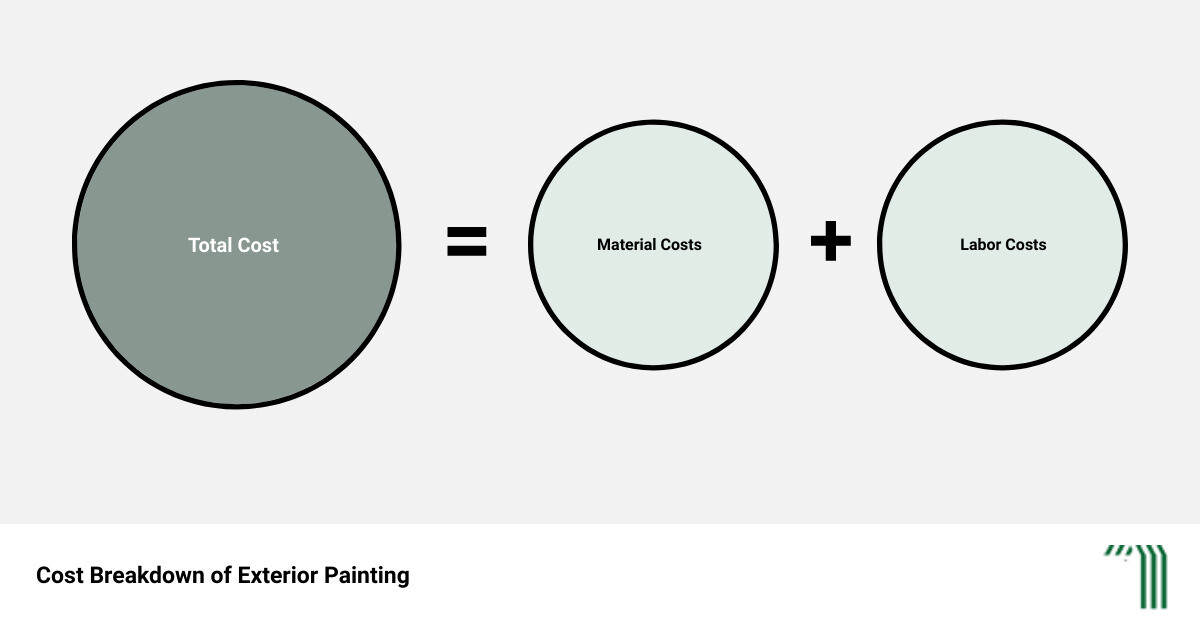 Understanding the Cost of Exterior Painting
Quality and affordability are two key factors that homeowners in Alpharetta, GA, seek when looking for exterior painters. But what influences the cost of exterior painting? Let's dive into these details and discover how to strike the perfect balance between quality and cost.
Factors Influencing the Cost of Exterior Painting
The cost of exterior painting is influenced by several factors. The quality of the paint used plays a significant role in the overall price. High-quality exterior paint, specifically designed to withstand diverse weather conditions, resist peeling and chipping, and prolong the lifespan of your home, typically costs between $50 and $100 per gallon. This investment ensures a superior finish and ultimately saves money in the long run by reducing the need for frequent repainting.
Another critical factor is the extent of preparatory work required before painting. This prep work includes tasks like scraping, sanding, and caulking, which can add between $2000 – $6000 to the overall cost of the project. The size, complexity, and condition of your house also affect the price, as do the time of year and the current demand for painting services.
Average Cost of Exterior Painting in Alpharetta, GA
On average, homeowners in Alpharetta, GA, spend between $1.20 and $2.90 per square foot of exterior painting space. Therefore, if your house has about 1,580 square feet of exterior walls, you could expect a paint job to cost anywhere from $1,896 to $4,852. However, these figures are just a ballpark estimate as the actual price can fluctuate based on the factors mentioned earlier.
Can You Negotiate the Price with Painters?
Yes, it's possible to negotiate the price with painters. Letting the painter know your budget upfront and offering time flexibility can often lead to a price break. However, it's important to remember that quality should not be compromised for the sake of cost. Hiring a professional like Earthly Matters, who offers both quality and affordability, is the best path to ensuring a superior and long-lasting exterior paint job.
In the next section, we will delve into why Earthly Matters is the go-to choice for exterior painting in Alpharetta, GA. We'll cover their unique selling proposition, customer reviews, and the benefits of hiring professional painters over a DIY approach.
Why Choose Earthly Matters for Exterior Painting in Alpharetta, GA
Painting your home exterior is an investment, and you want to ensure it's in the right hands. Earthly Matters Contracting, Inc. not only offers professional exterior painting services but also delivers a flawless finish that stands the test of time.
Overview of Earthly Matters Painting Services
Earthly Matters offers a comprehensive suite of painting services that cater to your unique needs. From precision trim painting, deck and fence painting/staining, to pressure washing, they provide an all-inclusive service. Beyond painting, they also guide homeowners in selecting the perfect color that best suits their home. This comprehensive approach ensures that each painting project they undertake enhances the beauty and protects the structural integrity of your home.
Earthly Matters' Unique Selling Proposition
What sets Earthly Matters apart from other exterior painters in Alpharetta, GA is their unwavering commitment to providing high-quality services at affordable rates. They are not just in the business of painting homes; they enhance their beauty while protecting them from the elements. Using only high-quality paints designed to withstand Alpharetta's weather, they ensure your home's exterior maintains its fresh and new look for years to come.
Moreover, Earthly Matters is committed to exceeding customer expectations in every project. They don't consider a job done until the homeowner is delighted with their work. This customer-centric approach has earned them the trust and loyalty of homeowners in Alpharetta and beyond.
Customer Reviews and Testimonials for Earthly Matters
The quality of Earthly Matters' services is consistently praised in numerous customer reviews and testimonials. They have earned an A+ rating on Better Business Bureau with consistent positive feedback on Google, Facebook, Nextdoor, and Angi.
Homeowners in Alpharetta, GA have nothing but praise for the quality of exterior painting that Earthly Matters provides. They consistently receive high ratings for their professionalism, punctuality, and competitive pricing.
One customer, Cheely B., praised their punctuality, professionalism, and reasonable pricing, stating, "Very punctual, professional and price was reasonable. He even left me a gallon of paint for me to touch up since I couldn't afford to have them paint the whole house. I would highly recommend."
Choosing Earthly Matters for your exterior painting project in Alpharetta, GA means choosing a worry-free and easy property improvement experience. Their dedication to delivering high-quality exterior painting services makes them the ideal choice for homeowners in the area looking to enhance the beauty and longevity of their homes.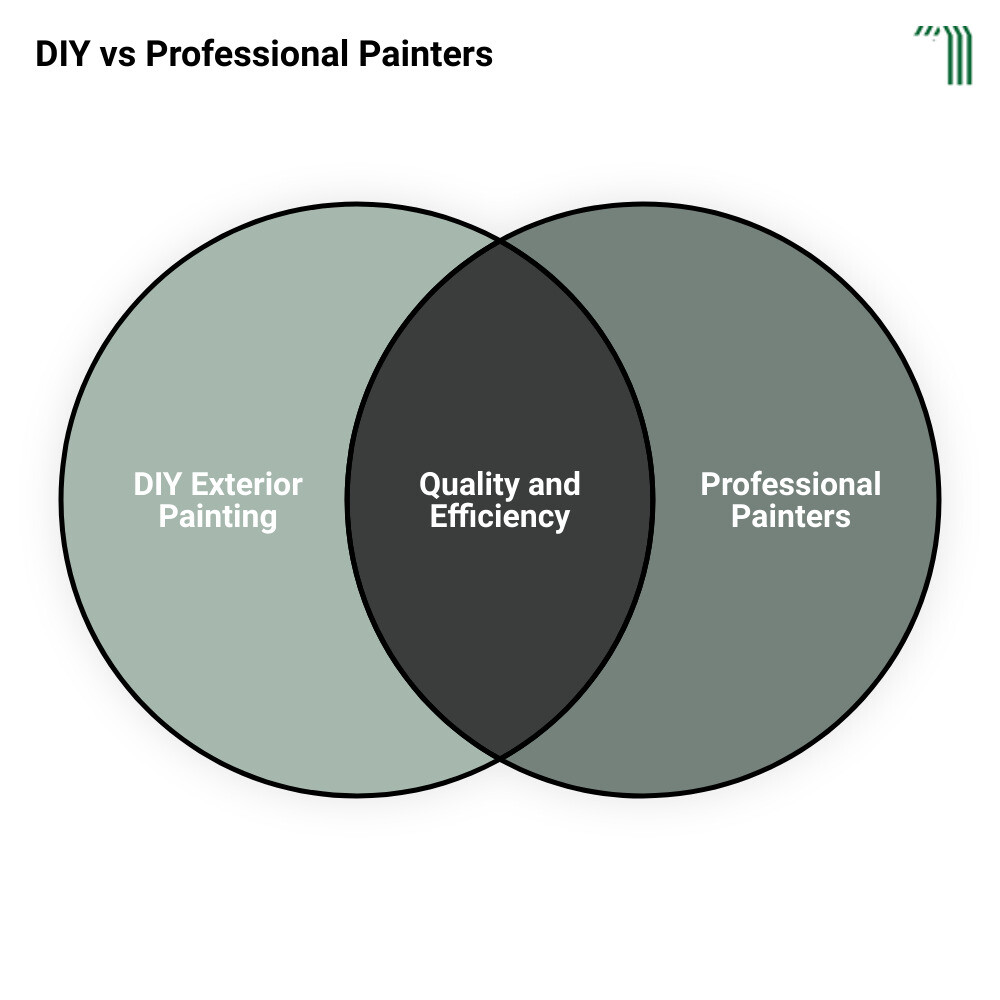 Importance of Hiring Professional Painters
While there's a sense of accomplishment that comes with tackling home improvement projects on your own, exterior painting is a task that's best left to the professionals. Let's delve into the potential pitfalls of DIY exterior painting and the many benefits of hiring professional painters.
The Risks of DIY Exterior Painting
Taking on the challenge of exterior painting on your own might seem like a cost-saving endeavor. However, it can quickly spiral into a whirl of unforeseen expenses and stress. Exterior painting requires an extensive amount of preparation, including purchasing the right type and quality of paint and securing necessary equipment such as ladders, scaffolding, and possibly a paint sprayer. These unexpected costs can make the project far more expensive than you initially estimated.
Safety is another major concern when it comes to DIY exterior painting, particularly when dealing with heights or specialized equipment. Without the right experience and safety training, the risk of injury is significantly increased.
Moreover, lack of experience often leads to mistakes such as improper surface preparation or uneven paint application, which can greatly affect the final look and longevity of the paint job. These errors can result in additional costs down the line for corrections or repainting.
Benefits of Hiring Professional Painters
On the other hand, hiring a professional exterior painting company like Earthly Matters Contracting offers numerous benefits that far outweigh the perceived savings of a DIY project.
The most significant advantage is their expertise and years of industry experience. Professional painters understand the nuances of surface preparation, the ideal type and amount of paint to use, and the most effective techniques for application. This ensures that your home receives a high-quality and long-lasting finish.
Another perk is the time and convenience that come with hiring professionals. You can focus on other important tasks while they handle the painting. They possess the necessary equipment to complete the job quickly and efficiently, saving you the hassle of purchasing or renting these tools.
Cost-effectiveness is another reason to hire a professional painting company. They typically have access to high-quality materials and equipment at lower costs due to their industry connections, which can save you money in the long run.
Professional painters can also inspect and repair any signs of damage or wear and tear during the painting process. This prevents minor issues from escalating into major problems down the line.
Finally, professional painting companies prioritize safety. They have the necessary training and insurance coverage to ensure a safely completed project, giving you peace of mind.
In conclusion, while the DIY approach might initially seem appealing, the benefits of hiring a professional exterior painting company like Earthly Matters Contracting far outweigh the potential risks and costs. With their expertise, safety measures, and quality guarantees, professional painters can help you achieve an impeccable look for your home's exterior without the hassle.
How to Choose the Right Exterior Painters in Alpharetta, GA
Transforming the exterior of your home is a significant investment. Therefore, choosing the right exterior painters in Alpharetta, GA, is crucial. With the right team, you can rest easy knowing your home is in good hands. In this section, we'll explore the factors to consider when choosing exterior painters and the necessary questions to ask potential painters.
Factors to Consider When Choosing Exterior Painters
Experience: As highlighted by Earthly Matters Painting, experience is key when it comes to exterior house painting. A company with several years of experience, like Earthly Matters with over 20 years under their belt, is often more reliable and can handle a variety of painting scenarios.
Licensing and Insurance: It's essential to ensure that the contractor you choose is licensed and insured. This protects you from any accidents or damage during the project. Earthly Matters Painting is fully licensed, bonded, and insured, providing clients with peace of mind.
Online Reviews: The power of online reviews cannot be underestimated. Look for a company with positive reviews and satisfied customers, like Earthly Matters, who take pride in their excellent reputation.
Detailed Quote: Transparency is a must when dealing with contractors. A professional contractor will provide a detailed quote, outlining all costs involved in the project. This avoids any hidden costs or surprises down the line.
Quality of Paint and Materials: The quality of the paint and other materials used can significantly impact the final result. Ensure the contractor uses high-quality materials that are durable and weather-resistant.
Questions to Ask Potential Exterior Painters
Before making your final decision, it's important to ask potential painters the right questions. This can help you gauge their professionalism, expertise, and suitability for your project.
What is your process for preparing the surface before painting?: A quality job starts with thorough surface preparation. This includes scraping, sanding, and priming of all loose, flaking, and weathered areas.
How do you handle wood rot and water damage?: Exterior surfaces with permanent water damage need to be identified and repaired early on. Ask about the contractor's approach to identifying and repairing these issues.
What type of paint do you use?: The quality of the paint used can impact the longevity and finish of the job. Ask about the paint brand and why they prefer it.
Can you provide references or examples of past work?: A reputable contractor should be able to provide references or examples of past work. This can give you an idea of their craftsmanship and quality of work.
By considering these factors and asking these questions, you'll be well on your way to finding the right exterior painters in Alpharetta, GA, to make your home look its best.
Conclusion
Recap of the Importance of Quality and Affordable Exterior Painting
A fresh coat of paint on your home's exterior is more than just a cosmetic improvement. It serves as your home's first line of defense against the weather and elements, particularly in a climate like Alpharetta, GA, with its high humidity levels. But beyond the practical benefits, a quality exterior paint job enhances your home's curb appeal, making a powerful statement about your style and taste. However, achieving these benefits doesn't have to break the bank. Affordable exterior painting services are available, providing homeowners with top-notch services that deliver value for money.
Final Thoughts on Choosing Earthly Matters for Exterior Painting in Alpharetta, GA
When it comes to exterior painting in Alpharetta, GA, Earthly Matters Contracting stands out as a top choice. Their commitment to quality, customer satisfaction, and value for money sets them apart from other service providers. Earthly Matters understands the unique challenges of painting homes in Alpharetta, GA, and uses high-grade materials and techniques to ensure a job well done.
As homeowners, it's crucial to partner with a company that values your home as much as you do. Earthly Matters offers a 5-year guarantee on their work, providing homeowners with peace of mind that their investment is safe and their home's exterior will remain in top-notch condition for years to come.
In essence, Earthly Matters Contracting is more than just a painting service. They are partners in your journey to create a home that resonates with your unique personality and style. With their commitment to delivering quality services at affordable rates, they are indeed an excellent choice for homeowners looking to revamp their homes with a fresh coat of paint.
So, if you're considering an exterior repaint in Alpharetta, GA, make Earthly Matters Contracting your first choice. Contact them today for a free estimate and experience the transformation they can bring to your home.