In the heart of Georgia lies the charming city of Alpharetta, known for its beautiful homes and picturesque neighborhoods. However, maintaining the curb appeal of these residences is a task that requires expertise, particularly when it comes to exterior painting. A fresh coat of paint not only enhances the attractiveness of your property but also serves as a first line of defense against Georgia's weather elements. High-quality exterior painting is crucial for any homeowner in Alpharetta, GA, who values maintaining an impressive residence that stands the test of time.
As a homeowner, you may wonder, "Who are the top exterior painting contractors in Alpharetta, GA?" or "How can I ensure I'm hiring a reliable painting contractor?" This article will provide an in-depth look at Alpharetta's premier exterior painting contractor, Earthly Matters Contracting, Inc., and explore the vital factors you should consider when choosing a painting contractor. So, let's dive in and uncover Alpharetta's secret weapon for exterior painting solutions.
Earthly Matters: Alpharetta's Premier Exterior Painting Contractor
Welcome to Earthly Matters Contracting, your ally in transforming your house into a vibrant, aesthetically pleasing home that resonates with your unique personality and style. Established in 1999, Earthly Matters has been serving the Alpharetta community with high-quality exterior house painting services that not only enhance the beauty of homes but also protect them from the harsh elements.
Earthly Matters' Unique Selling Proposition
What sets Earthly Matters apart in the sea of exterior painting contractors in Alpharetta, GA? Simple. It's their commitment to quality, customer satisfaction, and a comprehensive suite of services. Using only top-notch materials and paints, they ensure a long-lasting finish that stands up to Alpharetta's unique climate.
Their range of services includes full exterior painting, precision trim painting, deck and fence painting/staining, pressure washing, and color consultation. Each service is designed to meet the varied needs of homeowners, making Earthly Matters a one-stop-shop for all exterior painting needs.
Earthly Matters' Commitment to Quality Service
At Earthly Matters, the job isn't finished until the client is delighted with the results. This customer-centric approach has earned them an A+ rating on Better Business Bureau and positive feedback on multiple platforms including Google, Facebook, Nextdoor, and Angi.
Earthly Matters believes in open communication and prompt service. From the initial consultation to the final walk-through, clients are kept in the loop every step of the way. This transparency fosters trust and ensures that the final result aligns perfectly with the client's vision.
Earthly Matters' Expertise in Residential and Commercial Projects
While Earthly Matters is renowned for its residential exterior house painting, its expertise doesn't stop there. They also offer commercial painting services, delivering high-quality results that boost the curb appeal of commercial properties in Alpharetta and surrounding areas.
Regardless of the project's size or complexity, Earthly Matters' team of skilled professionals consistently delivers top-tier results. Their portfolio is a testament to their expertise, and their before and after photos provide a glimpse of the transformations they've brought about in their clients' properties.
In conclusion, when it comes to exterior painting contractors in Alpharetta, GA, Earthly Matters Contracting stands out as a premier choice. Their unique blend of quality, service, and expertise makes them Alpharetta's secret weapon for exterior painting solutions.
What to Look for in an Exterior Painting Contractor
When it comes to reinvigorating the look of your home, the right exterior painting contractor can make all the difference. However, choosing the right one from the sea of options available in Alpharetta, GA, can feel like finding a needle in a haystack. So, what should you look for when hiring an exterior painting contractor?
Professionalism and Trustworthiness
First and foremost, professionalism and trustworthiness should be at the top of your list. As evidenced by Earthly Matters Contracting's 20 years in the industry and their A+ rating with the Better Business Bureau, a reputable painting contractor should have a proven track record of delivering high-quality work in a professional manner. Be sure to check out customer reviews on various platforms like Google, Facebook, Nextdoor, and Angi, as they can provide valuable insights into the contractor's reliability and professionalism.
Quality of Work and Materials Used
The quality of work and materials used is another critical factor to consider. A good painting contractor will not skimp on quality, and they should be able to recommend the best paint products, colors, and finishes that will suit your home. Their work should be meticulous and detail-oriented, leaving your home looking fresh and vibrant.
Responsiveness and Communication
Exceptional customer service is often the difference between a good and a great painting contractor. Look for a contractor who communicates effectively, answering all your questions and concerns promptly. As reflected in the positive reviews for Leo's Home Care Improvements and All Care Painting Pressure Washing & Window Cleaning, a responsive and communicative contractor can provide a stress-free painting experience and ensure that all your needs are met.
Fair Pricing and Detailed Estimates
Lastly, the pricing should be fair and transparent. A reliable contractor should provide a detailed estimate that breaks down the cost of materials, labor, and any additional services. This helps you understand exactly what you're paying for and prevents any unpleasant surprises down the line. As noted in the tips for choosing an exterior residential painter, be wary of estimates that seem too good to be true as they often are.
In conclusion, finding the right exterior painting contractor in Alpharetta, GA, takes some research and due diligence. By focusing on the contractor's professionalism, quality of work, responsiveness, and pricing transparency, you can ensure that your home's exterior painting project will be in good hands.
Other Top Exterior Painting Contractors in Alpharetta
While Earthly Matters Contracting, Inc. is an excellent choice for your exterior painting needs, Alpharetta boasts other reputable painting contractors as well. Here's a concise rundown of some of the other top players in the area.
The Painting Group and Renovation
With an average rating of 4.7 stars from over 90 reviews on Yelp, The Painting Group and Renovation has cemented its place as a go-to choice for Alpharetta residents. They pride themselves on their family-run business model and a commitment to matching or beating any quoted price, making them a competitive choice for those on a budget.
Clean Cut Painting
Clean Cut Painting prides itself on the precision and attention to detail in their work. Their team of professionals guarantees a 'clean cut' finish, just as the name suggests.
J Vega Painting
J Vega Painting has consistently shown a high level of professionalism and reliability. By incorporating customer input into their painting process, they ensure that the results align with the customer's vision.
Canaima Restorations & Paint
For those seeking a more comprehensive home makeover, Canaima Restorations & Paint offers a range of services beyond just painting. Their team is well-versed in various restoration techniques, making them a versatile option for homeowners.
Henry's Fine Touch Painting
As the name suggests, Henry's Fine Touch Painting provides painting services. This makes them a convenient option for homeowners looking to revitalize their homes' exteriors from top to bottom.
Top Choice Painters
Top Choice Painters is another highly-rated painting contractor in Alpharetta. With a reputation for delivering top-quality work and customer service, they're a solid choice for those seeking a reliable and efficient painting process.
Dixon Painting
Known for their expertise and dedication to customer satisfaction, Dixon Painting has an impressive portfolio of completed projects. Their team of professionals is committed to delivering a high-quality paint job that enhances your home's curb appeal.
Each of these painting contractors brings something unique to the table. Whether it's a focus on customer service, a wide array of services, or competitive pricing, Alpharetta homeowners have plenty of excellent options to choose from when it comes to exterior painting contractors.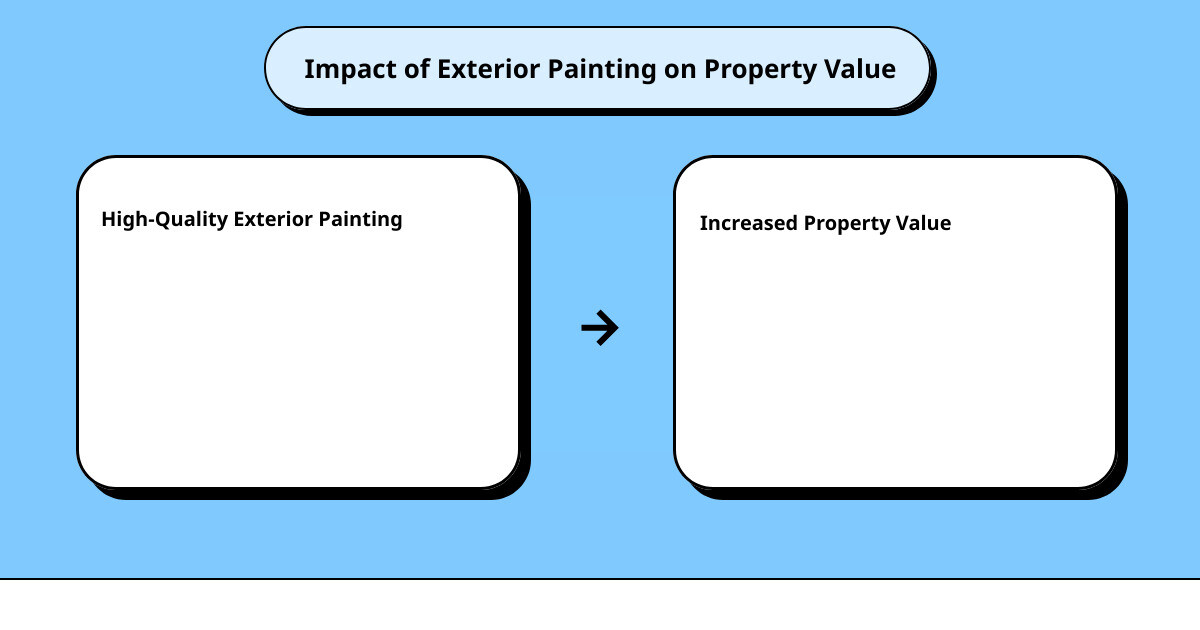 The Impact of Exterior Painting on Property Value
The value of your home extends beyond the bricks and mortar. It's about the impression it creates, the feeling it evokes, and, ultimately, the price it commands in the market. A well-executed exterior paint job is more than just a cosmetic upgrade; it's a smart investment that can significantly increase your property's value. This is where professional exterior painting contractors such as Earthly Matters Contracting come in.
One of the first things potential buyers notice about your home is its exterior. A fresh, high-quality paint job can dramatically enhance your home's curb appeal, making it more attractive to buyers and potentially increasing its resale value. In fact, according to real estate experts, a stunning exterior paint job can boost your home's value by up to 5%.
Moreover, a top-notch exterior paint job does more than just beautify your home. It provides a protective barrier against the elements, helping to prevent costly damage to your home's siding, doors, and windows in the long run. This dual function of aesthetics and protection makes professional exterior painting a long-term investment in your property.
When you hire an exterior painting company like Earthly Matters Contracting, you're not just paying for a can of paint and some labor. You're investing in the expertise, experience, and high-quality materials that ensure your paint job will not only look great but also stand up to the test of time. Earthly Matters Contracting even offers a warranty that includes a 5-year guarantee on cracking, peeling, or blistering as a result of defective products or workmanship, ensuring that your investment is protected.
In conclusion, the impact of exterior painting on property value is significant. It's more than just a simple home improvement task; it's a strategic move that can pay off in spades when it comes to increasing your home's curb appeal and market value. Whether you're planning to sell your home or just want to enjoy it for years to come, investing in professional exterior painting is a decision you won't regret.
Conclusion: Making the Right Choice for Your Exterior Painting Needs
Choosing the right exterior painting contractor in Alpharetta, GA, is a crucial step in revitalizing your home's appearance and increasing its value. It's not merely about picking a color and slapping it on. It requires the right expertise, the right materials, and the right approach.
Earthly Matters Contracting stands out as a top choice, known for their commitment to quality service, high-quality materials, and professionalism. They understand the importance of preparation, use only 100 percent acrylic latex paint for longevity, and provide detailed estimates that break down costs for full transparency.
Yet, the thriving Alpharetta market has other competent contractors, like Top Choice Painters, who also come highly recommended, demonstrating over a decade of experience and a focus on using top-quality materials. Other notable mentions include The Painting Group and Renovation, Clean Cut Painting, and J Vega Painting, all of which have proven their expertise in the field.
It's also important to remember that the value added to your home by a fresh coat of paint isn't just about aesthetics. It's about protection from the elements, preserving the integrity of the structure, and extending the life of your home.
Lastly, as you sift through your options, remember to check reviews, ask for references, and ensure that your chosen contractor is insured and bonded. The right contractor will not only transform the look of your home but will also provide a service that lasts, giving you peace of mind and a beautiful home to enjoy for years to come.
So take your time, do your research, and make an informed choice. Your home is your most significant investment, and it deserves nothing but the best.